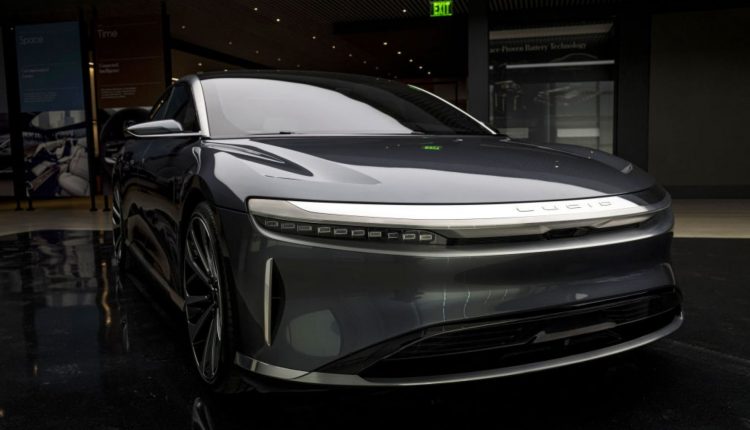 Most people have probably never heard of Lucid Motors, or its first production electric vehicle, the Air, something the company's CEO, Peter Rawlinson, acknowledged to me in a conversation we had last week ahead of the opening for the company's newest design studio in the meatpacking district of Manhattan. Last year, I had a chance to see the Lucid Air in person and the thought I kept coming back to then is that it had to have at least caught the attention of Tesla's founder and CEO, Elon Musk.
It is, to say the least, an impressive vehicle, which it should be considering the first model to be delivered will carry a $161,500 price tag, and that's after the federal tax credit. Of course, at the time, the thing that caught Musk's attention was the fact Lucid had promised to offer a sub-$70K version. Almost immediately, Tesla lowered the price of its entry-level Model S to match the price. I think it's safe to say Lucid has Musk's attention.
On Tuesday, before my conversation with Rawlinson, I had a chance to ride in a pre-production version. I'm not a car reviewer so this isn't going to be a car review–I'm far more interested in the strategy behind the Lucid Air.
I'll just say that, as far as electric cars go, this one is very good. I mean, for one, it has a steering wheel, which is apparently no longer a given for electric vehicles after Tesla unveiled its newest Model S with a controversial yoke. As a result, the Lucid Air is a much more approachable take on something you spend a lot of money on to actually drive.
More important, the strategy isn't bad either.
In fact, I think there's a good chance that, of all the electric vehicles that have appeared in the past few years, the Air is the one that Elon Musk and Tesla should worry about the most. I say that not just because of the car, but because of what Lucid means for electric vehicles.
Look, Tesla deserves credit for doing more to legitimize electric vehicles than any other company, ever. In the U.S., Tesla is synonymous with electric vehicles, almost to the extent that Google is synonymous with searching online. It earned that position by selling the most popular electric vehicle in America, the Model 3.
For context, Tesla sells more Model 3 units than all other electric vehicles combined, with the exception of, well, another Tesla–the Model Y. There is no manufacturer that is going to overcome that position selling one luxury vehicle.
On the other hand, one of the things that stuck out to me when I spoke to Rawlinson is that the company isn't just focused on selling a vehicle most of us will never be able to afford. It's already working on an electric SUV, and expects to introduce a more affordable sedan in the next few years.
More important, and the real reason Lucid should be on Musk's radar, the company hopes to make its technology available to other manufacturers to speed the production of a greater variety of electric vehicles. That means that not only will Lucid be building its own electric vehicles, but it also wants to help everyone else build them. If that sounds like wishful thinking, consider that while you may have never heard of Lucid Motors before, it's been around longer than you might expect.
The company, which was previously known as Atieva, already has experience making components for other company's vehicles. It's been making batteries and electric powertrains for more than 10 years.
Additionally, it's no coincidence that many of Lucid's executives have plenty of experience building electric vehicles, including Rawlinson, who previously was the chief engineer for Tesla's Model S. In his current role, Rawlinson is taking the opportunity to "fix all the mistakes" he says he made with the Model S.
Rawlinson isn't the only former Tesla engineer. Last October, I spoke with Eric Bach, Lucid's head of product and another Tesla alumni, about the technology the company is building into its vehicles. It's hard to imagine Musk hasn't noticed that the people he hired to build out the Model S, Model X, and Model 3 are all working on the same effort to disrupt the market he has cornered–for now.
To that end, the company is expected to raise $4.4 billion in a SPAC deal, money that Rawlinson says will help the company ramp up production to fill more than 10,000 preorders. He also says it will help the company launch its next vehicle, Gravity, the SUV that I mentioned earlier.
I don't think people will suddenly stop buying Model 3's and go out and buy a Lucid Air. I do, however, think that Lucid has a chance to persuade a lot of people to consider electric vehicles in the next few years, which is always a good strategy.
Source: inc.com