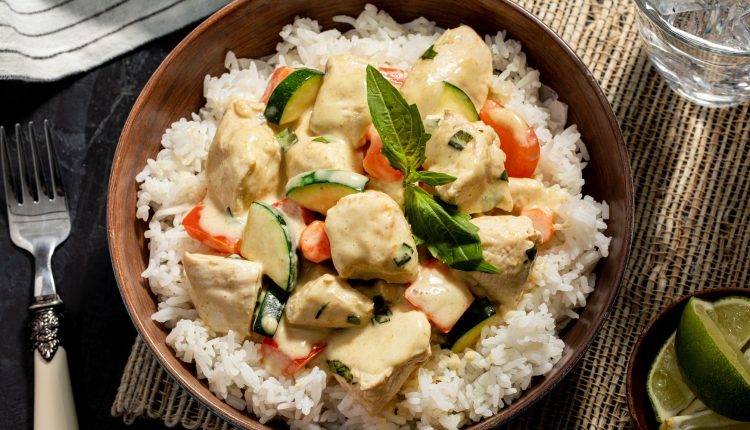 One of the things I love about curries is that they are so varied and adaptable—from soupy to thick and creamy, from mild to fiery, in colors yellow, green, red, or brown.
Learn how to make Thai curry with this basil infused recipe. Enjoy a side of jasmine rice with red bell pepper, zucchini, carrots and peas for a green curry that's sure to impress.
10m

PREP TIME

30m

COOK TIME

9

INGREDIENS
INGREDIENTS
We use chicken thigh meat because of the deeper flavor, but you can use chicken breast meat if you prefer.
This is a mild curry. You can increase the heat with more cayenne. Please note that jalapeños vary greatly in heat.  Check the spiciness of your jalapeños and adjust the recipe to taste.
Note that what we usually buy labelled "curry powder" is just a spice mix, made up of various spices, like those in the following ingredients, including a good portion of turmeric, which gives the curry powder its yellow color. Feel free to experiment a little with the spices listed here to get the taste you like the best.
Source: mccormick.com