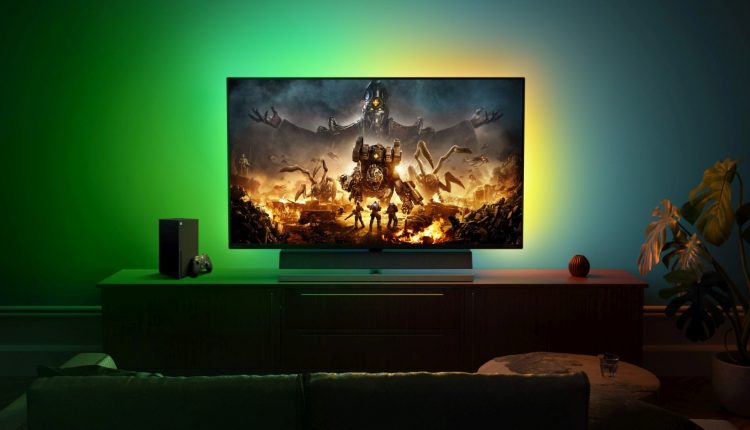 At Xbox, we've long believed providing choice to our players is a critical part of the gaming experience. Whether it's controllers, headsets or storage, products available in the Designed for Xbox program enhance the user experience on Xbox.
Few devices in gaming are as important as your display, and we know with a new console generation comes unparalleled fidelity in your gaming experiences. With the amazing visual capabilities of Xbox Series X|S and new display features to consider like HDR, 4K at 120Hz, and Variable Refresh Rate (VRR), we want to help Xbox fans find the ideal monitor for your preferred gaming experience. While the options available may seem endless and at times or even downright confusing, the Designed for Xbox team has got your back.
Today, for the first time, we're announcing gaming monitors from our licensed partners will join the Designed for Xbox program! We worked closely with leading display manufacturers including Philips, ASUS, and Acer over the last two years to prepare these products to take full advantage of Xbox Series X|S and HDMI 2.1. Whether you are looking to purchase a new monitor for gaming on PC or Xbox Series X|S, our new Designed for Xbox monitors will be available this Summer.
---
Announcing Gaming Features for Xbox
---
Soon, players will see the new "Gaming Features for Xbox" badge appear on select monitors on the market, so you can be confident your new display can support the full speed, performance, and technology of Xbox Series X|S. For more on the features and technology powering Xbox Series X|S, check out our glossary here.
From Variable Refresh Rate (VRR) to HDR, these monitors will harness the power of cutting-edge HDMI 2.1 technology to deliver an immersive, high fidelity experience unlike anything seen before.
---
Designed for Xbox Displays
---
Philips Momentum 559M1RYV 55"
For console gaming enthusiasts, the new Designed for Xbox Philips Momentum display is what players expect from high fidelity monitors in this new era of gaming. At 55 inches, this monitor is a display and soundbar in one. The Philips Momentum was developed with Microsoft and validated to deliver optimal Xbox Series X|S performance as soon as you turn it on. It offers quality sound engineered by audio experts, Bowers & Wilkins and new Ambiglow lighting which creates an image-matching halo of light on the rear wall, visually enlarging the screen and giving players a truly immersive experience.
The Philips Momentum supports 4K resolution at 120Hz powered by AMD FreeSync Premium Pro technology to reduce screen tearing. It also introduces a new, dedicated Xbox picture mode. Players can enjoy high-contrast HDR with the VESA Certified DisplayHDR 1000, offering local-dimming and peak luminance more than 3x that of mid-grade displays on the market.
The Philips Momentum 559M1RYV 55″ will be available worldwide for $1599.99 USD starting this Summer, along with other future products as we look to expand the Xbox Licensed monitor ecosystem with the team at Philips.
ASUS Strix Xbox Edition Gaming Monitor XG43UQ 43"
Our friends at the Republic of Gamers have been hard at work on a new monitor for Xbox fans. The ASUS ROG Strix Xbox edition comes in at 43 inches, delivering 4K UHD visuals and a 1ms moving picture response time (MPRT) for superfast gaming on a big screen.
Co-developed with the Designed for Xbox Team, ASUS has created an Xbox mode for best color, contrast, and hue settings when paired with Xbox Series X|S. This monitor also features AMD FreeSync Premium Pro technology putting an end to choppy gameplay and replacing it with supersmooth native 4K at 120Hz gaming via HDMI 2.1. Plus, it offers a 90% DCI-P3 color gamut and DisplayHDR 1000 certification ensuring quality visuals and true-to-life colors. The ASUS ROG Strix Xbox Edition XG43UQ 43″ will be available October 2021 and price may vary by regions, please contact your local stores for more detailed information.
Acer Xbox Edition Gaming Monitor XV282K KV 28"
The 28" Acer Xbox Edition Gaming Monitor supports 4K at 120Hz and HDMI 2.1, pushing next- generation gameplay to its limits on Xbox Series X|S. It has a low 1ms response time and ensures high color accuracy while the VESA DisplayHDR 400 provides great contrasts between dark and light shades.
Like other monitors entering the program, this display comes AMD FreeSync Premium ready. Equipped with Acer VisionCare 3.0, the Acer Xbox Edition Gaming Monitor is among the first monitors to be TUV/Eyesafe certified, reducing strain on gamers' eyes as they dive into their gaming adventures. For those interested in PC gaming or a more robust technical setup, this model has a built-in KVM switch, enabling easy switching between multiple PCs without having to change the monitor, keyboard, and mouse setup. The 28" Acer Xbox Edition Gaming Monitor XV282K KV will be $949.99 USD and available this Fall.
Thanks to the capabilities unlocked by the Ultra High Speed HDMI Cable supporting 4K at 120Hz, your games will look and play great. The Designed for Xbox program is working with our partners to deliver a variety of HDMI 2.1 cables at different lengths to fit your gaming needs. The brand-new Cable Matters Active HDMI Fiber Optic Cable offers one of the longest, certified Ultra High Speed HDMI cables on the market at 32.8 feet with full 4K at 120Hz resolution and refresh rate support. The Certified Active Ultra High Speed HDMI Cable starts at $64.99 USD and is available now. (US retailers: Amazon/Walmart Markets: US, CA, UK, DE, IT, ES, FR, NL, JP, AU)
---
This is just the beginning, and we look forward to more monitors joining the Designed for Xbox program in the future. For the best way to experience games on Xbox Series X|S, look for the green Gaming Features for Xbox badge to kick off your next-gen journey with Xbox.
Source: news.xbox.com