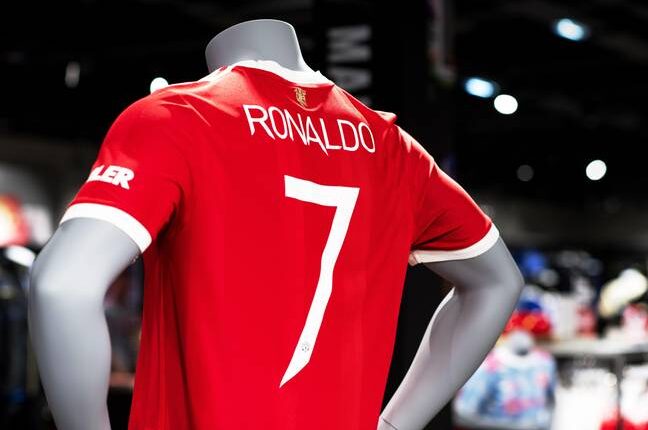 Cristiano Ronaldo and Lionel Messi's generational battle for records continues as the Argentine surpasses the Portuguese for the most replica shirts sold.
Both of these transfers sent football fans into a stampede to try and get their icons new jersey, as prior to last year both moves would have been greeted with hysteria as Messi leaving Barcelona was thought to be impossible, and Ronaldo coming back to Old Trafford was something only entertained in the fantasy of United fans dreams.
As a result of this heightened demand, records were being broken overnight.
A Manchester United shirt with 'Ronaldo 7' on the back quickly became the Premier League's fastest selling top, generating for Adidas £187 million shortly after his number was announced.
The amount sold was almost double that of the initial quantity sold for 'Messi 30', however it seems that Manchester United and Ronaldo might have won the first battle but have lost the merchandising war.
PSG managed to sell over 1 million shirts for the first time ever last season, 60% of these had Messi's name on the back! Due to this mammoth rise in sales the French club has now overtaken United as the number one selling shirt in the sport.
A massive success financially off the pitch, on the pitch the two players have had very different individual seasons.
Ronaldo took no time to find the net on a regular basis scoring 18 times in the league, whereas Messi surprisingly struggled in Ligue 1 in his first season when compared to their superhuman standards with just six goals.
When it comes to team accolades, 'La Pulga' had the better year like many would have expected. PSG comfortably won the league, as usual bar the occasional blip, but the complete opposite was the case at United as they looked lost for the whole season and only have Ronaldo to thank for somehow dragging the team to a Europa League position.
This dreadful league finish, Manchester United's lowest recorded points in the Premier League, along with the club's failure to attract any of their targets so far this transfer window, has led to reports that United's no.7 Is looking for the exit door as he doesn't open to end his illustrious career not winning.
Mixed messages from new manager Erik ten Hag could also be a reason why the Portuguese marksman is looking at his options.
The Dutchman, when asked about Ronaldo in interviews and press conferences, has been overwhelmingly positive, calling him a "giant" and has expressed his eagerness on many occasions to work with the forward.
However, multiple reports have suggested that Ronaldo doesn't feel a part of Ten Hag's plan, and if this is true, then it isn't that surprising as the 37-year-old isn't from the mold of a go to Ten Hag player.
If Cristiano Ronaldo does leave Manchester United then a similar tsunami of fans to the stores is unlikely as any move away wouldn't be as global or romantic as his second transfer to United.
It is very probable that this merchandise record will stay as another one that Messi has over his lifetime rival, much to Ronaldo's dismay.