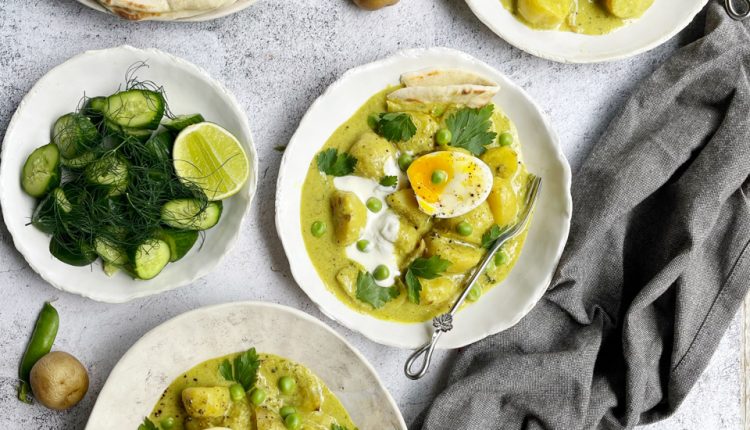 I love the flavours of south east Asia but I find making the recipes difficult as I seldom have all the ingredients on hand and I usually cook with what's in my fridge. To make up for this I always have green and red curry paste jars in the fridge along with small jars of grated lemongrass and even ginger in case I need it. I use these to make Asian style dishes that are pleasing to my palate and easy to put together.
This dish of potatoes in coconut green curry is just such a dish and I am happy to share it with you. Adjust the flavours to your palate, adding more heat or less as you wish. I mde this with already cooked baby potatoes I had from yesterday but you can cut them in half, peel and cook them in the curry instead. You may need to add more liquid to make up for what the potatoes absorb.
---
---
To make the dish:
Heat up 2 tablespoons of oil, add 2 small onions cut into 6 wedges, petals separated, and cook until they soften.
Add 3-4 cups cooked and peeled baby potatoes and stir a couple of minutes. Note: if you don't have already cooked potatoes you can use small potatoes, halved, and cook them in the curry sauce until done. You may need to add more liquid to keep the sauce creamy.
Add the green curry and and 1-2 cups green peas, continue to simmer the potatoes in the sauce until the sauce thickens and the potatoes absorb the flavours.
To serve:
Spoon the potatoes and curry sauce into bowls
Top with 5 min eggs, halved.
Garnish with Thai basil, cilantro and a drizzle of well stirred yogurt with a squeeze of lime
---
---
Potatoes and Eggs with Thai green coconut curry
Recipe by Dina HonkeCourse: Resources
Thai Green coconut curry
2 tablespoons oil

2 shallots, minced

4 tablespoons green curry paste

1 green chili, seeded and chopped, optional

1 teaspoon sugar

1-2 teaspoons vinegar

1-2 teaspoons vegan fish sauce

1 can coconut cream

1 cup stock or water
Directions
Sauté shallots in oil until fragrant and soft.
Add remaining ingredients and simmer until everything is heated through and flavours combine.
Source: oliveoilandlemons.com