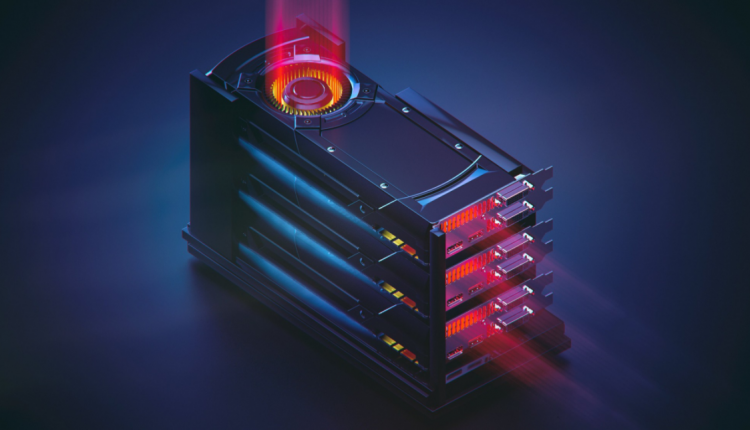 Gaming enthusiasts have been finding it difficult to get their hands on the latest graphics processing units (GPUs) from NVIDIA (NASDAQ:NVDA) and Advanced Micro Devices (NASDAQ:AMD) thanks to huge demand from gamers, scalpers, and cryptocurrency miners. Furthermore, supply chain disruptions caused by the pandemic have also thrown production lines out of gear and added to the problem. As a result, gamers have been paying through the nose to get their hands on graphics cards.
However, a ray of hope is emerging for gaming enthusiasts, as graphics card prices have started pulling back lately. But does this mean that the great graphics card shortage is nearing an end? Let's find out.
Graphics card prices show signs of pulling back
Tom's Hardware's GPU pricing index, which tracks graphics card prices based on eBay data, indicates that the upswing in prices may have come to an end. For instance, the price of the flagship NVIDIA RTX 3090 was down 4.4% in the first half of June compared to the same period in May.
It is worth noting that the RTX 3090's price dropped even though NVIDIA hasn't limited the hash rate of the card, which makes it more desirable for miners as it is capable of mining cryptocurrency at faster speeds. In fact, the RTX 3090 delivers more than double the mining profits when compared to the previous generation RTX 2080 Ti.
Meanwhile, the RTX 3080, 3070, 3060 Ti, and 3060 have limited hash rates (and are less attractive for mining) and saw much bigger price declines. The RTX 3080's price fell 11.5%, the RTX 3070 saw an 8.5% decline, and the 3060 Ti's drop was 12.6% in the first half of June over the prior month.
AMD's offerings also saw price declines even though the chipmaker hasn't restricted the mining capabilities of its cards. Prices of the Radeon RX 6800 XT, the RX 6800, and the RX 6700 XT fell 6%, 8.1%, and 5.6%, respectively, month-over-month.
The downside is that the prices are still quite high when compared to manufacturer-suggested levels. The RTX 3080 has a manufacturer-suggested retail price (MSRP) of $699, but its market price was almost $2,000 according to Tom's Hardware's data. The cheaper RTX 3060 Ti is being sold for nearly $1,240, compared to its MSRP of $399.
So there's still a long way to go before graphics cards become affordable — but the recent price correction could gain more momentum.
More price correction could be in the cards
Graphics card prices have dropped for two reasons. First, market leader NVIDIA has been trying to ensure an increased supply of graphics cards to miners so that they don't price gamers out of the market. The graphics card specialist has brought out specialized cryptocurrency mining processors (CMPs) to address demand from miners, and these chips have been a hit.
NVIDIA sold CMPs worth $155 million in Q1. It expects to sell $400 million worth of these chips in the current quarter. What's more, rumors suggest that the chipmaker is reportedly working on a more powerful CMP capable of outperforming the RTX 3090, with a hash rate that could be a third higher than the flagship GPU's. Such an offering could boost NVIDIA's top-line growth as the cryptocurrency mining hardware market is expected to add $2.80 billion in revenue over the next four years, according to TechNavio.
The second reason why graphics card prices could be coming down is a slowdown in mining demand, freeing up more supply for gamers. According to third-party reports, demand for graphics cards for cryptocurrency mining in China — the world's biggest country in terms of mining — could be slipping because of a government crackdown.
Jon Peddie Research reports that cryptocurrency miners bought 700,000 graphics cards in Q1, accounting for a fourth of the total GPUs sold. So weak mining demand should ideally improve supply and help lower GPU prices. That's what's reportedly happening in China — the clampdown in mining has reportedly led to a reduction of up to 45% in graphics card prices, according to Tom's Hardware. China's sway on the global mining market could lead to a further GPU price correction, especially considering that lower mining profits could force many miners to offload their cards in the pre-owned market.
What's in it for investors?
NVIDIA stands to win big from an improved supply of graphics cards. The company has a huge installed base of users that are still running older-generation GPUs. Less than 20% of the 140 million users of GeForce graphics cards use the new RTX chips, so an improved supply would boost NVIDIA's shipments. This modest level of RTX adoption in the gaming market bodes well for NVIDIA's gaming business, which pulled in $2.76 billion in revenue last quarter, growing 106% year-over-year and accounting for nearly 49% of total sales.
Meanwhile, NVIDIA's OEM (original equipment manufacturer) business, which includes revenue from the sale of CMPs, also registered massive growth, with revenue jumping 137% year-over-year to $327 million. The end-market opportunity indicates that the OEM business could sustain comparable high growth levels going forward, as the mining market has scope for additional revenue.
All of this indicates that NVIDIA is likely to remain a top growth stock even if GPU prices come down, as gamers will keep making a beeline for its RTX 30 series cards and drive stronger volumes once supply improves.
Should you invest $1,000 in NVIDIA Corporation right now?
Before you consider NVIDIA Corporation, you'll want to hear this.
Our award-winning analyst team just revealed what they believe are the 10 best stocks for investors to buy right now… and NVIDIA Corporation wasn't one of them.
The online investing service they've run for nearly two decades, Motley Fool Stock Advisor, has beaten the stock market by over 4X.* And right now, they think there are 10 stocks that are better buys.
Source: fool.com