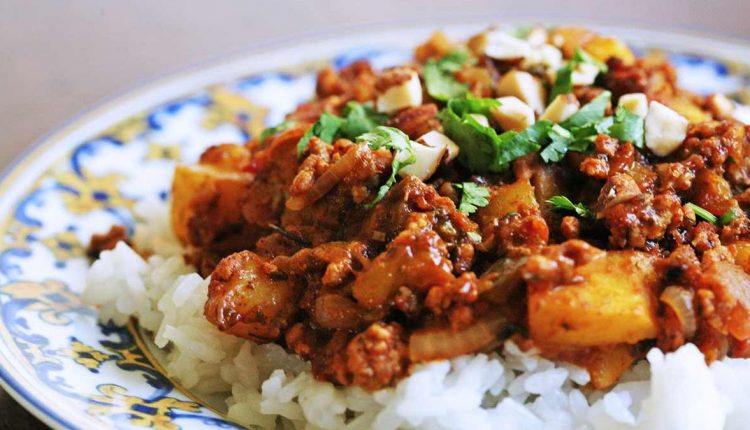 Picadillo is a spicy Latin American meat dish often served as a stuffing in chilies, taco filling, or served with rice.
I nabbed this recipe from my friend Heidi H's recipe collection one day because it looked intriguing.
What a keeper!
Lots of flavor and in the time it takes you to cook the rice, the dish will be done.
Pork Mango Picadillo
1 pound ground pork (can substitute ground turkey, but add an extra tablespoon of oil to the pan when cooking)
1 tablespoon extra virgin olive oil
1/3 cup thinly sliced onions
2 cloves garlic, minced
1 teaspoon ground cinnamon
1 teaspoon ground coriander
1 teaspoon ground cumin
1 teaspoon dried oregano, crushed
1 teaspoon dried thyme, crushed
1 cup of chunky, tomato-based salsa (prepared or homemade)
1 mango, peeled, pitted, cubed
2 tablespoons toasted almonds, chopped
2 tablespoons cilantro leaves
Hot cooked white or yellow rice
Heat oil in a large skillet on medium high. Add small chunks of ground pork to the pan, not stirring, so that the meat has a chance to brown. Once one side is nicely browned, use a spatula to flip the pieces to the other side, again stirring as little as possible.

Once you have some nice browning, you can stir and cook the pork until all pieces are cooked through and no longer pink. Drain off any fat in excess of a tablespoon.

Add the onions and spices:

Lower the heat to medium. Stir in the onions, garlic, cinnamon, coriander, cumin, oregano, and thyme. Cook, stirring, for 2 minutes more.

Gently stir in salsa and mango pieces

Lower the heat to low. Cover and heat through, about 2 minutes. Spoon into serving dish.

Sprinkle with chopped almonds and cilantro to serve.

Serve with hot cooked rice.