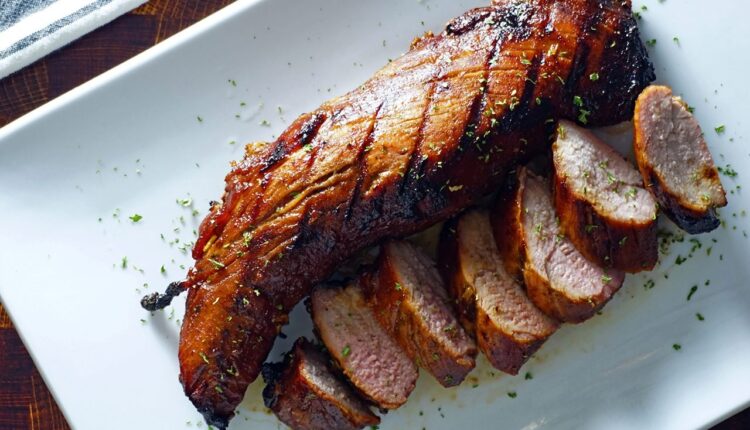 For many home cooks, firing up the grill to create a meal can feel intimidating, especially when cooking a piece of meat seldom used in their kitchen. But Chef Dale Talde, a Top Chef alum and the host of Tastemade's All Up In My Grill video series, says there's no reason to be nervous when grilling pork tenderloin this summer season.
"We all need more in our life," Talde says of the other white meat. In his own kitchen, the process for perfectly grilled pork loin begins hours before grill time.
How to brine pork loin for grilling
"I like brining it first," says Talde. "So putting it in a salt, sugar and water solution: If you have a pork loin, bone-in or bone-out, cut it into about one-inch medallions and then put it in the brine for an hour to an hour and a half. [Brine it for] two hours if you can, the longer the better, but no more than 24 hours."
Talde says brining, the process of soaking meat in salty water to tenderize it and make it juicier, will ensure the pork loin stays moist and tender throughout the cooking process — while adding some great flavor, too.
How to season pork loin for grilling
To add even more flavor, coating the outside of the pork loin with more than just salt and pepper is imperative.
"I love sweet and spicy [seasonings] with pork," says Talde. "So brown sugar, cayenne, paprika, coriander, cumin, garlic powder — any of the traditional barbeque rubs. For me, of course, it's awesome to make your own, but there are so many good rubs out there … I think find your own rub [with] the flavor profiles you're looking for."
How to grill pork tenderloin
While Talde makes it all sound simple, he understands why pork can be intimidating.
"There are different cuts," he tells Yahoo Life. "It's not like steak where you get a rib eye, a New York, a porterhouse, a hanger steak — cooking it hot and fast, getting a sear on it, cooking it to medium, slicing it."
"With pork it's like, the pork shoulder needs to be a long and slow braise or pork ribs [need to be cooked] low and slow," he continues, "and I think for people there are some shocks still from having bad pork loins that have been cooked for way too long and are dry and almost crumbly."
Once brining and seasoning have been completed, it's time to head to the grill. Talde has some pointers to ensure that grilling pork tenderloin is simple and results in a delicious final product.
"I like something grilled to around 130 or 135 F," he says, "and then letting it rest [until it reaches an internal temperature of] up to 145 F."
"And I like it directly on the grill," he says. "If you're pan-searing [the pork tenderloin], maybe wrap it in bacon or prosciutto, but on the grill, you're already dealing with so many variables, so let the pork and the smoke speak for itself."
The best way to grill pork tenderloin
For grilling pork tenderloin, Talde says hardwood or charcoal is the best heat source. "If you're going to smoke anything, pork is the number one thing," he says. "If you can't get a hardwood or charcoal grill and you're using gas, make sure the sauce you're pairing with your pork is a little smokey."
When it's time to plate your grilled pork loin, Talde says a flavorful sauce is the perfect accessory.
"Some care and a little bit of finesse goes a long way, and you have to have a sauce with it," he says. "I love an Argentinian red chimichurri with sherry vinegar and smoked paprika, tons of parsley, cilantro and garlic — but [whatever your taste preferences are], it needs a sauce."
"Even a doctored-up barbeque sauce," he adds, "a mustard-based sauce is fantastic with pork."
What side dishes go with grilled pork tenderloin?
Once the pork is seasoned and grilled to perfection, the last step is to plate it up with a side dish that compliments its rich bold flavors. Goodbye to the days of dry pork and mashed potatoes: Talde suggests a lighter and more refreshing accompaniment for the summer.
"Fruit pairs very well with pork — peaches, nectarines, stone fruits — anything in season right now, lightly grilled with a glaze of honey and vinegar and mustard, maybe," he says. "I love lettuce: Simply dressed lettuce with a protein like that makes a great light mid-week meal. I love when you're not relying on heavy starches [and instead serve] a couple of pork medallions, some greens and some fruit to accompany it."
Chef Dale's Spiced Pork Loin with Bacon-Mustard Vinaigrette and Peaches
Courtesy of Dale Talde
Brine ingredients:
2 cups water
1 tablespoon salt
1 tablespoon sugar
Mix well and reserve.
Pork ingredients:
4 1-inch pork loin chops
Your favorite spice blend
1/4 cup maple syrup
Salt to taste
2 peaches sliced (for garnish)
Instructions:
Add pork chops to brine and let sit for at least two hours, or up to over night.
Remove the pork chops from the brine and season them with salt and your favorite spice blend.
Preheat your outdoor grill or a grill pan to medium-high heat. Once hot, cook the pork chops to medium (160 F when checked with a meat thermometer), about 5-7 minutes per side.
With a brush, glaze both sides of the pork chops with the maple syrup and immediately remove it from the pan or grill.
Allow the meat to rest for 10 minutes before serving.
Bacon mustard vinaigrette ingredients:
1/2 cup chopped bacon
1 large shallot, sliced
1 tablespoon honey
1/4 cup sherry vinegar
1 tablespoon Dijon mustard
Vinaigrette instructions:
In a skillet over medium-high heat, render the bacon until crispy, stirring with a spatula so it doesn't stick.
Once crispy, remove the bacon and add the shallots, cooking for 1 minute, until they begin to soften.
Next, add the mustard, honey and vinegar and stir.
To assemble: Slice the pork chops and top with the sliced peaches. Dress it all with the bacon mustard vinaigrette.