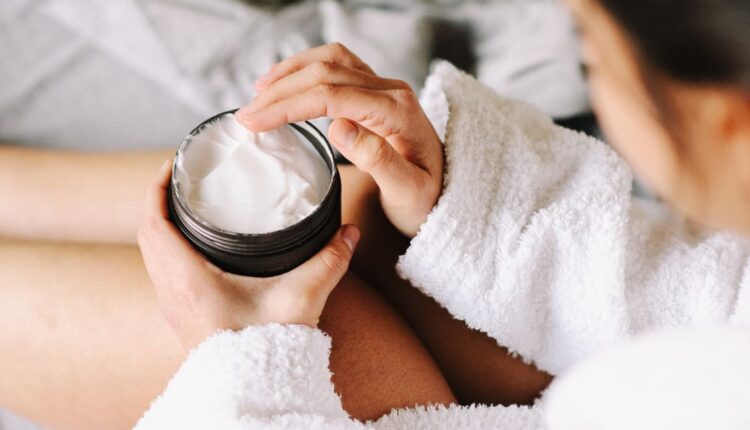 When you are looking for a new product, first and foremost you should look at the ingredients and formula to see if they are in line with your goals and desired results. Want a deeply quenching moisturizer? Make sure it's filled with butters, humectants, and oils to target all layers of the skin with hydration. Looking for brightening or free radical protection? Load up on antioxidant-fueled products. You get the idea.
But I always tell people they should also love the texture. Applying beauty products should feel appealing and be enjoyable—you should want to apply it! And everyone is different in this regard. Some love a silky, smooth lotion, while others crave a splashy, fast-absorbing moisturizer—and some want a thick, dense cream.
If you're in that last group? Well, you've come to the right article. Here, we've rounded up the best butters and whip-thick treats to coat your body in a layer of luxe hydration. Not to mention: These have plenty of other skin care perks along the way.
Tatcha Indigo Soothing Body Butter
This brand is beloved for their lush face moisturizers—and they took that expertise below the neck with this butter. The star is the Japanese indigo, which is a naturally soothing and calming ingredient that's been used to tend to sensitive-prone skin. But that's not all; the blend also contains squalane, algae extract, and colloidal oat.
Indigo Soothing Body Butter, Tatcha ($48)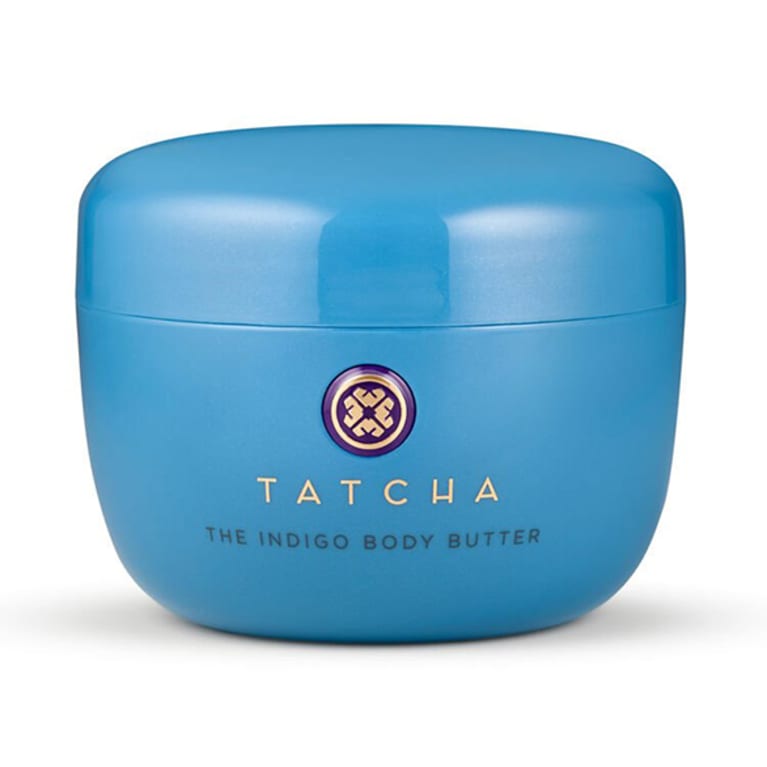 Tatcha
Tata Harper Redefining Body Balm
For those with more mature skin who want to tend to the skin on the body as well, this rich treatment combines 27 potent, natural ingredients to help smooth and lift the skin. To name a few: There's green tea for the antioxidants, olive oil for conditioning, and shea butter for a thick base. For a more targeted approach, pay special attention to the neck, chest, and hands before bed as those can be areas that show signs of premature aging.
Redefining Body Balm, Tata Harper ($165)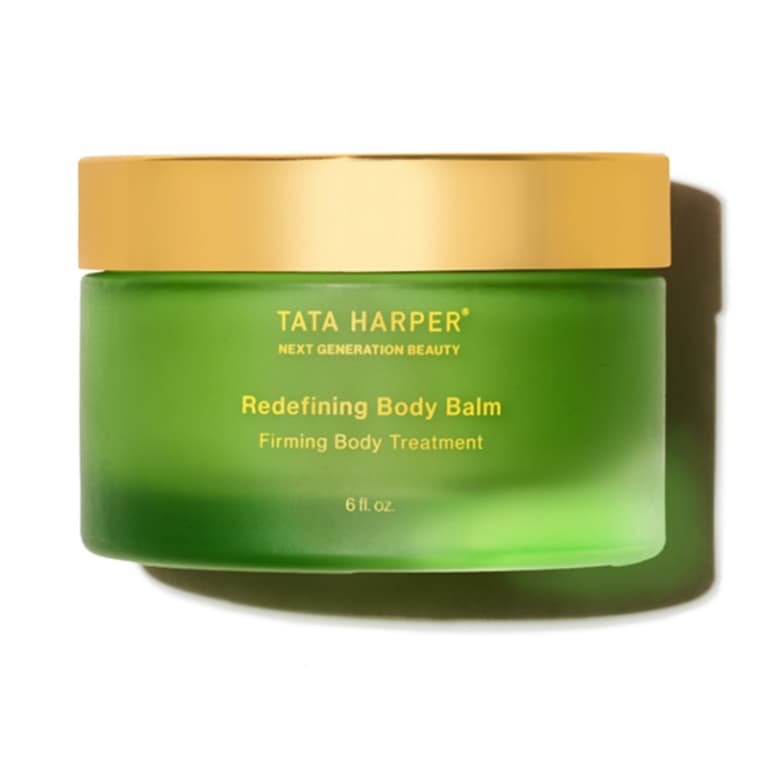 Tata Harper
CocoKind Organic Skin Butter
Sometimes simplicity is the most luxurious route. This ingredient list only counts four botanicals, to the most beautiful effect. The base is an organic and fair-trade certified coconut oil with organic shea butter and beeswax. It's laced with lavender essential oil, for not only an ahh-inducing floral scent but also to help relax the body and prep you for sleep.
Organic Skin Butter, CocoKind ($15)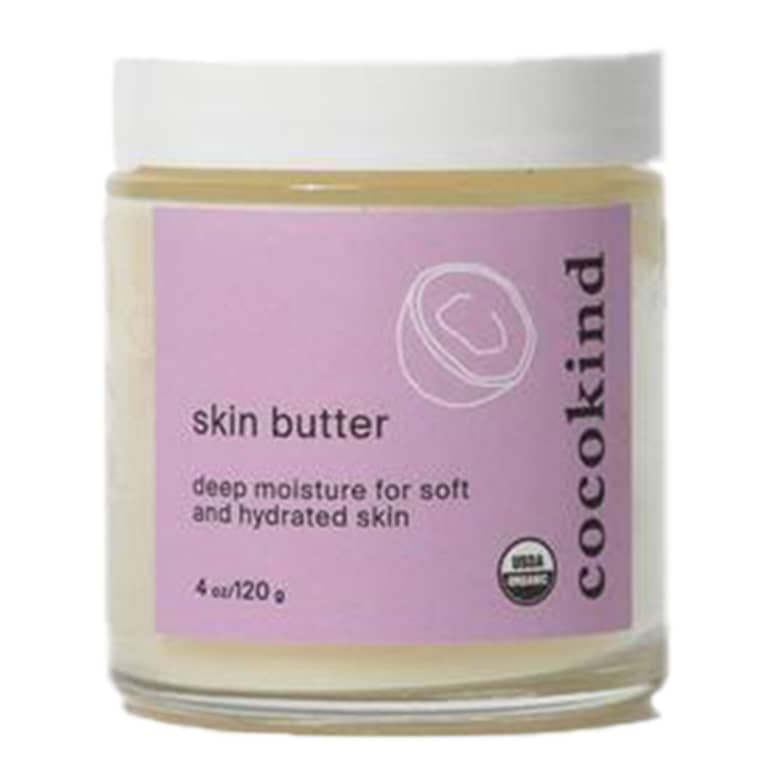 CocoKind
Skinfix Barrier+ Lipid-Boost Cream
For those who need a skin barrier boost, this sensitive-skin-friendly collection bolsters your skin's lipid content with a smart blend of fats, ceramides, and oat. Here's a little formula breakdown: The majority of the actives are healthy fatty acids from botanicals like grapeseed and sweet almond oil. It then contains 2% colloidal oat, a dermatologist-favorite ingredient that is often used to soothe the skin. It's rounded out with ceramides 1, 3, and 6 to help fortify the barrier.
Barrier+ Lipid-Boost Cream, Skinfix ($45)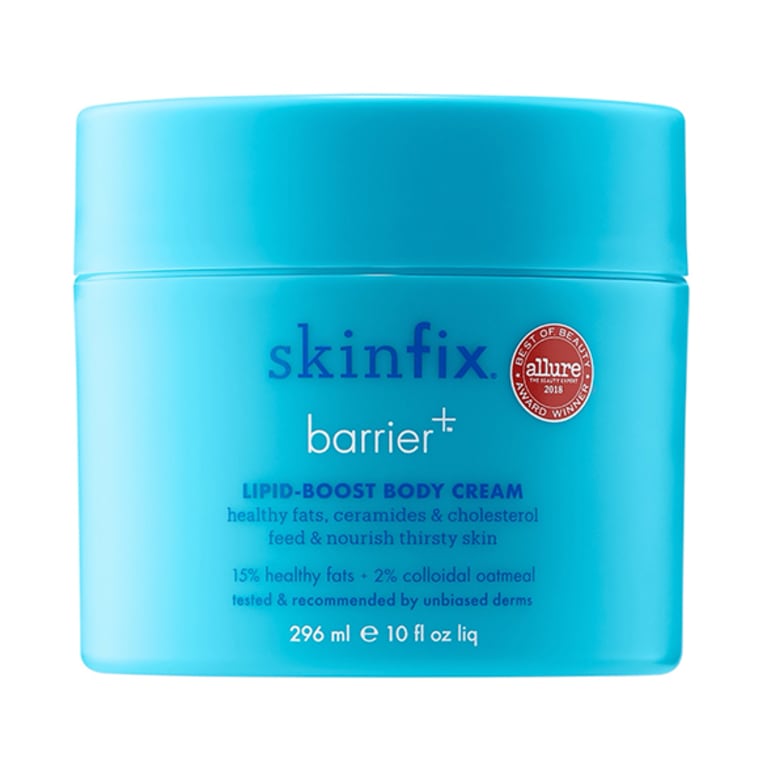 Skinfix
Weleda Skin Food Body Butter
What's a body care lineup without mentioning Skin Food? The cult classic product gets an even thicker upgrade (yes, really) in this version. The comforting combination of shea and cocoa butters keeps your skin soft while the blend of chamomile, calendula, and pansy helps calm any dryness.
Skin Food Body Butter, Weleda ($18.99)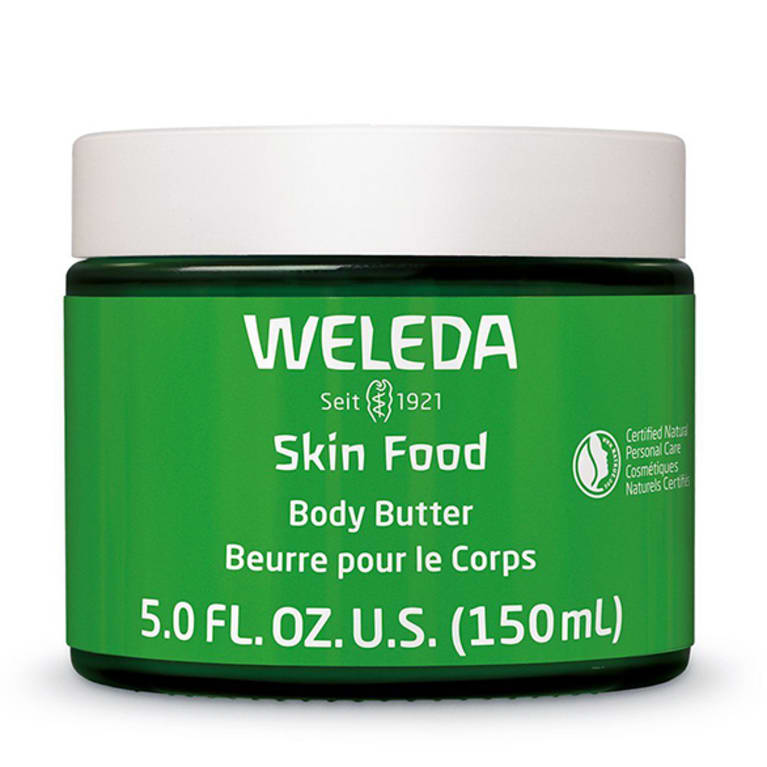 Waleda Skin Food Body Butter
Beneath Your Mask Heal Vegan Whipped Skin Soufflé
A texture you must try to believe: In the jar, it's light and whipped then melts into skin almost instantly—and certainly effortlessly. But you'll love it even more for the ingredients: Cloudberry oil is high in antioxidants, vitamin E helps brighten and even tone, and jojoba oil conditions skin without feeling heavy.
Heal Vegan Whipped Skin Soufflé, Beneath Your Mask ($80)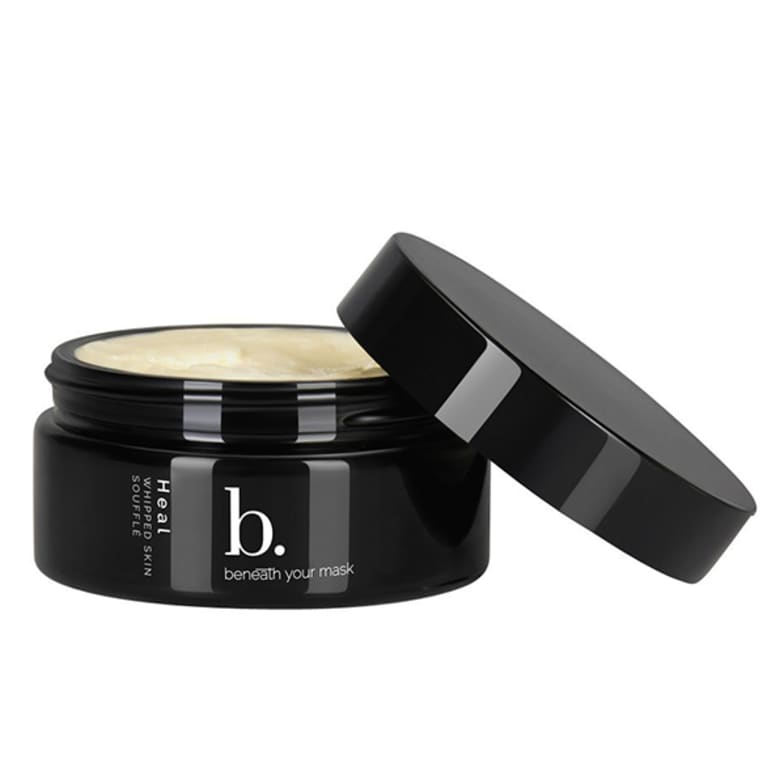 Beneath Your Mask
Eu'Genia Shea Butter
For fans of shea butter, look no further than this salve, which blends together a sophisticated blend of shea butter, shea oil, baobab oil, and moringa seed oil to deliver an antioxidant-packed and concentrated texture. You can get it in unscented (which only comes with the above) or topped with lavender essential oil (for a relaxing aroma) or grapefruit essential oil (for something bright and refreshing). Regardless of the scent, you'll be amazed by how it feels.
Shea Butter, Eu'Genia ($12)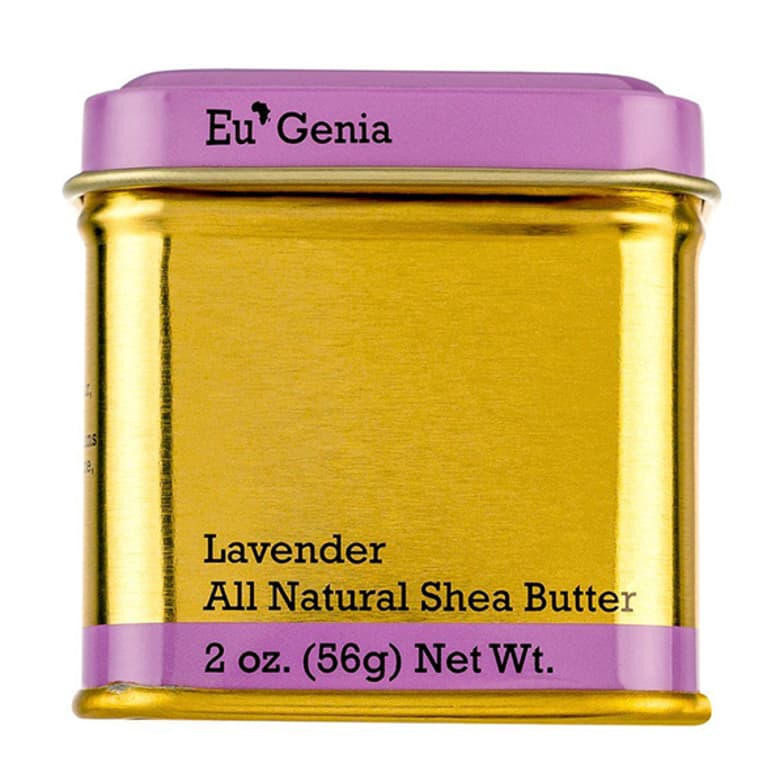 Eu'Genia
Ellis Brooklyn Marvelous CBD Extra Rich Body Cream
CBD-infused topicals made a splash in the beauty scene several years ago thanks to their anti-inflammatory properties. This cream goes a step further by adding in several herbs, plants, and oils (rosemary, avocado extract, argan oil to name a few), which helps amp up the soothing and comforting abilities. Reach for this if your skin is feeling stressed out lately.
Marvelous CBD Extra Rich Body Cream, Ellis Brooklyn ($125)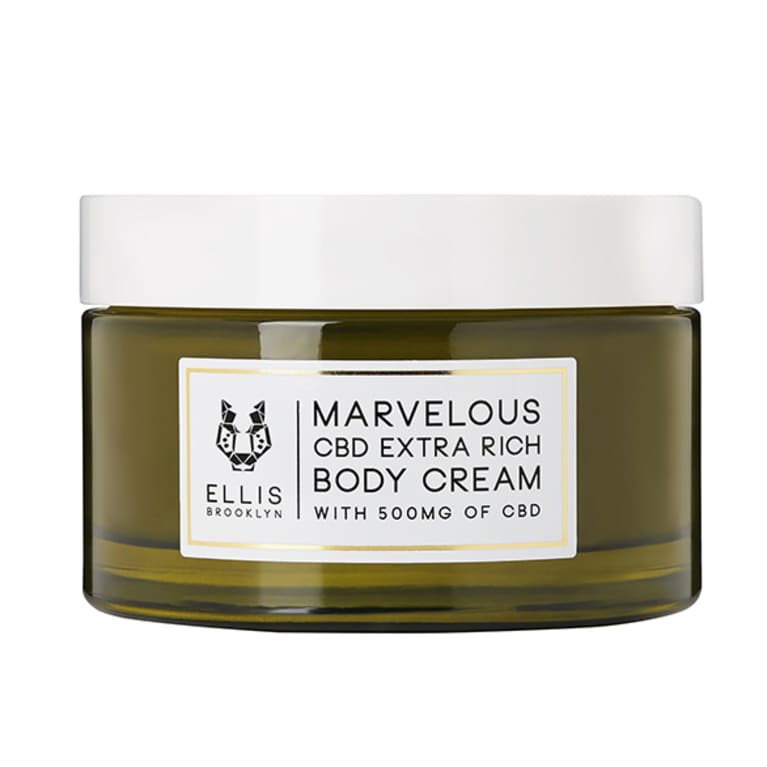 Ellis Brooklyn
Fenty Beauty Butta Drop Whipped Oil Body Cream
Seven star oils make this a spectacularly enviable cream. On the ingredient list lineup: Kalahari melon, sorrel, baobab, sunflower, rice bran, coconut, and jojoba oils—each added for their unique properties and sensorial experiences. These are then blended with butters and the humectant glycerin to provide powerful hydration.
Butta Drop Whipped Oil Body Cream, Fenty Beauty ($39)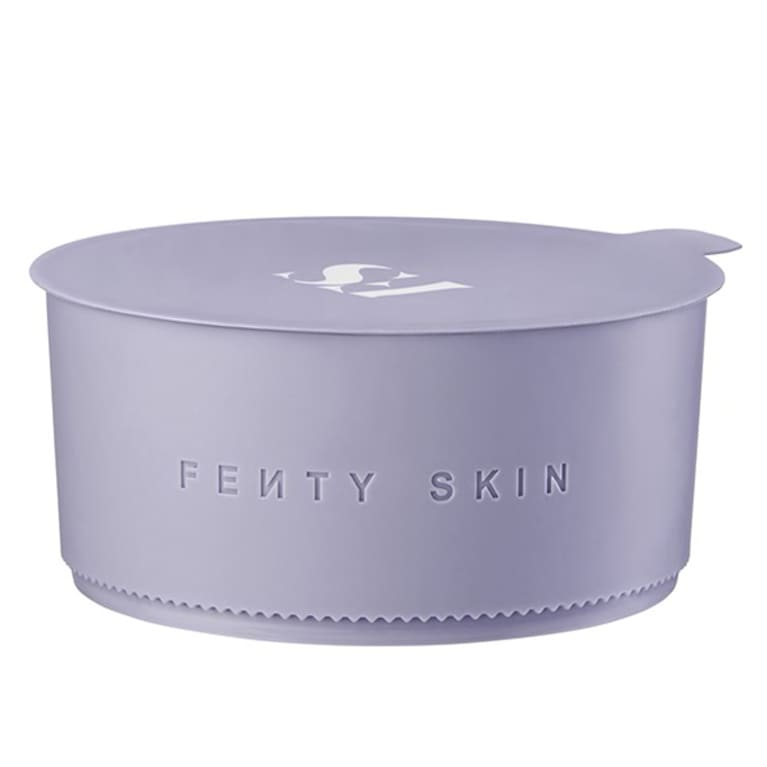 Fenty Beauty
Biossance Squalane + Caffeine Toning Body Cream
A firming and evening product to help smooth skin's appearance. First up, it contains caffeine, an ingredient that can improve circulation in the epidermis, decrease puffiness, and even has some brightening properties. Niacinamide comes in to combat oxidative stress, redness, and supports the skin barrier. Additionally, it contains the brand's signature squalane made from olives that mimics the lipid naturally produced by the skin (read: your skin responds to it better).
Squalane + Caffeine Toning Body Cream, Biossance ($28)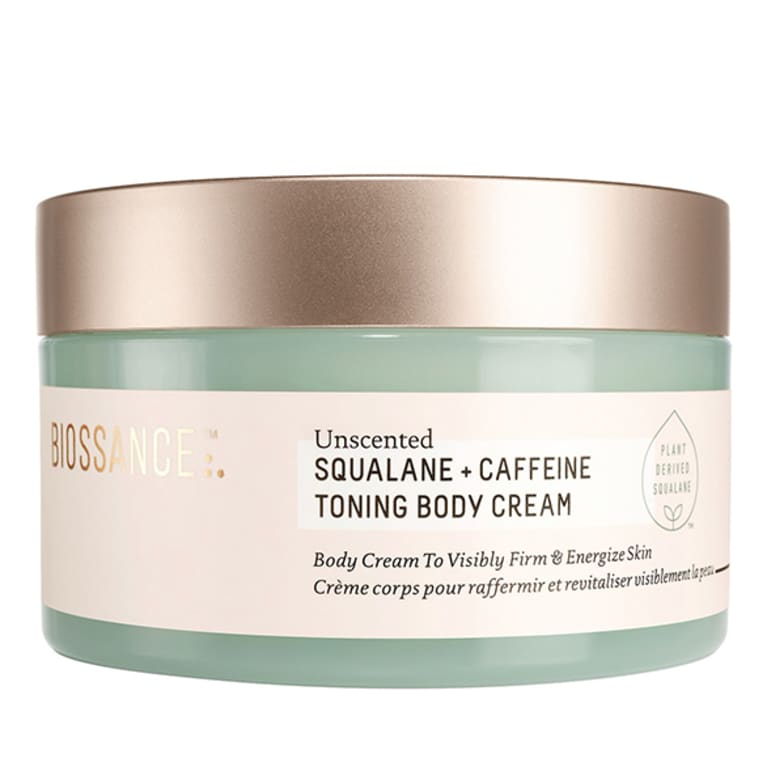 Biossance
Kiehl's Creme de Corps Soy Milk & Honey Whipped Body Butter
The Creme de Corps line from Kiehl's has garnered scores of fans, as well as inspired many product variations. The whipped body butter has a mousse-like texture, which then sinks into the skin rather quickly. We suspect it has something to do with the effortlessly light ingredients including jojoba oil and squalane—both of which are fast-absorbing, softening, and well tolerated for most skin types.
Creme de Corps Soy Milk & Honey Whipped Body Butter, Kiehl's ($40)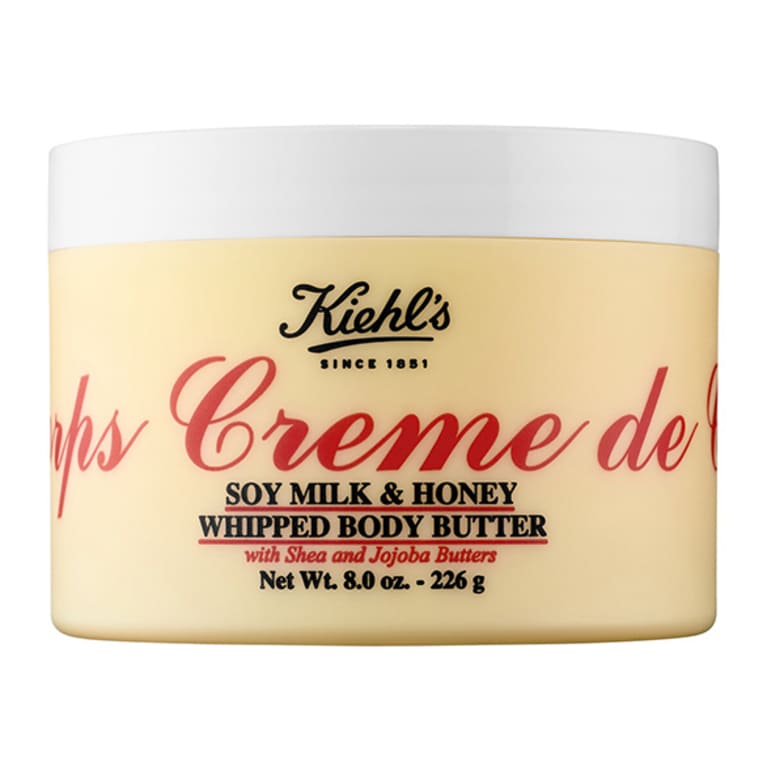 Kiehl's Creme de Corps
54 Thrones African Beauty Butter
A brand rooted in ancestral shea butter traditions, this contains two types of shea butter—as well as several oils native to the continent such as baobab oil. It comes in five different scent profiles, each inspired by different countries and aromatic notes popular in the regions. For example, there's a warm Ugandan Vanilla and Ethiopian Honey, a refreshing Egyptian Lavender and Moroccan Mint, and a calming Moroccan Blue Tansy and Egyptian Blue Chamomile.
African Beauty Butter, 54 Thrones ($24)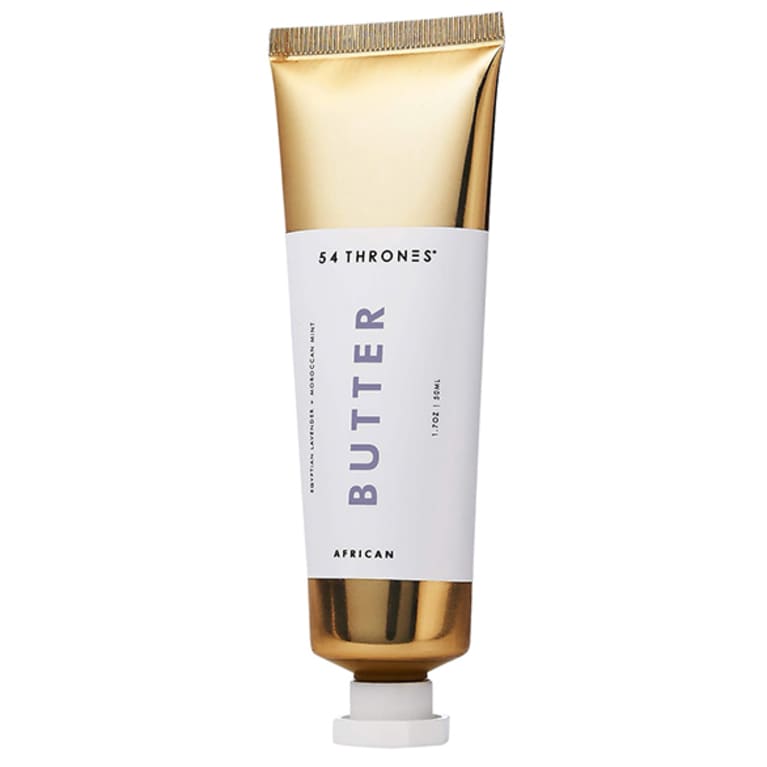 African Beauty Butter
Source: www.mindbodygreen.com