China's growing unmanned aircraft capabilities and focus on increasingly sophisticated military 
 in late August, prompting Tokyo to scramble fighters to investigate their activities. Accompanying the drones were a Shaanxi Y-8Q maritime patrol plane and a Shaanxi Y-9JB electronic intelligence aircraft, according to Japanese officials.
But China is not the only country developing and deploying drones in the region. In May, the US temporarily relocated two MQ-4C Triton drones from Guam to the Misawa base in northern Japan – the first such activity by the US military since the drones were sent to Guam early last year.
And, according to a report in late August by the Asahi newspaper, Tokyo has decided to add drones to its coastguard, to enhance surveillance throughout Japan's territorial waters.
Japan also this year started a development plan for an anti-drone system, which aims to be able to ward off attacks from vehicle-mounted lasers by 2025.
The focus on drone technology adds more uncertainties to relations between China, Japan and the US, which are already under pressure over Tokyo and Beijing's competing claims over the 
 – known to the Japanese as the Senkakus – as well as Japan's military ties with the US, China's biggest geostrategic rival.
Timothy Heath, a senior security expert at US think tank Rand Corporation, said China was likely to deploy more unmanned aircraft in the future because of their flexibility, lower risks and potential political and military benefits.
"Drones are especially useful in areas in which the potential loss of a PLA service member could spur a crisis – for example, the death of a PLA pilot while operating in contested airspace near Taiwan, Japan or in the South China Sea could generate a crisis due to the emotions linked to the loss of a service member," he said.
China holds naval drills ahead of US-led Quad exercise off coast of Guam
24 Aug 2021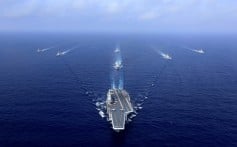 And a drone, unlike human beings, could be more politically useful, according to Heath, as it can be downplayed or played up, depending on China's needs.
"The large swarms of drones raise a dilemma for China's rivals. If they tolerate the activity, they grant China the benefits of asserting its presence in contested waters and allow a "de facto" Chinese routine presence. But if they attack the platforms, they cannot be sure how China may respond," he said.
"China may ignore the loss of an aircraft, or it may choose to respond violently to the attack. This could encourage rivals to behave cautiously."
Heath said China could potentially use drones in countries along its
 routes, where Chinese economic interests may be at risk from civil conflicts.
China is a leading global arms supplier, with drones at the forefront of its foray into multiple countries. A paper on Chinese drone exports, written by researchers from the University of Pennsylvania and Texas A&M University, revealed 18 countries including Pakistan had obtained Chinese armed drones between 2011 and 2019.
Chinese military drones like the Wing Loongs – which means pterodactyl – can fly as fast as 370km/h (230mph) and as high as 9,144 metres (30,000 feet), while carrying a payload of a dozen missiles.
China is not only actively developing drones, it is also studying how to counter them, as the state-owned China State Shipbuilding Corporation – which supplies the PLA – revealed last year when it published a review of drone use in the
Ridzwan Rahmat, principal defence analyst at Janes, said drones were useful for lengthy military reconnaissance missions, an activity prone to fatigue-induced human error. "The deployment of such equipment removes the human error factor from operations, increasing the efficiency and accuracy of its surveillance missions."
'China's new missiles could be used in conflict with Taiwan, US or Japan'
22 Aug 2021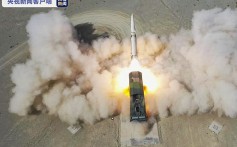 With more drones joining the power game, and China's determination to defend its national interests, experts said the whole region risked being destabilised.
Heath said China's determination to change the status quo through grey zone tactics would leave its neighbours little choice but to invest in capabilities to counter the growing Chinese presence and capability. "The result is likely to be an escalating arms race and a high state of tension in the region."
Grant Newsham, a senior research fellow at the Japan Forum for Strategic Studies, said Chinese military drones would alarm other countries.
"Drones will be employed as part of the PRC's overall 'harassment package' that it deploys against Japanese naval and coastguard and air forces that are defending Japanese territory – land, sea, and air – in the southern Nansei Shoto [islands] and the East China Sea," he said.
"China's aggressive behaviour that looks to dominate and take other people's territory is widely recognised in the region. Drones are just another tool in the kit box that China makes use of to carry out its ongoing aggressive strategy."
This article appeared in the South China Morning Post print edition as: Spread of drones raises fears for security
Kristin Huang is a correspondent for the China Desk, and focuses on diplomacy and defence. She joined the Post in 2016. Kristin is interested in security issues, with a special focus on Chinese military.
Chinese air force may have cracked how to land a hypersonic drone
Flight control computers' inability to calculate a descent quickly enough at Mach 5 has been an obstacle to using hypersonic aircraft
But Chinese military researchers say they have rethought the software to work around the problem
China is developing its hypersonic flight capabilities. Photo: CCTV
Landing an
 flying at above five times the speed of sound on a standard air strip is not easy, but
 researchers say they have found a way to make it safer, potentially bringing applications for hypersonic flight a step closer.
The technology has progressed considerably, with China and Russia deploying various types of hypersonic missiles in recent years, and growing interest in applying the advances to
. But bringing such aircraft back to ground safely has proved problematic – even more so with the added urgency and complexity of a military setting.
A modern plane relies on software to find an optimal path of descent, and humans can intervene if anything goes wrong. At hypervelocity, however, even the fastest flight control computer struggles to calculate it in time.
Source: www.scmp.com