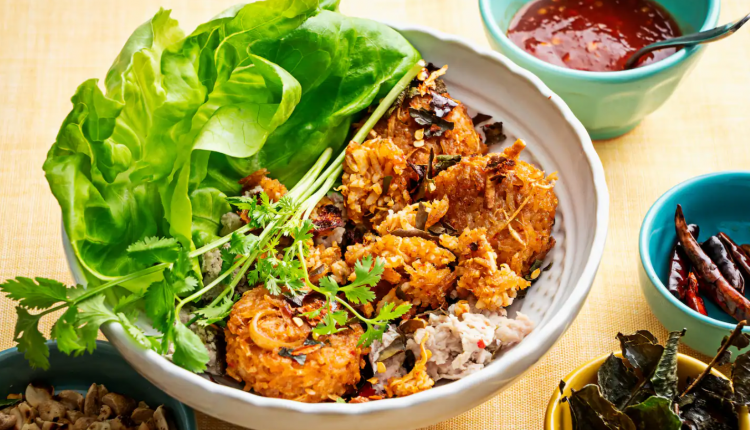 The first time I had Lao food, I fell hard for a dish I then obsessed over for years. I'd think about it on the subway, while cooking dinner, folding laundry, during a run. I'd recall its flavors and textures; how its fragrance hit my nostrils; the delightful contrast of crunchy and soft textures. It was a dish I had wanted to learn to make for years but was too intimidated to try. It felt overwhelming in its lack of familiarity, and it looked like it would take all day to make.
The dish in question is naem khao: crispy coconut rice with som mu (a type of Lao sausage), herbs and aromatics, served with lettuce leaves for wrapping. I first tried it in 2013, when my friend, chef Soulayphet Schwader, opened his restaurant, Khe-Yo, in Lower Manhattan and invited my husband and me to be his guests. We'd never before had Lao food, so once we settled in our seats, we selected a few tasty-sounding but unfamiliar dishes.
The initial bite of naem khao was explosive: salty, sweet, spicy and sour all at once — intense and bright, yet balanced. And each subsequent bite made me want to eat more.
Still, it took me nearly eight years to muster the courage to tackle this recipe at home. Why so long? To be honest, I was intimidated by the multipart dish. Also, I didn't grow up cooking and eating Lao food, so I was worried about being culturally sensitive and respectful.
Finally, I pitched the idea to my editors, they accepted, and that gave me a deadline and the courage to ask Schwader for his recipe. If you were to order naem khao in a restaurant, it would probably arrive at your table looking more like a stir-fry than the crispy balls you see here. That's because the rice balls — or patties if you prefer to shape them that way (flatter patties give you more crunchy surface area) — get broken up and mixed with the other ingredients before they reach the table, so all you have to do is spoon the filling into the lettuce leaves.
Schwader likes to play with his food, so he serves the rice balls intact, allowing diners to make their own mess in their bowls as they release the intoxicating aroma of the just-fried coconut rice, fried makrut lime leaf and fresh cilantro. The scent transports you — a veritable nose spa — and I wanted to re-create this experience at home.
Naem khao is an anomaly in Lao cuisine because it uses the more expensive jasmine rice and not the sticky rice grown across Laos and served at every meal, says chef Seng Luangrath of Thip Khao in D.C. Luangrath isn't sure exactly how jasmine rice, popular in Thai cuisine, became the grain of choice for the dish, but she suspects some of it had to do with food stands along the Mekong River, where she remembers going as a child to eat.
Eating naem khao by the bank of Mekong stuck in Luangrath's memory, but after arriving in the United States, she couldn't find anyone to teach her about it.
Schwader agreed. "There were always people we knew who were known for their naem khao and whenever there was any Lao get-together, these people would make and bring it. It wasn't just something you made at home; my mom never made it."
In testing the recipe multiple times, I didn't find it fussy, especially when you consider the pay off.
Outside of cooking the jasmine rice and letting it cool completely, the rest of the dish comes together pretty quickly. I've even made it on a weeknight, when I had the store-bought sausage and cooked rice on hand.
After that, it's just a matter of filling your bowl with the patties, sausage, herbs, aromatics and lettuce. All in all, it's pretty simple without any special skills or know-how necessary.
It's the kind of dish that might create a stir at your next gathering, be it a dinner party or a casual cocktails and snacks kind of thing. Fry up the rice balls, set out the ingredients and watch a line form and the entire dish vanish in minutes. I guarantee you, people will be asking you for the recipe.
Naem Khao (Lao Crispy Rice Salad)
Make Ahead: Jasmine rice needs to be cooked and completely cooled before use, and can be prepared up to 3 days in advance. If making som mu, the sausage mixture needs to cure for at least 8 hours and for up to 3 days before cooking.
Where to Buy: Frozen shredded coconut, makrut limes and their leaves, som mu (a fermented Lao sausage — look for Bouakham Nam Sausage from the Lucky Lily brand) and fresh bird's eye chiles can be found at Asian markets. Fish sauce, dried bird's eye chiles and curry paste can be found at Asian markets and online. Chile garlic sauce, such as sambal oelek can be found at Asian markets, well-stocked supermarkets and online.
NOTES: Jasmine rice is traditionally used to make this dish; cook according to the package instructions. To get 3 cups of cooked rice, you'll need about 1 1/2 cups uncooked. One caveat: We didn't have success with leftover takeout jasmine rice as it was too dry and the patties fell apart.
---
1 pound ground pork
2 large cloves garlic, minced or finely grated
2 large makrut lime leaves, minced
1 fresh red hot chile, preferably bird's eye (may substitute with 1 small serrano chile peppers)
Finely grated zest and juice of 1 lime, preferably makrut
Generous 1/2 teaspoon fine sea salt
1 1/2 teaspoons granulated sugar
3 tablespoons chile-garlic sauce, such as sambal oelek
4 teaspoons mild honey, or more to taste
3 cups (525 grams) cooked jasmine rice, cooled completely (see NOTES)
1 cup (120 grams) frozen shredded coconut (see NOTES)
3 tablespoons (60 grams) red curry paste, preferably Maesri brand
1 1/2 tablespoons fish sauce, preferably Three Crabs brand
1 1/2 teaspoons sweet paprika
Finely grated zest of 1 lime, preferably makrut
2 large eggs, lightly beaten, plus more if needed
4 cups canola oil
Fresh or frozen makrut lime leaves, for serving
Dried bird's eye chiles or another dried small red chile, for serving (optional)
Butter lettuce leaves, for serving
Som mu (recipe above or store-bought, see Where to Buy)
Fresh cilantro sprigs, for serving
Roasted peanuts, for serving (optional)
Chopped scallions, for serving (optional)
---
Make the som mu: In a medium bowl, mix together the pork, garlic, lime leaves, chile, lime zest and juice, salt and sugar until the mixture is thoroughly combined. Cover the bowl and refrigerate for at least 8 hours and up to 3 days.
---
When ready to cook the sausage, add enough water to come 1 inch up the sides of a medium pot. Insert a steamer basket in the pot, making sure the bottom of the basket doesn't touch the water, cover with a lid and set over medium heat until the water comes to a simmer.
Meanwhile, remove the sausage mixture from the refrigerator and divide into six equal parts and roll each into a cylinder approximately 8 inches long. Wrap each cylinder in plastic wrap, twisting the ends tightly, or divide between two silicone resealable bags (such as Stasher brand).
---
Remove the lid and carefully place the wrapped or sealed sausages on top of the steamer basket. Return the lid to the pot and steam the sausages for about 8 minutes or until completely cooked through and no pink remains. Carefully remove from the steamer basket and let sit for a few minutes before opening the individually wrapped sausages or unsealing the bags. Set aside while you make the naem khao.
Make the naem khao: In a small bowl, whisk together the chile-garlic sauce and honey; set aside.
Set a wire rack over a large, rimmed baking sheet and line a small plate with a paper towel or clean kitchen towel; keep both nearby.
---
In a large bowl, combine the rice, coconut (you may need to use your fingers to separate frozen clumps into individual shredded bits), curry paste, fish sauce, paprika and lime zest. Mix with your hands until thoroughly combined. Add the eggs and mix until thoroughly combined. (If the mixture seems dry and crumbly, add another egg and mix to combine.)
---
In a Dutch oven or heavy-bottomed large pot set it over medium heat, heat the oil until it registers 350 degrees on an instant-read thermometer.
While the oil is heating, shape the rice mixture into golf-sized balls, then gently flatten each ball into a patty. (You can opt to keep the rice balls as spheres, if you prefer, but a flatter patty will give you more crispy surface area.)
---
When the oil is hot enough (if you don't have an instant-read thermometer, drop a pinch of the rice mixture into the oil and if it sizzles vigorously, the oil is ready), working in batches to avoid overcrowding, gently slide a few rice patties into the hot oil and fry until deep golden brown, 2 to 3 minutes. Using two forks or a spider, gently flip the patties and fry until deep golden brown on the other side, another 2 to 3 minutes. Using a spider or a slotted spoon, transfer to the prepared wire rack and repeat with the remaining patties. As you continue to fry subsequent batches, you may need to adjust the heat and frying time as needed.
---
Add the lime leaves and chiles, if using, to the oil and fry until crispy, about 30 seconds to 1 minute. (You may need to stay back as the oil may bubble vigorously.) Using a spider, transfer the fried aromatics to the towel-lined plate.
---
To serve, arrange the lettuce leaves in 4 shallow bowls, add 4 rice patties to each bowl (you may have one or two extra), some of the som mu, cilantro, peanuts and scallions, if using. Crumble some of the fried makrut lime leaves and chiles, if using, over the bowl. To eat, break the rice patties into irregular bits, and mix with the som mu and the aromatics. Spoon the mixture into the lettuce leaves and garnish, and eat like wraps.
---
Per serving (3 rice patties, 1 sausage and 1 tablespoon sambal), based on 6.
Calories: 630; Total Fat: 37 g; Saturated Fat: 16 g; Cholesterol: 116 mg; Sodium: 975 mg; Carbohydrates: 54 g; Dietary Fiber: 6 g; Sugar: 9 g; Protein: 21 g
This analysis is an estimate based on available ingredients and this preparation. It should not substitute for a dietitian's or nutritionist's advice.