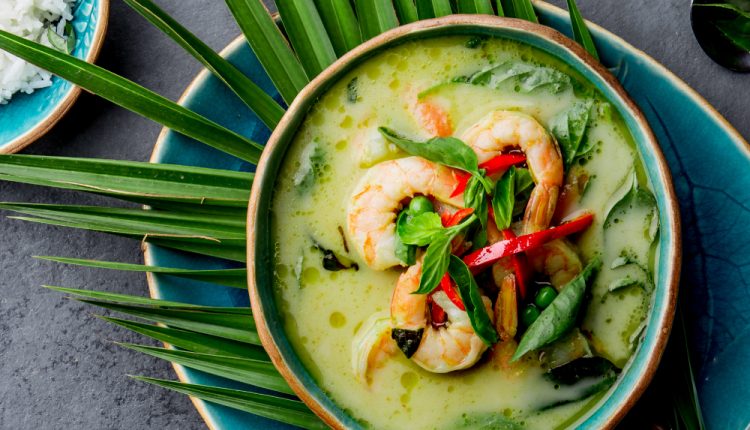 A fragrant and creamy Thai green prawn curry recipe with plump and juicy prawns and nutty edamame beans. Make your own Thai green prawn curry at home with this simple recipe and this easy to make Thai green curry paste. Better than a takeaway any night of the week.
To make this easy Thai green prawn curry you will need: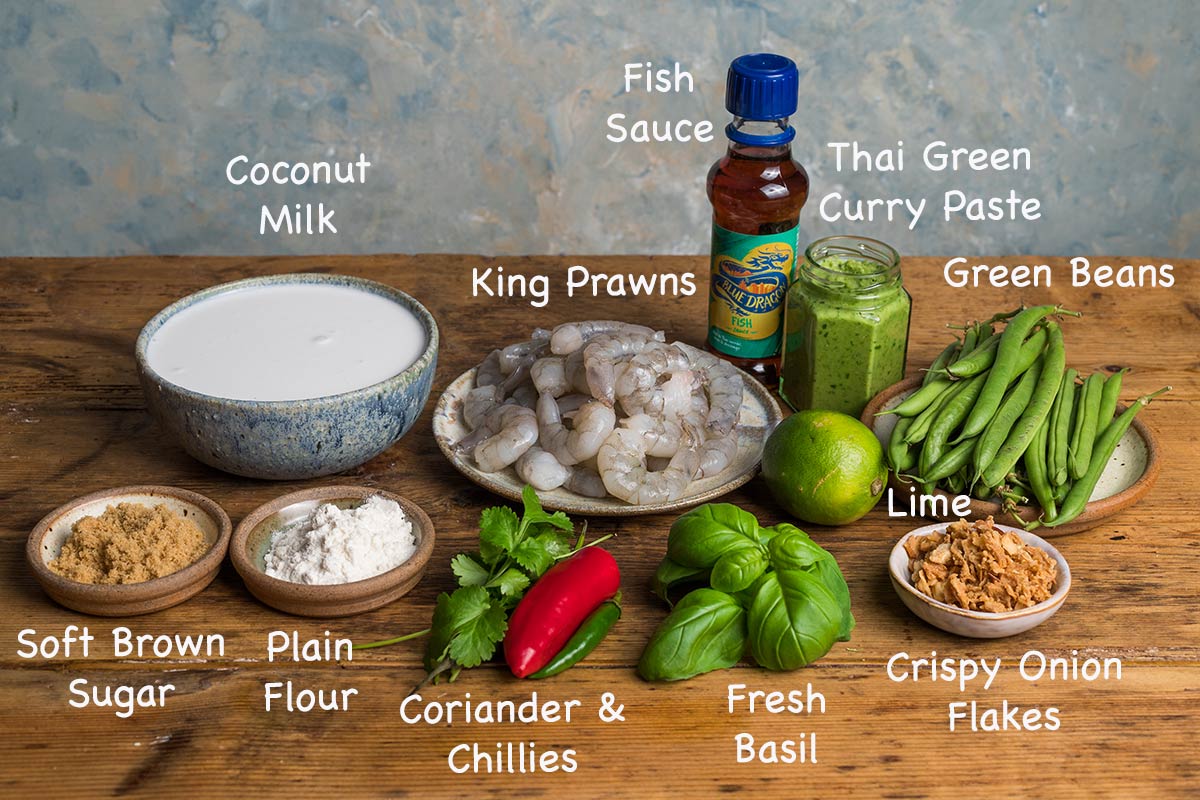 Ingredient notes
Coconut milk: The best replacement for coconut milk in terms of consistency and flavour is cream. This can be a little heavy so you can also use yogurt or milk. If using milk I would recommend adding flour as well, as described in the recipe, to help keep the sauce thick.
Fish sauce: Fish sauce is the main seasoning ingredient in Thai cooking and completely transforms the dish. I highly recommend using fish sauce in this recipe for the best flavour. If you can't get hold of any or if you are making a vegetarian curry, you can substitute with soy sauce, Worcestershire sauce or seaweed paste.
Prawns: The prawns can be substitute for your preferred meat or fish. See Thai green chicken curry option. For a vegetarian option replace the prawns with extra veggies and remember to replace the fish sauce with either soy sauce, Worcestershire sauce or seaweed paste.
Thai green curry paste: For best results I recommend making the Thai green curry paste yourself. However, if you don't have time to make the paste the best alternative is to buy a jar of pre-made paste. Bear in mind that the homemade paste can be made in advance and kept in the fridge for up to a week or frozen for up to 3 months.
Edamame beans: Any type of green bean will work well here. I usally opt for soy or green beans. If you want more veg try with tenderstem broccoli, pak choi, baby corn, red onion, finely chopped carrot, aubergine, or courgette..
Flour: The flour is used in this recipe as a thickening agent. If you prefer a Thai green sauce with a thin consistency or if you are making a gluten free version then leave this out. See expert tips below for alternative ways to thicken a curry sauce.
🔪 Step by step instructions
Place a wok or large shallow pan onto a medium heat. Add 3 tbsp of Thai green curry paste and cook for 1 minute to release the flavours.

Next add a can  coconut milk and stir well until fully combined with the paste.

Continue to stir until heated through.

Next add a small amount of cold water to 1 tbsp of plain flour and mix into a paste. Add this to the sauce and stir in. Continue to heat and stir until sauce starts to thicken. (Skip this step if gluten free and see expert tips below for other ways to thicken the sauce)

Add the raw king prawns to the green sauce and bring to a gentle simmer. TIP: do not boil as this will cause the sauce to thin out.

Season with lime juice, lime zest, brown sugar and fish sauce (if you're making a vegetarian curry replace the fish sauce with a vegan fish sauce or seaweed paste). Stir well and cook at a simmer for 2-3 minutes or until prawns are bright pink.

Next, add your choice of vegetables (I added edamame beans) and heat for a further 1-2 minutes or until veg is cooked but still crisp and bright green.

Top with fresh basil, fresh chillies and Crispy onions. Dish up and serve with rice.
💭 Expert tips
Extra spiciness: If you like your Thai green curry spicy then add chopped, fresh green chillies during cooking or as a topping. Taste the chillies first so you have a rough idea of how much heat you're adding. Use the smaller, thinner finger chillies for extra heat or use the larger green chillies for a milder flavour.
How to make curry sauce thicker: Use full fat coconut milk in the recipe. The reduced fat versions are more watery and so will ultimately thin out the sauce. Coconut milk can also lose its consistency when boiled rapidly over a prolonged period. So even though reducing a sauce does thicken it, rapidly boiling in this instance will not help.
Other options for thickening the Thai green curry sauce include: Add full fat yogurt to the sauce. Instead of serving rice at the side, mix it directly into your curry whilst still in the pan. If adding vegetables that release water during cooking (e.g. courgettes, mushrooms) roast these in the oven first and then mix into the finished curry. Or add flour to the curry. To avoid flour lumps forming I usually mix 1 tbsp of flour with a bit of water to form a paste. Then add the flour paste to the curry and mix well.
❓ Frequently asked questions
Is this Thai curry hot?
Out of all the Thai currys, Thai green curry is the hottest, despite the belief that Thai red curry is the hotter of the two. This is mainly down to the chillies used in the paste. Green chillies (particularly green birds eye chilli peppers) tend to be hotter than red. So whether the paste is hot or too spicy for you, is dependent on the ingredients used and the amounts.
How much curry paste is needed to make a curry?
2-3 tbsp of paste is usually enough when making a curry for 2-4 people.
How to store?
Once made, allow the Thai green curry to completely cool then transfer to a sealable container and keep in the fridge for 2 days or or in the freezer for up to 3 months. Defrost in the fridge overnight. Reheat in a pan or in the microwave until piping hot throughout.
Is this recipe gluten free?
Yes its gluten free, as long as you don't use the above flour option for thickening. But do always check the packets of the individual ingredients you are using. Generally the main ingredients in this curry are naturally gluten free.
Source: properfoodie.com