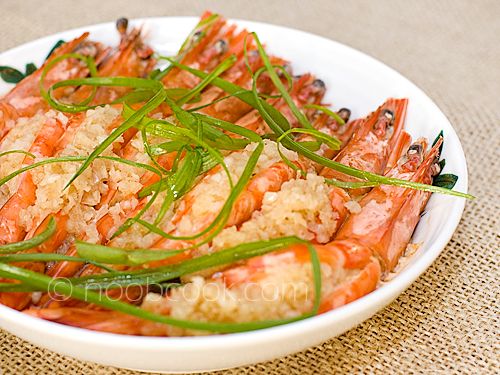 Steamed Garlic Shrimp is an easy and delicious shrimp dish that is extremely simple to make. Nothing tastes better than fresh shrimp cooked right off the steamer.
SERVING: 4 People | TIME: 30 min
10

 

large

 

shrimp

1

 

oz.

 

garlic, minced

1

 

oz.

 

green bean vermicelli, soaked

1

 

oz.

 

fresh red chili pepper and green onion, shredded into thin pieces

1

 

tbsp

 

olive oil

½

 

tsp

 

salt

½

 

tsp

 

rice wine

½

 

tsp

 

sugar

½

 

tbsp

 

cornstarch

1

 

tbsp

 

water
DIRECTIONS:
Step 1
Cut out shrimp whiskers and legs. Split shrimp in the middle starting from head working toward the tail; leave tail portion uncut.
Step 2
In a rectangular dish, put green bean thread noodles over the bottom of the dish. Place shrimp on top of bean threads, tail in the middle. Split head toward both sides(form a "W" shape ). Line up all 10 shrimp one by one.
Step 3
In a small skillet at medium heat, add 1 tbsp olive oil and garlic; stir till garlic turn light brown.
Step 4
In a small bowl, mix 1 tbsp fresh garlic, fried garlic and oil, rice wine, water, salt, sugar, and cornstarch. Pour mixture evenly over shrimp. Bring water in a steamer to a boil, put the dish with shrimp in, cover and steam for 8-12 minutes.
Step 5
Garnish with red pepper and green onion. Pour evenly a tablespoon of hot oil over red pepper and green onion.
Final Notes
Leave the shells on during steaming to give them a little insulation from the direct heat. This will let it cook a bit slower and result in more tender shrimp.