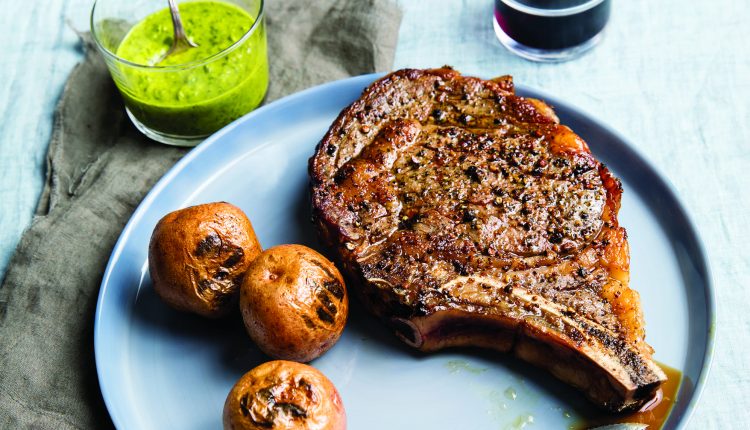 Pan-seared steak with a crispy crackly outer crust. tender melt in your mouth in every bite the butter basting in the pan with the herb and garlic aroma is the piece de resistance making a steak of the century
SERVING: 4 People | TIME: 25 min | COOKING TIME: 10 min
【

 

Chimichurri Sauce

 

】

2

 

cloves

 

Garlic, minced

1

 

tsp

 

Red chili flakes

¼

 

cup

 

Parsley, chopped

2

 

tbsp

 

Oregano, chopped

2

 

tbsp

 

Red wine vinegar

½

 

large

 

Lemon juice

1

 

pinch

 

Salt

¼

 

cup

 

Vegetable or canola oil

½

 

cup

 

Extra virgin olive oil

【

 

Steak

 

】

8

 

oz.

 

Ribeye steak

1

 

tbsp

 

Vegetable oil

1

 

pinch

 

Kosher salt

3

 

tbsp

 

Unsalted butter

½

 

cup

 

Finely sliced shallots (about 1 large; optional)

2-3

 

cloves

 

Garlic – whole cloves

2-3

 

sprigs

 

Thyme or rosemary
DIRECTIONS:
Step 1 【Chimichurri sauce】
In a bowl add the garlic, chili flakes, parsley, oregano, red wine vinegar, lemon juice, salt, olive oil and vegetable oil. Mix the ingredients together and set aside to allow infusion for at least 20 minutes.
Step 2【Steak】
Take the steak from the fridge approx 20-30 minutes prior, to allow it to reach room temperature. Pat dry with kitchen paper.
Step 3
In a very hot skillet add a little oil, salt your steak just before adding it to the hot pan. Sear the steaks on one side until caramelization appears then flipping it over and sear further for approx 2 -5 mins depending on preferred steaks doneness. See below for how to test the steaks for preferred doneness.
Step 4
Reduce the pan to medium heat then to one side of the pan add the butter, and to that add the shallots, garlic cloves and your desired herbs to allow the flavors to release.
Step 5
Tilt the pan away from you and scoop the butter whilst it is bubbling, over the steaks. Flipping the steaks regularly and continuously basting with the butter over again and again for approx 1 -2 minutes until the butter stops bubbling and has turned light golden and a nutty aroma appears. The steaks will form a golden crusty outer and maintain a succulent center.
Step 6
Serve: Let your steak rest for five minutes before you eat it as this allows the proteins to relax thus allowing the juices to reabsorb rendering a more succulent steak. Spoon lashings of the homemade Chimichurri sauce over the top of the steaks. Enjoy.
Final Notes
【THE TOUCH TEST】 RARE – will give an indent. MEDIUM – RARE is soft and springy when touched MEDIUM is firmer with a slight spring. MEDIUM WELL slightly firm Well done is firm too hard. 【THERMOMETER TEST】 RARE 120 – 130 F 50 55 C MEDIUM RARE 130 – 135 F 55 – 57 MEDIUM 135 – 145 F 57 – 63 C MEDIUM WELL DONE 145- 155 F 57- 63 C WELL DONE 155F AND ABOVE 68C AND ABOVE.