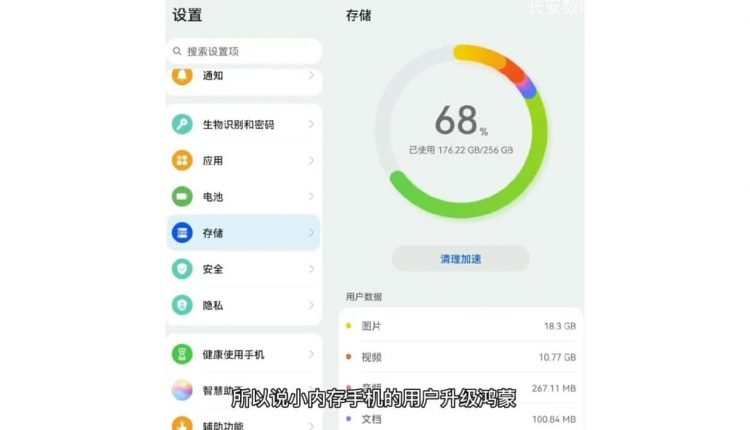 Ahead of the large-scale adaption of HarmonyOS 2.0, Huawei is testing this self-developed distributed operating system to order to leave no such stones in the way, that may becomes obstacles in the future in the success of Hongmeng OS (HarmonyOS).
Talking about HarmonyOS 2.0 beta activity, last month, HarmonyOS 2.0 mobile developer beta 3 entered the pipeline of test software updates for some flagship devices that are Mate 40 series, Mate X2, and others.
After installing the latest Hongmeng OS 2.0 test builds, the testing devices users have begun sharing their experience, and facts about HarmonyOS 2.0 through comparison video and screenshots.
In the past two three days, we have seen lots of comparison videos of HarmonyOS 2.0 and EMUI 11 on the basis of different aspects like app fluency, boot time and animation, system smoothness, and much more.
Now, a well-known Weibo tipster – Changan Digital King shared his own experience with Huawei Mate X2 foldable smartphone on EMUI 11 memory manager, which shows the system used memory 182GB (including user's data) out of 256GB and average usage from 8GB RAM is 4.83GB (66%). It means that RAM available for users is around 2.44GB.
On the other hand, after installing the HarmonyOS 2.0 mobile dev beta 3, the used system storage on the Mate X2 now decreased to 176.22GB (previously 182GB on EMUI 11) out of 256GB, which is 6GB less. Furthermore, the system only utilizing 4.23GB RAM (58%), and the average random memory available increased to 3.03GB for users.
These differences suggest that HarmonyOS 2.0 ecosystem is lighter than the Android 10 based EMUI 11. Moreover, the memory requirement to upgrade over Hongmeng OS is not high, so that low storage smartphone variants can also run very well on Huawei's OS, which is actually good news for the Huawei smartphone owners.
However, aside from RAM and storage, HarmonyOS performance was previously observed slightly higher than Android-based devices in most perspectives.