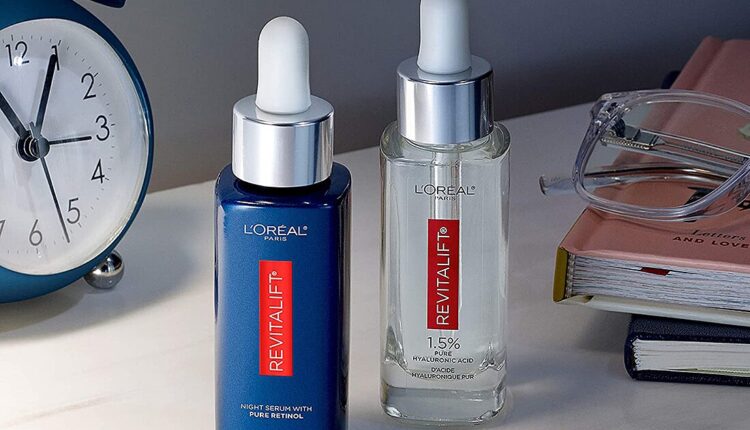 When it comes to anti-aging, retinol is the dermatologist-recommended ingredient. Retinol is a vitamin A derivative that can boost collagen production and improve the appearance of fine lines, wrinkles, and dark spots, says board-certified dermatologist Marisa Garshick, M.D. "Additionally, because it helps regulate skin cell turnover, retinol improves the appearance of both skin tone and texture," she says.
While typical anti-aging products on the market can put a pretty good dent in your wallet, Garshick says there are a ton of over-the-counter retinol skincare products on Amazon that can produce results. "Retinol doesn't need to be expensive to be effective, but it is important to note that tolerability is key when it comes to selecting a retinol," she says. "Regardless of cost, it is always important to select a retinol that is good for your skin type, and there are great retinol options for all skin types available over the counter."
To choose a good retinol product, there are a few things to keep in mind, like its concentration of retinol. Because retinol can sometimes be irritating on sensitive skin types, Garshick recommends starting with a lower concentration, such as between 0.1 and 0.3 percent. You can also look for a retinol product with ingredients that simultaneously hydrate the skin to help with tolerability, Garshick says. 
"When starting a retinol, it is best to start just a few times per week to minimize dryness and sensitivity," she says. "It is also important to protect your skin from the sun with sunscreen when using a retinol to minimize sun sensitivity."
Below, Garshick outlines some of the best OTC retinol creams, serums, and products for anti-aging results from brands like L'Oréal, Neutrogena, CeraVe, and more. They're all less than $30, available on Amazon, and loved by customers.
Related Items
CREDIT: COURTESY OF AMAZON
RoC Retinol Correxion Deep Wrinkle Night Cream
"This tried-and-true retinol formulation improves the appearance of fine lines, wrinkles, and dark spots while hydrating the skin to minimize irritation," Garshick says. This night cream combines retinol with vitamin E and antioxidants to remove dead skin cells, and it is clinically shown to diminish fine lines after 12 weeks of use. Plus, "it's gentle enough that it can be used nightly," Garshick adds. More than a thousand shoppers have left five-star reviews of the Roc retinol cream, some with pictures of their rapid results.
CREDIT: COURTESY OF AMAZON
Neutrogena Rapid Wrinkle Repair Retinol Moisturizer with SPF 30
Calling this serum a "drugstore favorite," Garshick says Neutrogena's Rapid Wrinkle Repair is a great multitasker, as it's formulated with SPF 30. In a clinical trial, results showed that after one week, women noticed differences in their appearance of fine lines. In addition to retinol, "it also contains hyaluronic acid, which helps to boost moisture and give the skin an overall rejuvenated appearance," Garshick says. Right now, you can get this customer-favorite retinol from Neutrogena for 20 percent off.
CREDIT: COURTESY OF AMAZON
L'Oréal Paris Revitalift Night Serum With Pure Retinol
With 0.3 percent retinol, this L'Oréal retinol serum has been clinically shown to reduce the appearance of wrinkles. Plus, "this pure retinol serum is also formulated with hyaluronic acid and glycerin, so it not only delivers powerful anti-aging results, but it also hydrates the skin," Garshick says. "It is fragrance-free and paraben-free, making it a good option even for those with sensitive skin—though it is always best to slowly introduce it into a skincare routine." Amazon shoppers are calling it an "anti-aging weapon."
CREDIT: COURTESY OF AMAZON
The Ordinary Retinol 1% in Squalane
The Ordinary is known for creating concentrated, high-quality formulas at affordable prices, and that includes this retinol serum. "This serum simultaneously delivers the anti-aging benefits of a retinol, while moisturizing the skin using jojoba oil and squalene," Garshick says. "With 1 percent retinol, The Ordinary serum is a higher strength solution, so it's best reserved for someone who is already used to using a retinoid or retinol." Shoppers say these see great results after slowly building up tolerance.
CeraVe Skin Renewing Retinol Serum
Apply CeraVe's retinol serum in the morning for all-day results, Garshick says. "The Skin Renewing Retinol Serum uses an encapsulated retinol to help reduce the appearance of fine lines and wrinkles and incorporates ceramides with the MVE technology to both strengthen the skin barrier and deliver all day hydration." Amazon shoppers say this retinol product "works wonders," and as a bonus, you can save a couple bucks on it right now.
Source: www.southernliving.com