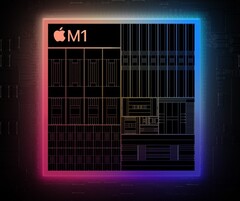 Apple and Intel will be among the first to utilize TSMC's new 3 nm fabrication node, according to Nikkei Asia. The new technology will bring inherent performance improvements over the 5 nn process of 10 to 15 percent and improved efficiency of between 25 to 30 percent.
Apple and Intel have booked orders for their respective chip designs to be fabricated on TSMC's state-of-the-art 3 nm lithography process, according to Nikkei Asia. Apple is a long-standing customer of TSMC, and used it (along with Samsung) to produce chips for its iPhones, iPads and now Macs. Intel, on the other hand, will be using TSMC to produce some of its consumer chips for the first time, something it has typically used its own foundries to do despite using TSMC for some of its other product lines.
The new 3 nm chips will bring exciting performance and efficiency gains to both Apple and Intel's designs, even before even factoring in next-generation architectural improvements in the design of the chip itself. For example, an Apple M1 hypothetically fabricated on TSMC's current 5 nm process will see performance gains of up to 10 to 15 percent just by switching to the new 3 nm process. Efficiency gains for an M1 moving to 3 nm from 5 nm would also see efficiency gains of 25 to 30 percent.
Apple's orders for chips made on TSMC's 3 nm process are said to be for one or more of its iPads. Apple expected to launch an all-new A15 processor with architectural upgrades for its iPhone line this year, but this will likely be fabricated on TSMC's 4 nm process. It will be an interim step that will still yield inherent performance and efficiency gains over TSMC's 5 nm process — just not as great as going to 3 nm, but this simply down to timing. However, Apple's new chip architecture is expected to deliver additional performance and efficiency gains in addition to what the 4 nm process can offer. An Apple M2 based on the A15 and fabricated on the 3 nm process is a tantalizing thought.
It is unclear exactly what chip or chips Intel wants TSMC to fabricate for it, but it is reasonably safe to assume they will be x86-based — although the company recently announced plans to build its first RISC-V chips based on SiFive's designs, Intel has said these will be fabricated on its own 7 nm production lines. Nikkei Asia's sources say that it could be for at least two different chip designs with one targeted at laptops and the other at servers. Although x86 chip designs aren't as inherently power efficient as RISC-based chips like those made using Arm's designs, an x86 chip on a 3 nm process should still be a strong offering.
Intel's own process node issues have seen it repeatedly delay 10 nm chips in recent years, seeing it lag badly in the move to 7 nm and 5 nm nodes.  While leveraging TSMC for its consumer chips might be something of a bitter pill for Intel to swallow, it does allow it to get back in the game with chips fabricated using the very latest in lithographic techniques. With Intel outsourcing at least some of its own chip production, the company recently opened its own TSMC-like foundry services business to keep its production lines busy making chips for third-parties.
Source: www.notebookcheck.net