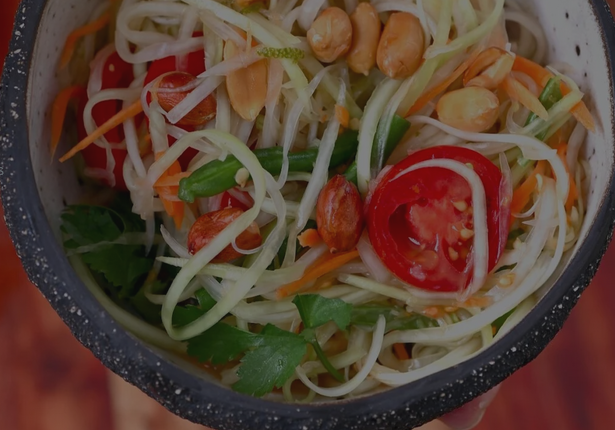 How to make crunchy, fresh Thai green papaya salad (Som Tam Thai) with unripe green papaya – a simple savory, spicy, and slightly sweet raw papaya salad made with cilantro, chilies, and peanuts! Plus, this som tam is gluten-free, and can be made vegan!
Recently, I've really enjoyed experimenting with globally inspired simple salads to find new ways to enjoy some of my favorite fruits and veggies. I've already shared a simple salad with roasted peppers, Persian Shirazi Salad, Italian Classic Caprese Salad, and simple Waldorf celery and apple salad. This time I'm trying brand new ingredients for this Thai green papaya salad (Som Tam Thai).
This salad perfectly combines sweet, savory, spicy, tangy flavors with just 12 ingredients and takes around 15 minutes to prepare (longer if you soak the papaya). I love the addition of classic Thai flavors too, like cilantro, peanuts, chili, and lime.
I currently have homemade Thai Red Curry Paste (5-Minute) and Thai Green Curry Paste in my freezer and just last week I made a simple Stir-Fried Thai Basil Vegan Beef (Pad Krapow) – so, I'm loving those flavors!
Best of all, while this spicy papaya salad traditionally includes fish sauce you can prepare this Thai papaya salad vegan if preferred!
What is Som Tam Thai Salad?
Som Tam is a type of "pounded" green papaya salad using shredded unripe green papa as its main ingredient. The salad has been given different names for different regions that it's eaten in. For example, the Lao papaya salad is referred to as tam som/tam maak hoong, in Cambodia there's bok l'hong, and in Vietnam, there's gỏi đu đủ. However, I'm making a Thai version, aka Som Tam.
Though the dish is originally a Lao papaya salad, there are variations all over Southeast Asia with some recipe tweaks. While the original raw papaya salad combines all the main five "tastes" of Lao cuisine: sour (lime), salty, savory (fish sauce), hot (chili), and sweet (sugar), it focuses primarily on sour.
For this Som Tam Thai (also called Som Tum Thai) version, I have focused on making a version most similar to the Central Thai variant, which contains peanuts, tomatoes, and chilies.
What is Green Papaya?
Green papaya is simply unripe papaya that has been picked before it becomes orange and sweet. The whitish/green flesh is crisp and fairly neutral in flavor (sometimes compared to cucumber or jicama) – which is why it makes for a great crunchy salad base or used to make pickles.
The Som Tam Salad Ingredients
Green papaya: the star of the show. You only need a small amount of one unless you're feeding a big crowd. Check FAQs for substitutes.
Vegetables: I used a combination of carrot, green beans, and cherry or grape tomatoes (technically a fruit, I know!).
Tamarind: this is technically optional (especially as it can be tricky to find for some). If you're able to find tamarind paste, that's best. Though, you can also use the tamarind fruit.
Garlic: this is also technically optional, but I love the flavor that garlic adds.
Coconut sugar: helps to cut through the spicy and sour flavors. Feel free to use another type of sugar (like palm sugar) if preferred, but each type will slightly change the dish's flavor.
Lime: provides the classic sour tang of this Thai papaya salad.
Fish sauce/Salt: you can use one or the other based on if you want to create a vegan green papaya salad. If you can find a vegan "fish sauce" where you live, you can use that for a more authentic flavor over simply salt (though soy sauce would also work).
Cilantro: cilantro/coriander adds a delicious infusion of Thai flavor along with chilies and lime.
Chili: I used small bird's eye chilies. Feel free to adjust the amount based on personal preference.
Peanuts: I use raw unsalted peanuts, which I toast myself (for the best flavor). However, unsalted roasted peanuts will work in a pinch. You could substitute almonds as well.
Optional add-ins and variations
You can experiment with adding any of the below to the raw papaya salad.
Thai eggplant – usually added raw.
Shrimp paste or dried shrimp.
Brined field crabs – a traditional addition, though harder to find in Western parts of the world.
Hog plums (yellow mombin) – also tricky to find in particular countries but popular in many traditional varieties of green papaya salad.
Long beans rather than green beans.
Lime zest or Kafir lime zest.
There are several other optional add-ins (some that definitely aren't traditional) but could be delicious, including:
Corn, bean sprouts, shredded red or white cabbage (potentially instead of papaya in a pinch), parsley or mint, cucumber, shredded lettuce, fried onions, bell peppers, shallots, shredded green apple, etc.
How to Make Thai Green Papaya Salad (Som Tam)
Step 1: Prepare the papaya
First, wash and peel the green papaya, then cut off the stem. At this stage, you can cut the papaya in half to remove the seeds. I simply shredded (using a vegetable shredder – but a large grater will also work) from the outside, working my way in (working around the "core").
You can alternatively use a knife to cut the shredded pieces. To do this, use your knife to make cuts (around ½ inch deep) into the side of the papaya, side by side. Then use your knife or a vegetable peeler to cut ribbons over this section. Where you made the slices into the flesh, it will automatically separate into "shreds" (follow images for guidance).
Once shredded, you can optionally soak the papaya in ice water for 10-15 minutes to get rid of any excess white milky substance (papain), which will yield crunchier results. If it seems overly "milky," you can toss it with salt and "scrub" gently for a minute or two before rinsing.
Step 2: Prepare the remaining vegetables
Similarly, shred the carrots and slice the tomatoes in half. If you have to use larger tomatoes, then slice them into small pieces.
At the same time, you can lightly toast the peanuts in a dry pan for just 1-2 minutes, until fragrant.
Step 3: Prepare the Som Tam Thai "dressing"
First, prepare the tamarind. If you don't have tamarind paste, you can soak the actual fruit in hot water, and it will become pasty (the soaking water can then still be used to cook with).
Then, in a stone bowl or mortar, combine the fish sauce (or salt), sugar, chilies, garlic, lime juice (and zest, if using), and tamarind and use the pestle to pound them enough to mash them into a paste-like consistency.
You can first finely slice the chilies before pounding, so they end up in even finer pieces.
Step 4: Add the remaining ingredients
Next, add in just a handful of the carrots and green beans and use the pestle to mash them lightly.
Then add the shredded papaya and the remaining carrots and beans and use the pestle to ensure everything is mixed well and just lightly "bruised."
Add the tomatoes and peanuts and use the pestle to gently mix the ingredients (rather than crush them too much). The tomato should be just slightly "mushed" rather than completely mashed.
Finally, add in the cilantro, mix a little more, and then taste the som tam salad to see if you need to adjust any elements. Add more chili for spice, salt/fish sauce for savory and "punch," sugar if the salad is too sour, etc.
The Thai green papaya salad is ready to serve!
How to Store Som Tam Thai Papaya Salad
While shredded green papaya can last for up to two weeks in the refrigerator, covered, as the raw papaya salad is combined with wet ingredients, I recommend eating it within several days (2-3) for the firmest results. It will become softer over time.
I don't recommend freezing the prepared salad, though you can freeze the green papaya for up to three months to make more salad at a later point. I recommend pre-shredding it before freezing. Freezing the papaya alone should still yield crunchy salad – especially as no thawing is necessary – just transfer the shredded frozen papaya straight to the salad.
How to Serve
You can enjoy this Thai green papaya salad alone as a snack or appetizer. Alternatively, pair it with protein (like tofu) and rice or noodles of your choice for a full meal.
Traditionally, raw green veggies are often served as a side, such as white cabbage or water spinach, which is meant to help with the spiciness of the dish.
FAQs
Where can I buy green papaya?
Green papaya is most easily found in the produce section of Southeast Asian and Chinese grocery stores.
Can I substitute the green papaya?
While the results won't be exactly the same, it is possible to get similar flavors using cucumber (deseeded first, then shredded) or jicama. However, if you can find semi-ripe papaya that is beginning to yellow but is not yet orange, this should also work.
Other versions of the dish use other ingredients like unripe mangoes, green apples, shredded cabbage, and even banana. However, I haven't tried any of these.
Do I have to use a mortar and pestle?
No – while this is the "traditional" way, you can actually use a mini food chopper/processor instead. First, add the "dressing" ingredients and process until the liquid is reddish in color from the chilies. All the ingredients should be very finely chopped.
Then, transfer that to a bowl and add the green beans to the chopper to chop and "bruise" them. I tend to avoid doing this with the carrot, so it doesn't just chop it into very fine pieces. So you can then just combine the dressing, beans, and remaining ingredients and mix to combine. I would recommend still just lightly bruising the papaya – which allows it to better absorb all the aromatics.
Alternatively, you can simply use a large, flat knife. Finely mince the chili and garlic for the sauce, then use the side of the knife to gently crush/press the green beans until bruised and also slightly with the papaya.
Recipe Notes & Variations
For vegan Som Tam Thai: make sure to use a vegan fish sauce or simply salt. Otherwise, this green papaya salad recipe is naturally vegan (without any of the optional fishy add-ins).
Adjust the flavors: feel free to adjust the spice, savoriness, sweetness, and sourness balance all to personal taste.
Choosing papaya: when you're choosing your green papaya, make sure to look for one that is dark, solid green with no blemishes or soft spots. It should be very firm to the touch.
Other Thai Inspired Recipes
If you try this Thai green papaya salad recipe (som tam Thai), I'd love to hear your thoughts/questions below. Also, I'd appreciate a recipe card rating below, and feel free to tag me in your recipe recreations on Instagram @Alphafoodie!
Source: www.alphafoodie.com