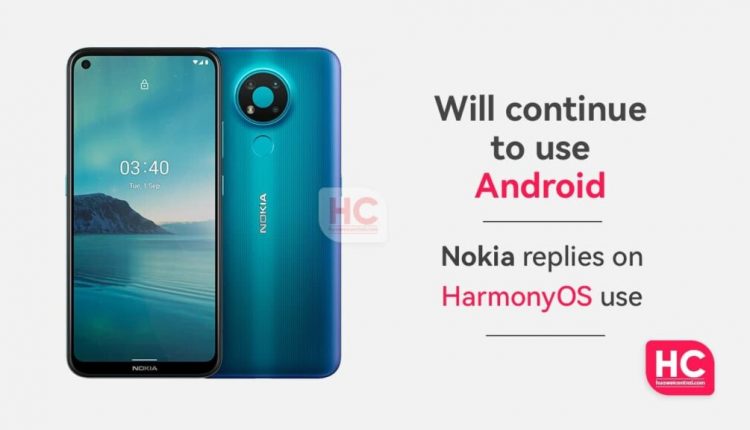 Nokia Smartphone
"We know that our users like Nokia phones with Android operating systems, and our commitment to providing the best Android experience remains unwavering." said Nokia in a statement.
However, Nokia didn't provide any possibility or denial on using HarmonyOS in the future, which could have potential in the Chinese market.
that the new Nokia smartphones ought to come with Huawei's Harmony OS out of the box. This made a huge stir on the net. But if Nokia (and other China-based first-tier smartphone makers as well) think Harmony OS will help them outrun their competitors or reach certain goals, we should recall the case when a few years ago Nokia phones were running on Windows Phone OS. We all know how things ended.
HMD Global has made great strides in reviving the Nokia brand in the Android world. Whether it's successful or not is still debatable but, so far, it has definitely played the part of a good Android maker, especially when it comes to its commitment to Android updates. Now there are whispers that its honeymoon phase with Android might be over and is courting another partner, one that would see an upcoming Nokia X60 and X60 Pro run Huawei's shiny new HarmonyOS instead.
NOKIA X60 SERIES
Well, we heard that Nokia is planning to launch two phones – Nokia X60 and X60 Pro. They will become the company's first models running on Huawei's self-developed Harmony OS. Apart from the latter, we also know some key features of these phones. And we have to admit they look quite competitive.
Say, the Nokia X60 will use a hyperboloid screen. It should support a high refresh rate. At the same time, it will come with a main camera of up to 200MP. The battery capacity is also impressive, 6000mAh. It is still unclear what type of processor it will use. And though we are talking about a top-notch model, chances are, it will come with a Snapdragon 870 chip.
NOKIA AND HUAWEI DENIED RUMORS OF HARMONY OS
However, it still remains mysterious whether Nokia phones will come pre-installed with Harmony OS. In this regard, as The Paper reported, Nokia said that they know Nokia users like these phones running on Android OS. Also, they added that "our commitment to providing the best Android experience remains unwavering."
What's the matter?
It's been reported that Nokia is working on new phones, Nokia X60 and X60 Pro. These two models are scheduled to launch later this year and these devices will be powered by HarmonyOS operating system.
The report mentions that Nokia is planning to adopt the HarmonyOS ecosystem, and if everything goes smoothly, the Nokia X60 smartphone could be the first smartphone lineup to come with HarmonyOS operating system.
Source: huaweicentral.com