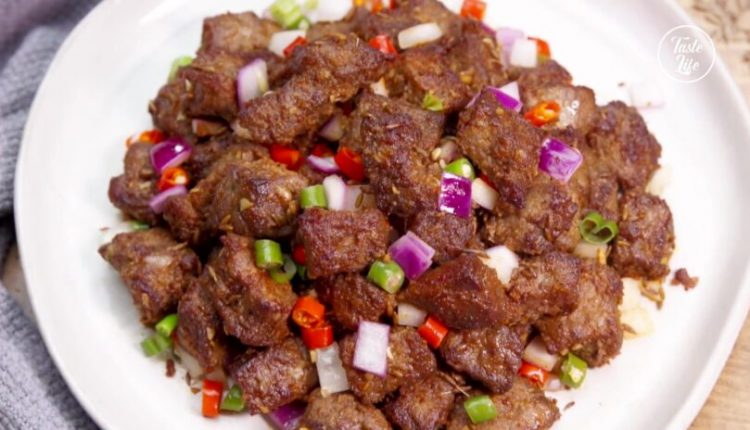 The earthy-tasting cumin adds its flavor to this delicious stir-fried beef dish, mingling with more traditional ingredients like soy sauce, green onion, and garlic.  Chef John chooses Flank steak for this recipe, as it is the most popular cut when it comes to stir fry. You can, of course, use beef fillet (tenderloin) instead because it is unbelievably tender, buttery and has a mild beef flavor
1

 

lb.

 

Beef flank steak

2

 

tbsp

 

Cooking oil

–

 

Marinade

 

–

½

 

tsp

 

Garlic salt

1

 

tbsp

 

Shaoxing wine

1

 

tbsp

 

Light soy sauce

¼

 

tsp

 

Sugar

½

 

tsp

 

Cumin powder

1

 

large

 

Egg yolk

1

 

tbsp

 

Corn starch

–

 

Stir fry The Beef

 

–

2

 

tbsp

 

Cooking oil

1

 

tbsp

 

Garlic, minced

¼

 

cup

 

Onion, diced

1

 

tbsp

 

Thai green and red chilli

1

 

tbsp

 

Yellow pepper, chopped

1

 

tbsp

 

Green onion, chopped

½

 

tsp

 

Cumin powder

½

 

tbsp

 

Cumin seeds

½

 

tsp

 

Cayenne pepper powder

1

 

tbsp

 

Cilantro, finely chopped

¼

 

tsp

 

Garlic salt
DIRECTIONS:
Step 1
Cut beef into 1-in. cubes.
Step 2
In a bowl, combine beef, garlic salt, Shaoxing cooking wine, light soy sauce, sugar, cumin powder, and corn starch, toss to mix completely.
Step 3
Shred onion, dice hot pepper, mince the cilantro. Set aside.
Step 4
In a large cooking pan over high heat, add oil, stir fry beef for about 4-5 minutes until brown. Remove from the pan and set aside.
Step 5
In a clean cooking pan over high heat, add oil, then add minced garlic and stir fry for 30 seconds, add onion, hot pepper, and shredded green onion, stir fry for about 30 seconds, continue to add beef, cumin powder, cumin seeds, Cayon chili powder, cilantro, and garlic salt, quickly stir to mix well. Remove from heat. it's done.
Final Notes
Don't cut the beef cubes large than 1-in. Allow the beef to absorb enough liquid during marinating. Make sure there is no liquid comes out during cooking. Stir fry the beef over high heat until golden red to get the best mouthfeel. Add cumin powder and cumin seeds to seasoning at the end for multiple levels of flavors.