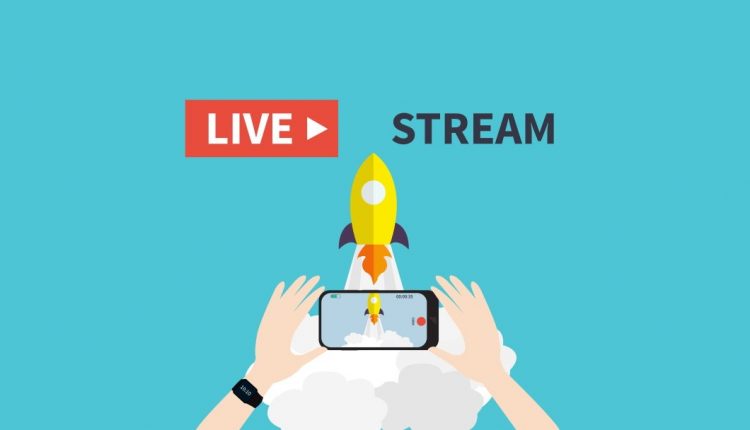 Why Live Stream?
Live streaming is great for broadcasting events such as sports, weddings, concerts, theater, and more. It's a great way to build brand awareness and promote products. It's also a great way to build and engage with your audience.
A few examples include:
Video games
Webinars
Live coaching
Classes
Church services
Product demonstrations
What You Need to Live Stream
There are two types of software you need to create your live stream:
Software to capture your video for the live stream. This is usually done with specialized software.
A way to embed the live stream into your WordPress website. This is usually done with WordPress live streaming plugins.
Live Stream Software
First, you'll need to create the live stream. This portion of the list shows the best software for creating the live stream. Of course, you'll need a camera, microphone, video capture hardware, or any other equipment based on the type of content you're creating.
The live stream software will provide you with code to embed within your WordPress website. This code can be embedded using the WordPress live streaming plugins we'll discuss in the next section.
1. Wirecast

Wirecast is professional-grade streaming software that's used by television broadcasters. It even has production gear available to start streaming from anywhere in minutes. You can stream to unlimited destinations including YouTube and other platforms. The stream can then be embedded into your WordPress website using plugins such as WPStream.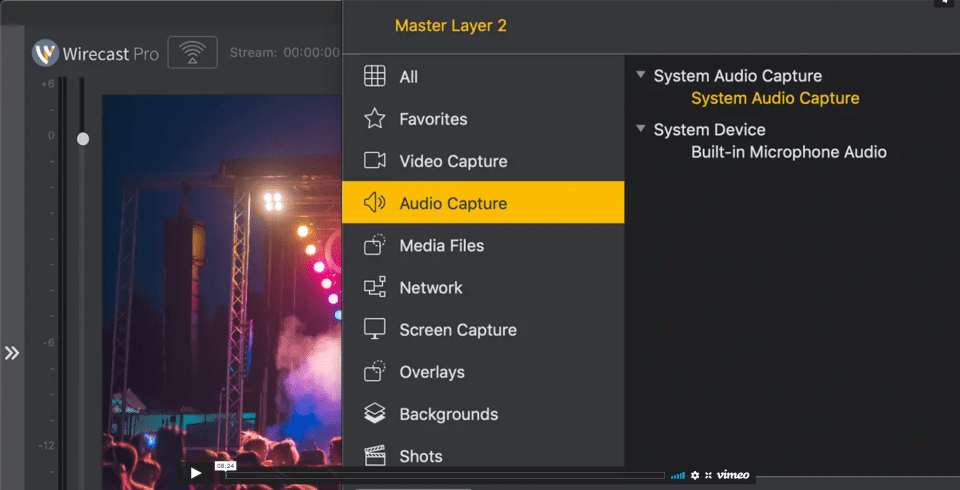 Capture multiple sources and edit them live. Add overlays, backgrounds, shots, and lots more.
Features
Windows and Mac
Unlimited platforms
Stream and record
View up to 17 sources per monitor
ISO recording can be used for live instant replay
Multiple output options
Extensive training available
Price: $599 | More Information
2. XSplit Broadcaster

XSplit Broadcaster is a live streaming and recording studio designed with gaming and esports in mind. It works just as well for any type of streaming. It integrates with Skype and Zoom video calls, includes desktop sharing, and allows for overlays. Use multiple sources for media and drag or resize them.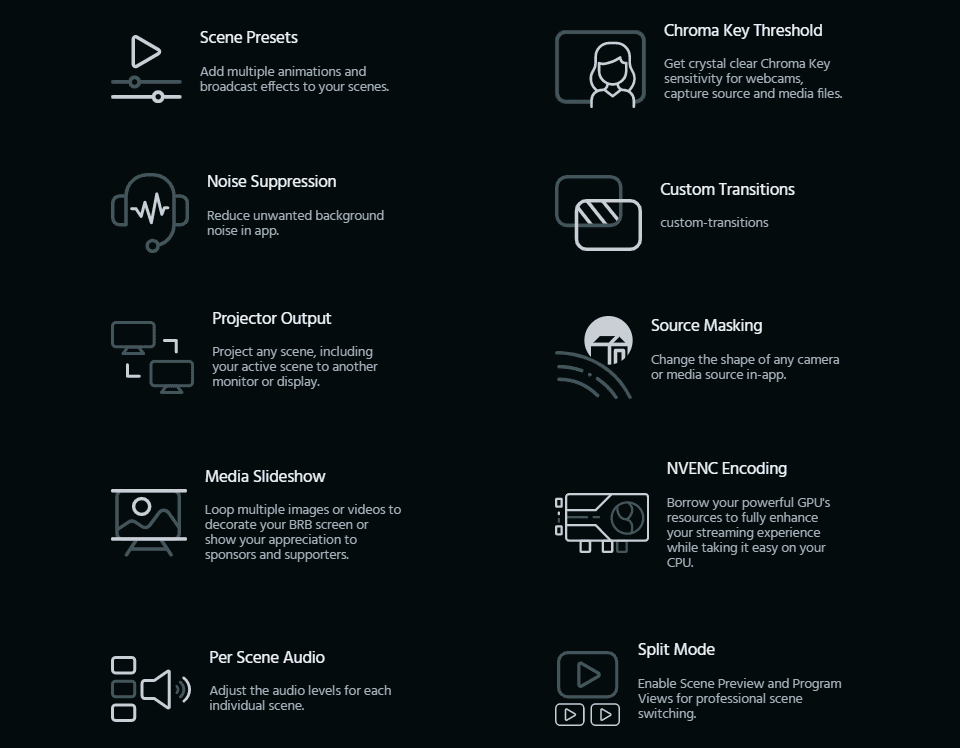 It includes many high-end features to create live streams that look professional. Set up scene presets, chroma key sensitivity, change the camera shape, adjust the audio levels for each scene, enable split-screen, and lots more.
Features
Skype and Zoom integration
Desktop sharing
Overlays
Multiple media sources
Drag and resize sources
OBS importer
Stream to multiple platforms
Recording
Expandable
Green screen
Windows and Mac
Price: $15 per month and up | More Information
3. OBS Studio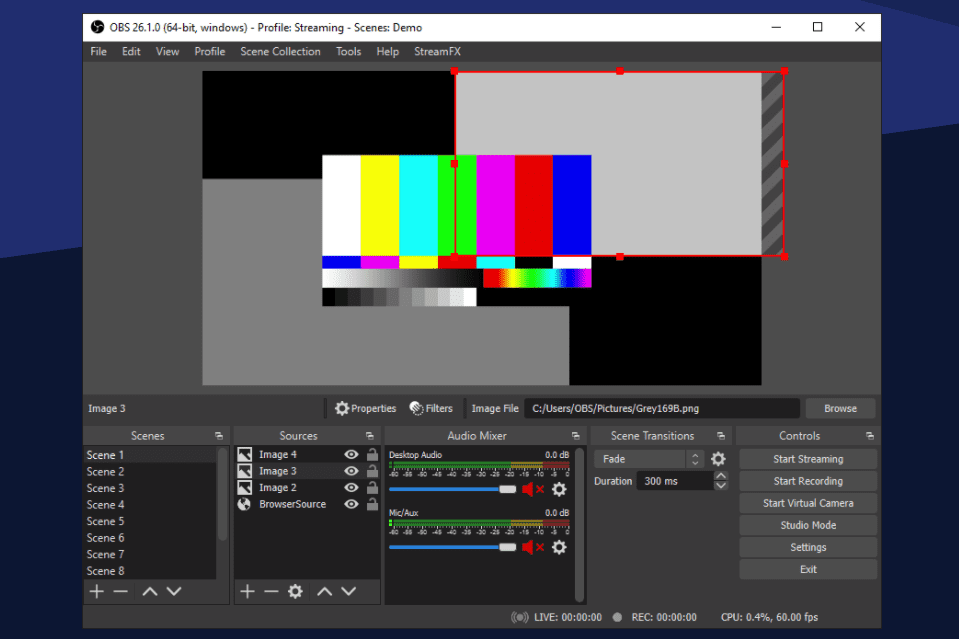 OBS Studio is a free and open course app with professional-level tools for live streaming and recording. Connect to multiple sources to show your desktop, specific windows, browser tabs, and cameras at the same time. Rearrange the screen to show the exact layout you want. It's ideal for showing a video source such as your desktop while showing a camera capture in the corner. It's best used with a streaming provider.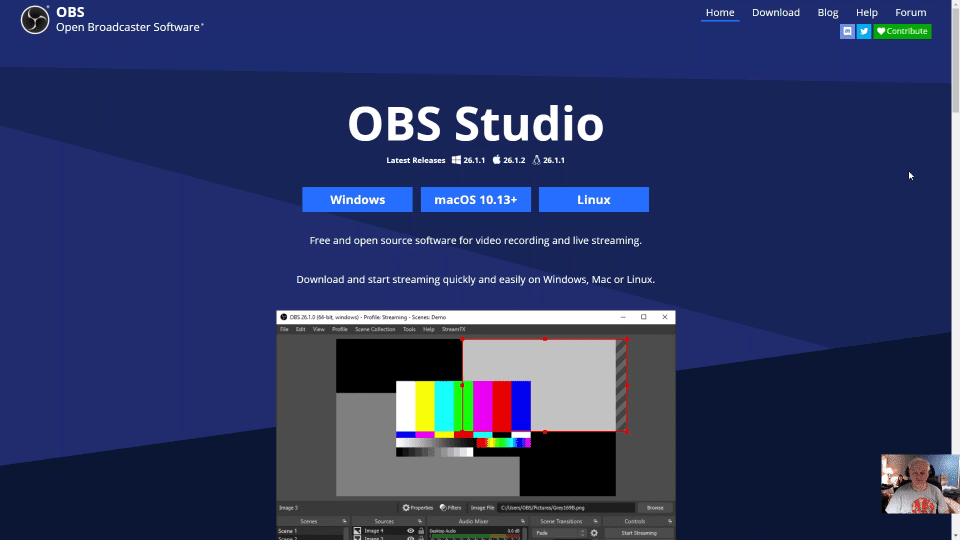 This example shows my browser with an image captured from my webcam in the bottom right corner. I can move the webcam capture anywhere and make it any size.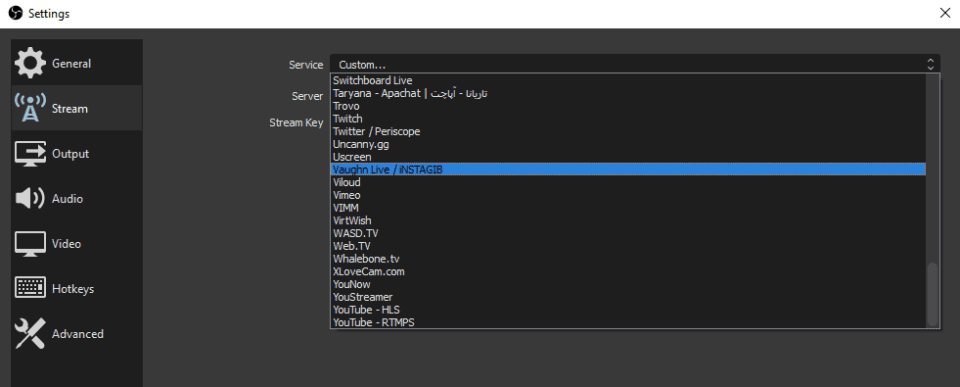 The live stream output can connect to a streaming service or you can create a custom output for your server.
Features
Professional tools
Multiple capture sources
Open Source
Real-time audio and video capture
Output to multiple services
Unlimited scenes with transitions
Recording
Green screen
Runs on Windows, Mac, and Linux
Price: Free | More Information
4. YouTube Livestreaming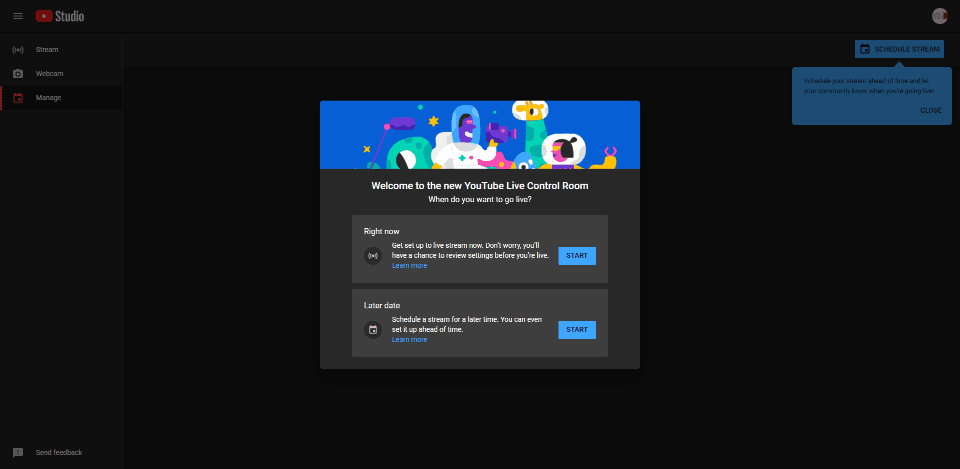 YouTube has a live stream feature built-in. You just need enough subscribers and content to access it. It gives you the option to go live now or schedule it for later.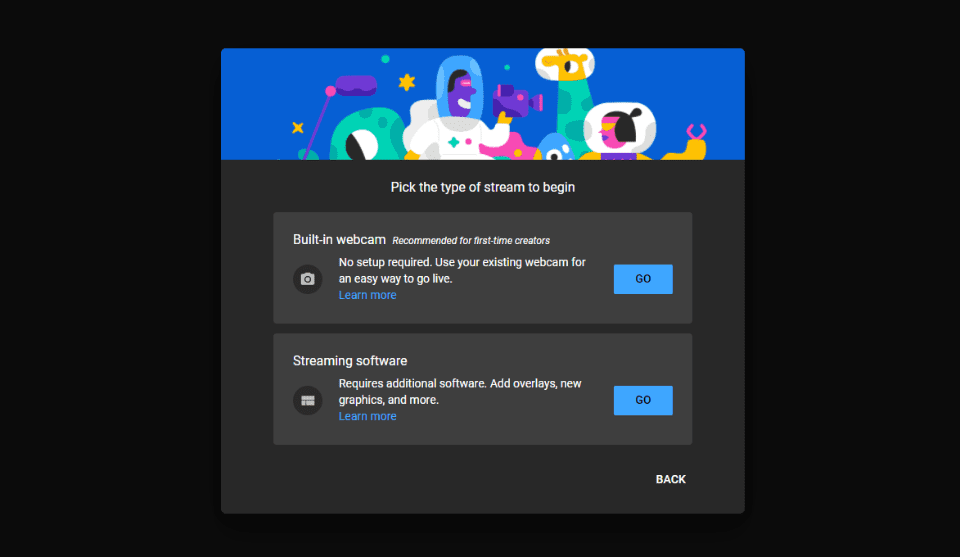 You'll then have the option to use your webcam or streaming software.
Go through the process of setting up your live stream.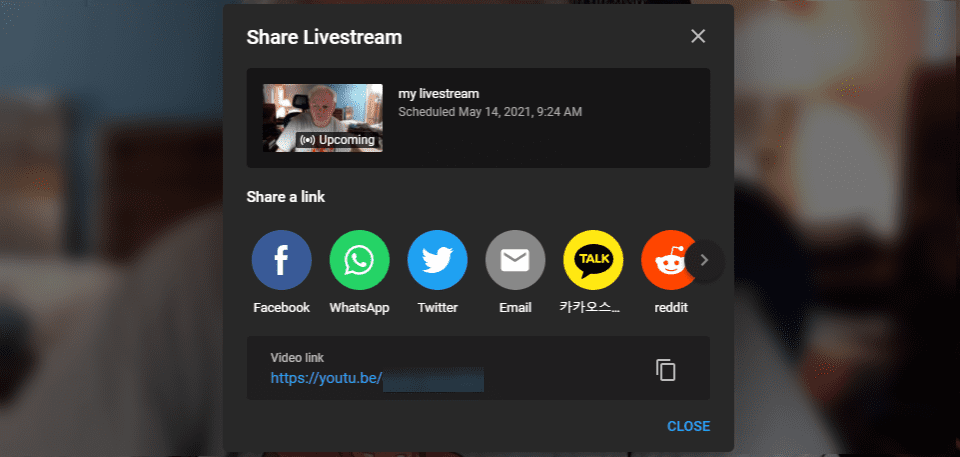 It then gives you links that you can use to embed your live stream into your website. Paste the link into your pages, posts, Divi modules, etc., publish the page or post, and you're live. You can set the live stream to "Public" so anyone on YouTube can see it or set it to private so only those visiting your WordPress website can see it. This might be the simplest method on this list.
Features
Go live or schedule for later.
Use webcam.
Use streaming software.
Publish YouTube stream as public or private.
Paste the embed link anywhere on your website.
Price: Free | More Information
WordPress Live Streaming Plugins
Once you have your software, you'll need a way to embed the live stream into your WordPress website. The easiest way to do this is to use one of the many WordPress live streaming plugins that are available.
This list is what I consider the best plugins for embedding your live streams. There are a few popular plugins that I didn't include due to having a fatal error or having a reputation of publishing content without permission.
5. Embed Plus for YouTube

Embed Plus for YouTube is one of the most popular WordPress live streaming plugins. It allows you to embed a YouTube video, playlist, channel, gallery, or a live stream. Streams are easily embedded into the classic editor using the embed tools and into Gutenberg with the included block.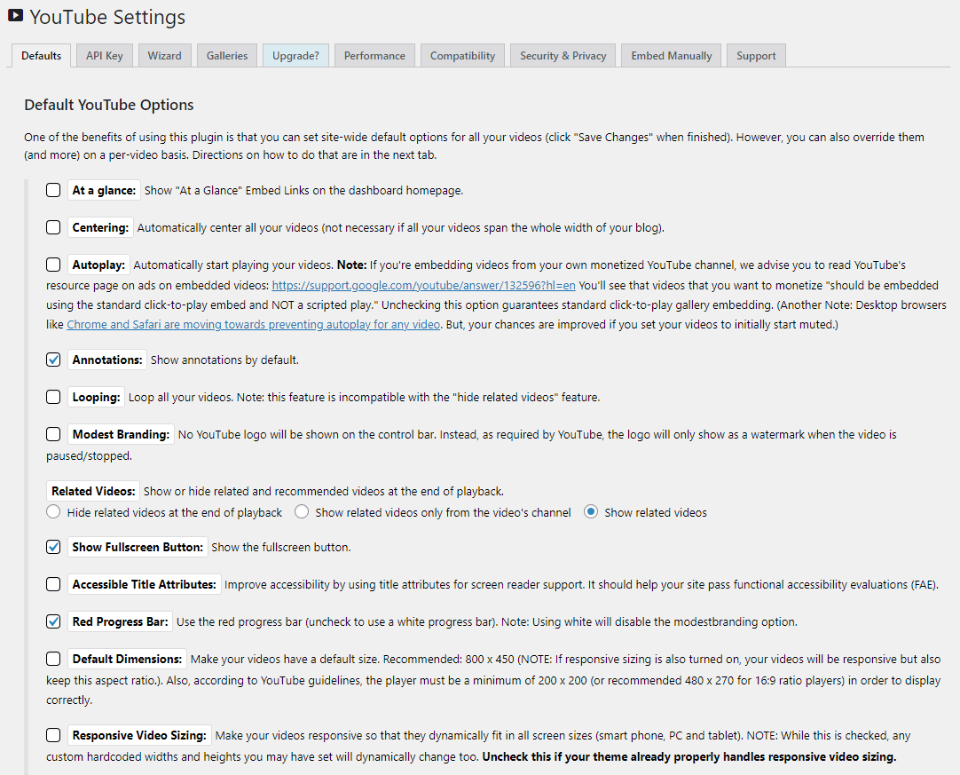 The settings screen gives you lots of control over how the embed works and looks.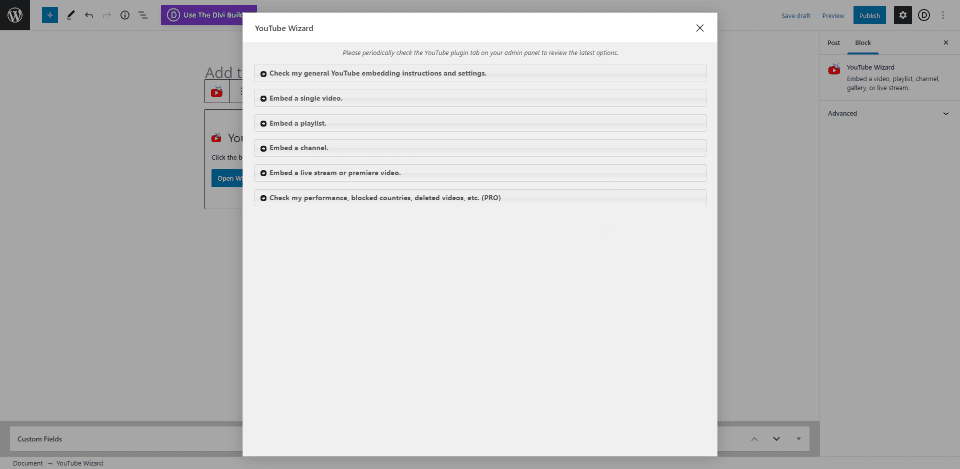 It adds a new block to Gutenberg called YouTube Wizard. This allows you to embed a live stream or any other YouTube content you want.
Features
Autoplay
Looping
Annotations
Related videos
Progress bar
Video controls
Localization
Default "not live" content
Gutenberg block
Pro version adds customizations, live chat, featured thumbnails, video SEO, and more.
Price: Free, pro version starts at $39.99 | More Information
6. WpStream

WpStream allows you to stream video-on-demand, pay-per-view, and live streams. It requires and WPStream account and limits your streaming bandwidth based on the subscription you choose. It connects to broadcast software and smartphones. Create video channels as custom post types and embed them with shortcodes. It integrates with WooCommerce.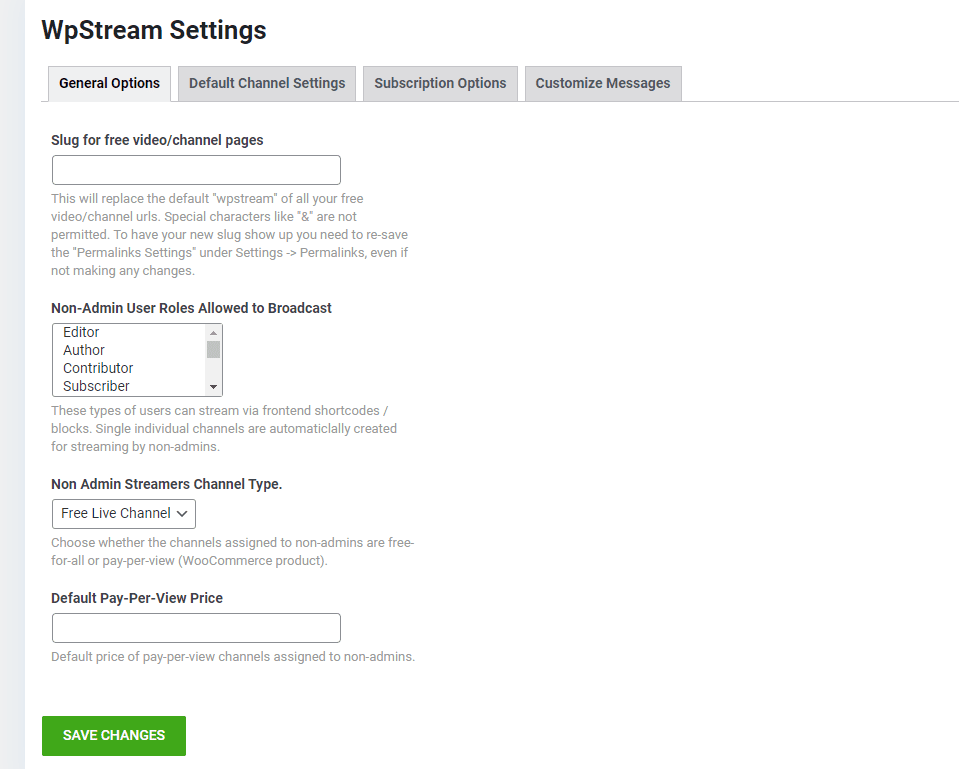 Settings let you enter video channels to display, set user roles, choose the type of channel, and set the default price. You can also adjust the default channel settings, subscription options, and customize the messages.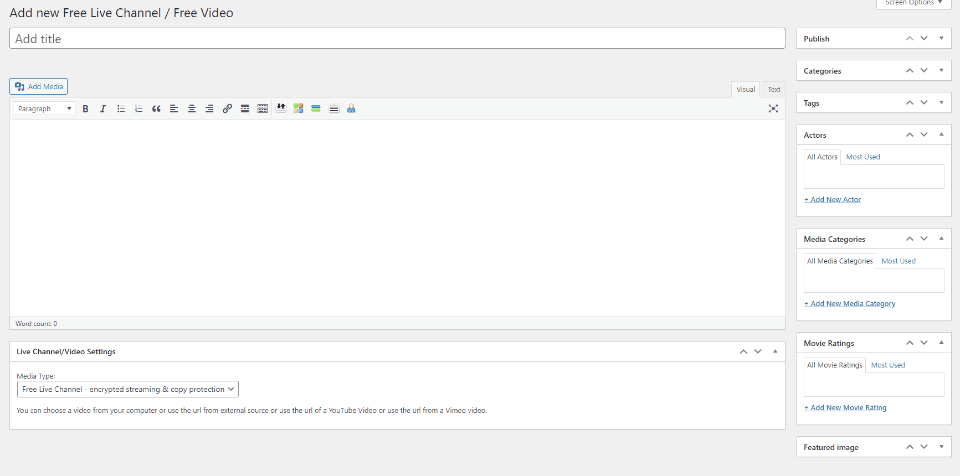 Create the channels as a custom post type using the classic editor. It includes categories, tags, actors, media categories, movie ratings, and a featured image.
Features
Connects to popular broadcast software
Stream with your smartphone
Video channel custom post type
Embed with shortcodes
5GB bandwidth
1GB media storage
Pay-per-view
Video-on-demand
WooCommerce integration
Pro version adds more bandwidth and storage, content protection, and removes ads.
Price: free, pro version starts at $19 per month | More Information
7. WebinarPress

WebinarPress lets you host live webinars directly from your WordPress website. You can interact with your attendees. It collects email addresses and lets you import them into your email provider. Send emails to remind attendees of the webinar.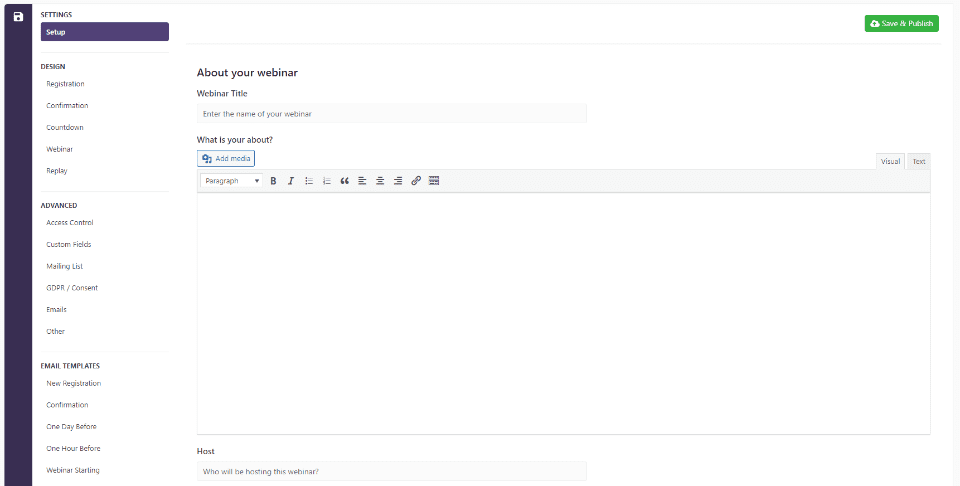 Create the webinars in the classic editor. The editor also includes settings for design, email, GDPR, and lots more. Many of the tools require the pro version.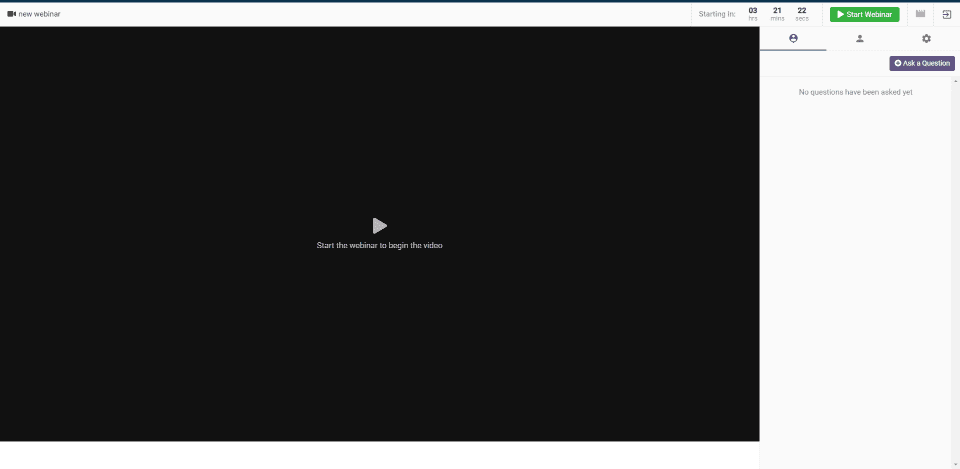 The webinars get their own custom pages. The page will show a countdown timer to when the webinar goes live.
Features
Custom webinar page
Webinar live countdown
Unlimited webinars
Unlimited attendees
Interact with attendees
Collect email address
Sends customizable email reminders
Custom styling
GDPR
Pro version adds recorded webinars, recurring webinars, paid, members-only, live chat, and lots more.
Price: Free, pro version starts at $197 per year | More Information
8. Magic Embeds

Magic Embeds lets you embed just about anything from Facebook including Facebook Live videos. Setup your Facebook API and then you can embed anything. The Facebook Live video can be placed within your content using shortcodes.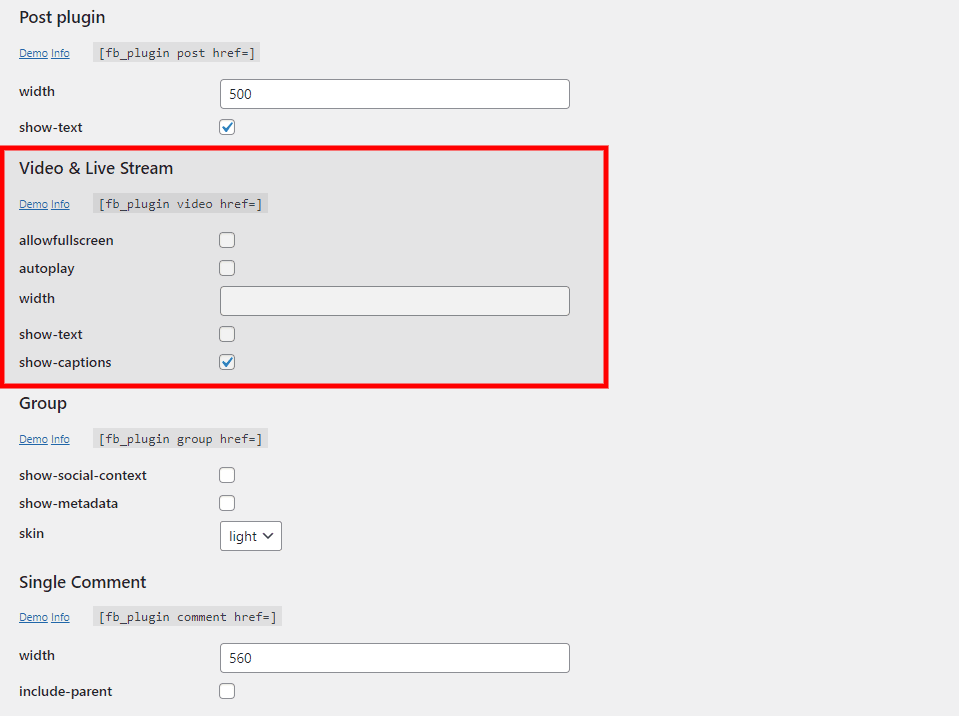 The live stream settings let you show the video in full screen, use autoplay, set the width, show text, and show captions. This also provides the shortcode to add to your content and display the Facebook Live video.
Features
Embeds 9 Facebook elements including Facebook Live
Shortcodes
Custom embeds
Autoplay
Fullscreen option
Include captions
Price: Free | More Information
Ending Thoughts on WordPress Live Streaming Plugins and Software
That's our look at the 8 best WordPress live streaming plugins and software.
Streaming from YouTube might be the simplest option, but it requires a YouTube channel that meets the requirements for live streaming. OBS is excellent software for live streaming and recording. It has a learning curve. WpStream might be the best solution overall. The stream is hosted on their powerful platform and includes lots of options.
You can't go wrong with any of the options on this list. No matter your needs a budget, there's sure to be something here to get you started with live streaming from your WordPress website.
We want to hear from you. Have you tried any of these WordPress live streaming plugins or software platforms? Let us know what you think about them in the comments.