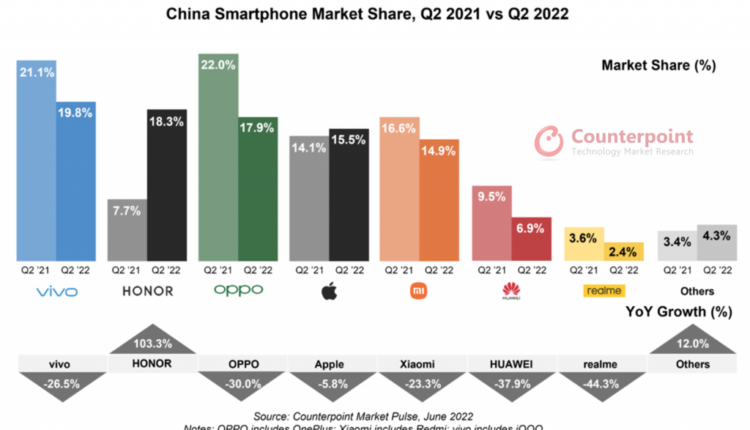 Smartphone sales in China dropped in the second quarter of this year i.e. the period between April – June. As per Counterpoint's Market Pulse report, the sales decreased 14.2 percent year-on-year basis. The second quarter's volumes were 12.6 percent lower than the level seen during the COVID-19 hit pandemic first quarter of 2020. The shipments were also less than half of the historical peak achieved in Q4, 2016. The last time the sales were lower than this year's second quarter was nearly a decade ago in Q4, 2012 when the iPhone 5 was introduced.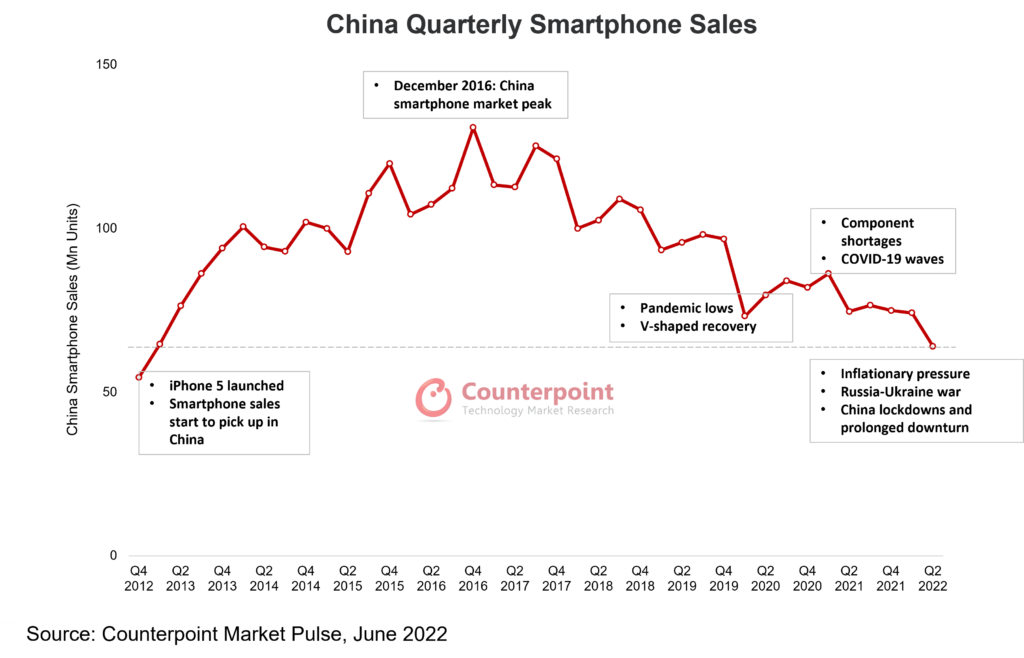 The drop in smartphone sales in China is attributed to rising inflation, the Russia-Ukraine war, and COVID-induced lockdowns and prolonged downturns.
During the second quarter of this year, Vivo lead the smartphone market in China with a 19.8 percent share thanks to the S12 series smartphones. Honor came second with an 18.7 percent market share. The brand made a great comeback compared to the same quarter last year when it only had a 7.7 percent share. Honor's success is said to be attributed to expanding its offline presence. The third spot is taken by OPPO who captured 17.9 percent market share. Cupertino-based brand Apple maintained its fourth position with a 15.5 percent market share, a slight increase over the same period last year. The iPhone 13 series is said to be the reason for the company's good performance. Xiaomi bagged the fifth spot with a 14.9 percent share. The brand saw sales pick up in June by models like Redmi K50 and Note 11 series.
Outside the top five list, the last three spots are occupied by Huawei, Realme, and others who recorded 6.9, 2.4, and 4.3 percent market share respectively. Counterpoint added that the despite the discouraging performance in Q2, 2022, Chinese OEMs continued to strengthen positions in the high-end segment.