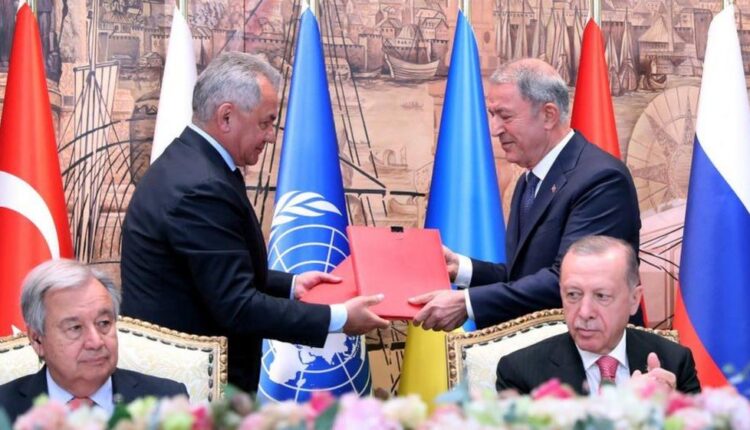 Ukraine has said the first vessels with grain could leave its Black Sea ports "within days" under a landmark UN-brokered deal signed on Friday.
"If the sides guarantee security, the agreement will work. If they do not, it will not work," Infrastructure Minister Oleksandr Kubrakov said.
Russia fired missiles on Ukraine's main port of Odesa on Saturday, raising fears that the deal could be derailed.
Moscow's invasion in February has all but ended Ukraine's grain exports.
As many as 20 million tonnes of grain are trapped in ports, unable to leave because of Russian naval forces controlling most of the Black Sea.
Heavy fighting has also damaged harvests and left ports blocked and mined.
This has led to food shortages and price rises across Africa, which usually relies on Ukraine – as well as Russia – for wheat.
In another development, Russian Foreign Minister Sergei Lavrov said Moscow would help Ukrainians "to get rid of the regime that is absolutely anti-people" – despite earlier pledges that Moscow was not seeking to topple Ukraine's government.
Speaking in the Ukrainian capital Kyiv, Mr Kubrakov said commercial vessels would be organised into convoys accompanied by Ukrainian ships "within days".
The deal – which took two months to reach – is set to last for 120 days, with a co-ordination and monitoring centre to be established in Istanbul, staffed by UN, Turkish, Russian and Ukrainian officials. It can be renewed if both parties agree.
Mr Kubrakov said Ukraine was hoping that the centre would be set up this week.
Russia has not commented on the latest developments.
Ukrainian President Volodymyr Zelensky accused Russia of "barbarism" after the Odesa attack, saying it showed Moscow could not be trusted to stick to the deal.
The agreement's text says parties have undertaken not to attack merchant and other civilian vessels and port facilities engaged in the transportation of grain.
Russia says its missiles destroyed a Ukrainian military vessel and a number of US-supplied Harpoon anti-ship missiles. Ukraine admitted a ship had been hit, without giving details.