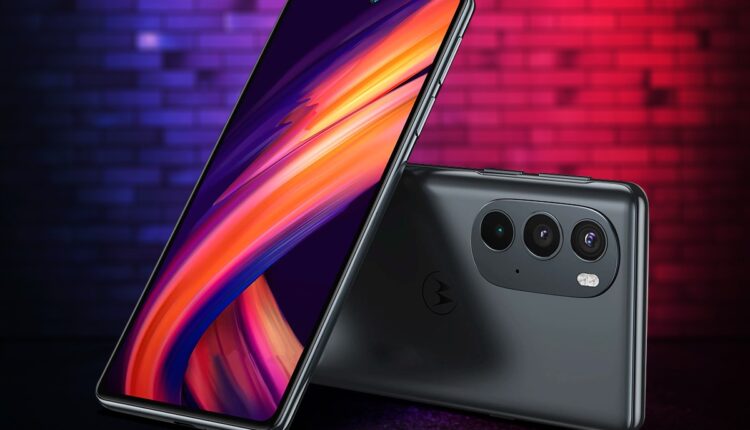 Lightweight. Motorola's Edge series consists of its best smartphones, and the Edge 30 is the newest addition. At just under 7 millimeters, it is one of the thinnest smartphones on the market, combined with high performance, a bright AMOLED screen and two 50 MP cameras.
After Motorola relaunched its mid- and upper-range Edge series last year, the third generation is now already in the starting blocks. This currently consists of the top model, the Edge 30 Pro, and its mid-range sibling, the Edge 30. An entry-level model, the Edge 30 Lite, will also be added soon.
As the "mid-range" variant of the Edge 30 series, the Motorola Edge 30 is the link between the Edge 30 Lite and Edge 30 Pro in terms of price and performance, which should make it the most interesting for many buyers.
Like the Edge 20, the Edge 30 again makes use of a 144 Hz display and the fast mid-range Snapdragon 778G+ 5G SoC. The camera module, on the other hand, has been completely revamped and now uses a 50 MP lens for both the main and ultra-wide-angle cameras. The Edge 30 also claims to be the thinnest 5G smartphone currently on the market. Whether this is enough to beat the competition will be revealed in the following review.
Display
6.50 inch 20:9, 2400 x 1080 pixel 405 PPI, capacitive, AMOLED, FHD+, HDR10+, Gorilla Glass 3, glossy: yes, 144 Hz
Storage
128 GB UFS 3.1 Flash, 128 GB
, 108 GB free
Weight
155 g ( = 5.47 oz / 0.34 pounds), Power Supply: 77 g ( = 2.72 oz / 0.17 pounds)
Note: The manufacturer may use components from different suppliers including display panels, drives or memory sticks with similar specifications.
Possible Competitors in Comparison
Rating

Date

Model

Weight

Drive

Size

Resolution

Best Price

86.1 %

07/2022

Motorola Edge 30
SD 778G+ 5G, Adreno 642L
155 g
128 GB UFS 3.1 Flash
6.50″
2400×1080

from EUR 450

85.1 %

12/2021

Huawei Nova 9
SD 778G 5G, Adreno 642L
175 g
128 GB UFS 3.1 Flash
6.57″
2340×1080

from EUR 499

85.2 %

12/2021

Honor 50
SD 778G 5G, Adreno 642L
175 g
256 GB UFS 2.1 Flash
6.57″
2340×1080

from EUR 600

84 %

11/2021

Motorola Edge 20
SD 778G 5G, Adreno 642L
163 g
128 GB UFS 2.1 Flash
6.70″
2400×1080

from EUR 380

83.2 %

06/2022

Samsung Galaxy A53
Exynos 1280, Mali-G68 MP4
189 g
128 GB UFS 2.1 Flash
6.50″
2400×1080

from EUR 449

86.3 %

12/2021

Xiaomi 11 Lite 5G NE
SD 778G 5G, Adreno 642L
158 g
128 GB UFS 2.2 Flash
6.55″
2400×1080

from EUR 299
Case: Lightweight and slim plastic chassis
With a thickness of 6.8 millimeters, the Edge 30 is two millimeters thinner than its predecessor. But this does not include the camera unit, which protrudes a few millimeters more from the case than in the Edge 20. As a result, the Edge 30 wobbles back and forth on the table, which cannot be completely eliminated with the included protective cover.
The Edge 30 surprises with a featherweight of just 155 grams, making it significantly lighter than competitors such as the 6.5-inch Samsung Galaxy A53 5G, which weighs over 30 grams more. The combination of slim casing and low weight makes the Edge 30 a very practical smartphone which, at the same time, does not feel fragile.
Motorola clads its mid-range smartphone in a sturdy case with a display made of Gorilla Glass 3. The back is made of smooth plastic with a matte surface finish that shimmers in slightly different shades of color depending on lighting conditions. This looks sleek, but also makes the back cover quite susceptible to fingerprints.
The Edge 30 is available in the color variants "Meteor Grey", "Aurora Green" and "Supermoon Silver". The smartphone is IP52 certified and thus dust- and water resistant.
Equipment: 8 GB of RAM and 128 GB of storage
The Edge 30 is currently offered in two configurations: 8 GB of LPDDR5 RAM and 128 GB UFS 3.1 storage (8/128 GB) or 8/256. The availability and prices of these depend on your location (see "Price and Availability" at the end of this review for further details), although a cursory examination reveals that the former (8/128) appears to be the most common configuration available (in some cases, only 8/256 is available, such as in Brazil). The storage cannot be expanded due to the lack of a microSD slot. Of the 128 GB, 98 GB remains on the device upon purchase.
The Motorola Edge 30 does not have a jack socket, so the USB-C port has to be used for connecting wired headphones or speakers. In addition to NFC, the smartphone supports Bluetooth 5.2. Since DRM WideVine L1 is also included, the Edge 30 can also stream content in HD quality.
Software: Android 12 and updates for three years
The Edge 30 uses a near-stock Android 12, which Motorola has provided with its Moto app. This allows users to adjust the layout, fonts and gesture controls, among other things. At the time of review (end of June), the Android security patches were still from April 1, 2022 and thus no longer quite up to date.
A nice addition is the "Ready For" capability of the Edge 30, which allows the wireless mirroring of content on a TV (or monitor) and also activates a special desktop interface. However, only the Edge 30 Pro supports a "Ready For" cable connection.
Motorola has pledged to supply Edge 30 users with Android security updates until May 2025, a total of 3 years from its release date in May 2022. Android 13 is already planned for the smartphone and a further upgrade to Android 14 is also promised.
Communication & GNSS: Fast WLAN and accurate positioning
Thanks to twenty two 4G bands and thirteen 5G bands, Motorola's Edge 30 covers a broad frequency spectrum, so users should have mobile reception at almost any location. Provided a suitable router like our Asus ROG Rapture GT-AXE11000 reference model is used, the 6.5-incher can communicate in local networks via WiFi 6E.
The Edge 30 scores with very stable transfer rates in the 6 GHz band and also delivers very good transfer rates of around 950 MBit/s in both the send and receive directions. Although it does not fully exploit the potential of its WiFi 6E modem, the given performance is enough to beat all comparison devices in terms of WLAN speed.
Telephony & Voice Quality
The Edge 30 delivers good voice quality. Voices were clear and intelligible for both the speaker and receiver during our test calls to mobile and landlines. Intelligibility remains high even when we communicate via the loudspeaker and the hands-free kit. VoLTE and VoWiFi are supported.
Entering the code *#07# in the phone app reveals the smartphone's SAR values. With a head SAR of 0.92 W/kg and a body SAR of 1.35 W/kg, these fall within an inconspicuous range in terms of radiation, so they are neither very low nor too high.
Cameras: Dual cameras with 50 MP each
Regarding the camera module, the Edge 30 takes a completely different approach to the Edge 20. Instead of a 108 MP main camera, a 16 MP ultra-wide-angle camera and an 8 MP telephoto lens, the successor uses two 50 MP cameras that are supported by a 2 MP depth sensor. There is also an optical image stabilizer in the main camera.
The 50 MP cameras use pixel binning to combine 4 adjacent pixels into one. If desired, you can also use full resolution in "Ultra-Res" mode. The Edge 30 Pro uses the same camera setup.
In daylight, the Edge 30 takes sharp and detailed photos with vivid colors. Subjects can be magnified via a 10x digital zoom, but this produces quite washed-out results. Only at a lower magnification level of around 5x does image quality then become satisfactory. At nighttime, the Edge 30 still captures plenty of detail, but also brightens up colors too much, which do not appear so natural.
The 50 MP ultra-wide-angle camera is a real exception in the mid-range and takes almost as good photos as the main camera, even if they have a slightly lower contrast overall. The images also remain relatively sharp at the edges, but also display visible image noise and chromatic aberrations. The ultra wide-angle camera is also used for the macro shots.
Videos can be recorded with both the main camera and ultra-wide-angle camera in 4K at 30 FPS, whereby HDR10+ can then also be used. Image quality is solid overall. Switching between the two lenses during recording is only possible in Full HD.
The selfie camera has a resolution of 32 MP and offers decent picture quality for video chats and snapshots. Like the main camera, it can record videos in a maximum of 4K with HDR10+, but the electronic image stabilization only works in Full HD resolution.
Accessories & Warranty: 33-watt power supply included
Upon purchase of the Edge 30, buyers receive a 33-watt power adapter, a USB cable (type A to C), a SIM tool, a transparent protective cover as well as a quick-start guide and warranty information. Buyers can stock up on accessories such as headsets and protective cases in the Motorola shop.
The Motorola Edge 30 comes with a 24-month warranty in Germany. This may vary in other countries and other regions, to be sure to double check with your supplier before purchasing.
There is also the option of extending the warranty to 3 years with Moto Care insurance. Three different service levels are available, the prices of which are dependent on your location.
Input Devices & Operation: Responsive 144 Hz screen
The 144 Hz screen of Motorola's Edge 30 allows for smooth scrolling through menus and websites. Inputs are implemented without any noticeable delay, making operation very fluid.
The fingerprint sensor underneath the display unlocks the smartphone quickly and reliably. Face recognition is used as the second biometric authentication method. It is software-based and thus not quite as secure as the fingerprint sensor, but it works quickly and achieves an equally high recognition rate in sufficient ambient light.
Display: Bright AMOLED-Panel with HDR10+
Compared to the Edge 20, the Edge 30 also uses a 2400 x 1080 pixel AMOLED screen, but with two important differences. The pixel density increases to 404 PPI due to the decreased screen diagonal from 6.7 to 6.5 inches, making the display even sharper. Moreover, Motorola has given the successor a much brighter screen.
The AMOLED screen of the Edge 30 achieves an average brightness of around 630 cd/m², which is a clear increase compared to the Edge 20's maximum brightness of 497 cd/m². Despite HDR10+ support, HDR effects are still limited in the Edge 30 because the screen cannot achieve more than 655 cd/m². Among the comparison devices, the Samsung Galaxy A53 5G and the Xiaomi 11 Lite 5G NE, for example, show that the brightness can be even better.
The AMOLED panel of the Edge 30 also uses pulse width modulation (PWM) for brightness control. The PWM flickering of 250 Hz is in a relatively low range and should not bother many sensitive users. A DC dimming switch is also available in the display settings as "Prevent flickering".
Performance: Solid performance thanks to the Snapdragon 778G+
The Edge 30 uses the Snapdragon 778G+ 5G, which falls in the upper mid-range in terms of performance. Motorola is in good company with its eight-core SoC, since its sister model, the Snapdragon 778G 5G, is a popular choice in this price segment and also powers all other comparison devices (with the exception of the Samsung Galaxy A53 5G). Since the Snapdragon 778G+ 5G runs only slightly faster, the benchmark results are correspondingly homogeneous.
Like its Snapdragon siblings, the Edge 30 delivers very solid everyday performance and also has enough power to run current games smoothly. The Samsung Galaxy A53 5G is a bit slower across the board with its Exynos 1280.