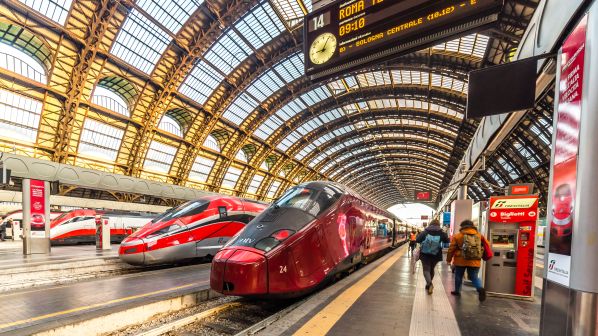 Italian Railway : One of the best things about traveling Italy by train is a chance to appreciate the allure of the breathtaking landscapes while enjoying a fast and convenient ride to the final destination. The extensive Italian train system interconnects all major hubs of the country, making train rides in Italy a comfortable way of getting from one city to another. Moreover, the Italy train schedule offers numerous daily departures, so you can easily plan your upcoming adventure. For your convenience, below we've prepared an Italy train map and some useful information about the types of trains, popular routes, and answers to the most frequently asked questions about the Italian railway system.
Top Choices for Italian Train Travel
The Italo high-speed train is the favorite transportation option among travelers on one of the most popular train routes in Italy, connecting Rome and Florence. This Italy express train offers four travel classes: Smart, Comfort, Prima, and Club Executive. What is more, the Italo bullet train is capable of moving at a speed of 300 kph (186 mph)! Another unique peculiarity of this Italian train is the cinema car where passengers can enjoy films projected on the high definition screens.
Operated by Trenitalia and called "Red Arrow" in English, the Frecciarossa train is an absolute legend of high-speed rail in Italy. The maximum speed of Frecciarossa reaches 300 kph (186 mph), making it one of the fastest bullet trains running in the country! There are two travel classes onboard – Standard and First. Both classes of this Italy speed train are designed to provide excellent comfort along the way and are equipped with power outlets, air conditioning, plenty of luggage space, and free WiFi.
Traveling at a top speed of 230 kph (143 mph) Railjet is among the fastest ways of getting around Italy by train. Relax the entire way of your pleasant Italy train trip and enjoy excellent onboard service. Based on your preference, you can choose from three coach classes: Second Economy Class, First Class, and Business Class. Moreover, on most of the Railjet trains, passengers are welcome to take advantage of the children's cinema and restaurant car where snacks and beverages are sold.
Operating on the numerous rail routes throughout Europe, EuroCity trains are a great choice for travelers who plan to take a train through Italy and include several destinations in their itinerary. The train offers two coach classes, both equipped with everything needed for a comfortable ride, including air conditioning, nice seats, and spacious luggage areas. Moreover, EuroCity city trains have an extensive schedule so you can easily choose the time that works better for your travel needs.
Instead of booking a hotel room, save your travel time and hop on a modern Nightjet train. This overnight train is designed for those who value high comfort and top-notch service on board. Passengers can select from three coach classes: sleeper, couchette, and seated carriages. Moreover, Nightjet is a perfect travel option running on Italian railroads for families and groups of friends as some compartments can hold from four to six people!
EuroNight Overnight Train
Relax in one of the comfortable and cozy carriages while the EuroNight train gets you to the next stop. This modern Italy night train operates on major Italian rail lines and is a popular option for long-distance trips around Europe. To provide a high level of comfort, all sleepers are equipped with modern amenities, featuring power sockets, luggage racks, and air conditioning. Unfortunately, there is no Wi-Fi access on board.