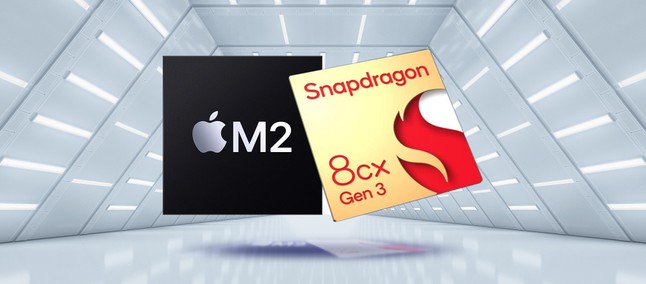 The ARM-based Lenovo ThinkPad X13s is finally available for purchase, but the Windows laptop with a Snapdragon 8cx Gen 3 processor has not managed to catch up with Apple in terms of Geekbench performance. The results for the Snapdragon 8cx Gen 3 are not only well behind those of the Apple M2, but they also lag behind the M1 SoC from 2020.
The apparently delayed Lenovo ThinkPad X13s is now on sale, and those interested in snapping up an ARM-based Windows laptop that should offer at least incredible battery life can purchase one for a price starting at US$1,192.95. The Qualcomm Snapdragon 8cx Gen 3 chip powering the ThinkPad X13s laptop was launched back in December 2021 with promises of "extreme performance and efficiency". However, where the Snapdragon 8cx Gen 3 is clearly a good step up from the Snapdragon 8cx Gen 2, it appears to be years behind the Apple M1 and Apple M2 ARM-based rivals.
Several Geekbench appearances for the ThinkPad X13s/Snapdragon 8cx Gen 3 have already surfaced, with the best-performing results dating back to April 2022. With a Geekbench 5 record now available for the Apple M2, it is possible to compare Qualcomm's chipset with the latest from Cupertino – and it does not make for pleasant reading for the former. While the Snapdragon 8cx Gen 3's highest results of 1,112 points (single-core) and 5,764 points (multi-core) look incredible against our recorded median marks for its predecessor (Gen 3: +39.5% and +85.01%, respectively), they pale into comparison against the Apple chips.
The Apple M1 leads the Snapdragon 8cx Gen 3 by a hefty +55.58% in the single-core test and +31.47% in the multi-core benchmark – bearing in mind that's comparing our median marks for the M1 against the theoretical best for the Windows on ARM-based laptop. Understandably, the advantages for the Apple M2 are even greater, with the new MacBook Air/Pro processor snagging a massive +72.57% lead over the Snapdragon 8cx Gen 3 in the single-core run and enjoying a +54.89% multi-core difference. So while the Qualcomm processor does offer a very attractive generational performance leap over its own family, it is clearly a distant runner-up to the Apple M-series, which will likely be soon bolstered by the even more impressive M2 Pro and M2 Max processors.