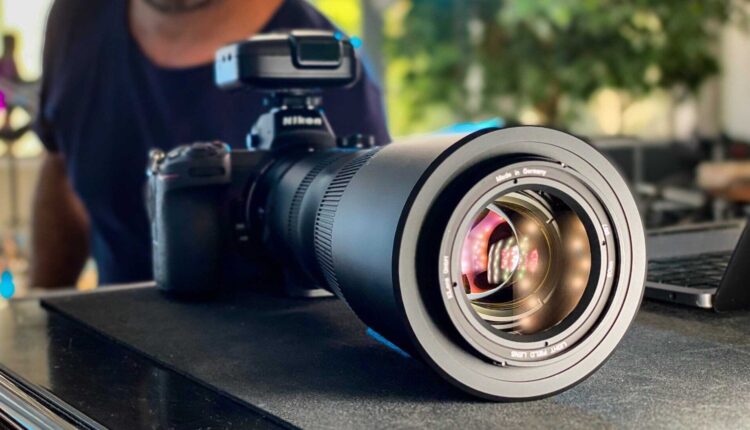 A German start-up has launched the world's first light field lens. The K|Lens One supports all full-frame cameras and was created in cooperation with Carl Zeiss.
Are you a techie who knows how to write? Then join our Team! English native speakers welcome!
News Writer (AUS/NZL based) –
A company called K|Lens has brought the world's first light lens to market that is compatible with any full-frame camera. As the images below show, the K|Lens is large, but mainly because of all the mirrors that are needed to bring 3D light field depth mapping to cameras of this type.
Apparently, K|Lens has integrated numerous mirrors that allow the Lens One to project nine perspectives of a scene onto a single camera sensor simultaneously. K|Lens One supports still images and video too, which make it extremely versatile. Allegedly, K|Lens has developed the lens in cooperation with Carl Zeiss, too.
The lens works in tandem with software written by K|Lens that is compatible with Nuke, Photoshop and Premiere, among others. K| Lens' SeeDeep software also provides the following functions:
It is a 'Gallery', designed to perfectly display your K|Lens One images and videos.
It allows you to create depth maps for your photos, and depth channels for your videos – with the click of a mouse.
You can take advantage of our Multiview Super-resolution algorithm, which uses data from all 9 image perspectives to achieve excellent resolution.
Finally, you can export all this data and continue working in any third-party post-processing software.
The K| Lens One is orderable on Kickstarter now, where it has already received over US$142,000 from backers. Initially, the lens was orderable for €1,799 (~US$2,039), but the company is now offering it from €1,999 (~US$2,266) as an Early Bird pledge. Supposedly, the K| Lens One will eventually retail for €3,599, or US$4,199 in the US. K|Lens hopes to begin shipping orders to backers from August 2022.
Source: www.notebookcheck.net