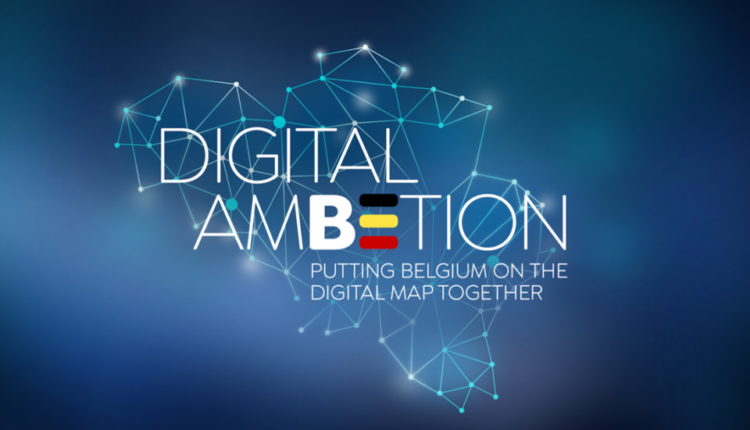 BRUSSELS, Nov. 23, 2021 – Today, Microsoft Corp., alongside Belgian Prime Minister Alexander De Croo, announced Digital AmBEtion, a comprehensive, multi-year investment plan designed to accelerate the digital transformation of Belgium's public and private sectors. Digital AmBEtion includes three pillars: providing world-class digital infrastructure, helping citizens develop digital skills, and creating sustainable societal impact. Central to the plan, Microsoft will establish a new datacenter region that delivers advanced data security and cloud solutions, offering Belgian organizations local data residency and faster access to the cloud. According to IDC, the Microsoft Cloud will help Belgium generate up to €31.5 billion in new revenue and add more than 60,000 jobs to its economy over the next four years. [1]
"To grow the economy, Belgium needs cutting-edge infrastructure coupled with the highest standards in security and privacy, allowing organizations to innovate faster and be more competitive. By investing in a datacenter region in Belgium, Microsoft creates the best conditions for the digitalization of the Belgian economy," said Didier Ongena, General Manager, Microsoft BeLux.
Belgian Prime Minister Alexander De Croo stated, "Microsoft has made a strong choice by choosing Belgium as the location for its next datacenter region. This commitment is coupled with investments that once again strengthen our digital competitiveness and will also help create new economic opportunities across the country – opportunities that will benefit all the players in our ecosystem. In recent weeks, Belgium has repeatedly proven that it can play a leading role in Europe. By attracting many projects for the future. By attracting the best partners. By placing its expertise and talents at the heart of a very clear strategy: the future is emerging through a more sustainable, digital and inclusive economy."
Jean-Philippe Courtois, Executive Vice President and President, National Transformation Partnerships at Microsoft, added: "With this announcement, Microsoft and Belgium are embarking on an exciting new journey together. Digital AmBEtion goes beyond infrastructure and takes a holistic approach to supporting the national economy and wider society, with an emphasis on skilling and sustainability."
With the new datacenter region, organizations of all sizes and industries will have access to Microsoft Azure, which provides cloud services and capabilities that span computing, networking, databases, analytics, artificial intelligence (AI) and Internet of Things (IoT). In addition to benefitting from Microsoft's commitment to digital security and its more than 100 compliance certifications, customers will also benefit from Microsoft's investment in the EU Data Boundary for the Microsoft Cloud, enabling them to keep data transfers inside the European Union. To support customer needs for high availability and resilience, the new datacenter region will feature Azure Availability Zones, unique physical locations equipped with independent power, networking, and cooling for additional tolerance to datacenter failures. The Belgian datacenter region will also support Microsoft's sustainability goals, including its commitment to shift to 100% supply of renewable energy in Microsoft datacenters by 2025.
Customers and partners across Belgium are already sharing their plans for how they'll take advantage of the Microsoft Cloud from the Belgian datacenter region.
Guido Lemeire, CIO of NMBS-SNCB, Belgium's national railway service, stated, "We purposefully chose a cloud strategy to benefit from the added security of a public cloud, improve time-to-market of projects, capitalize on the flexibility to scale, and unlock smart mobility innovation. Technology is a key enabler for what we call Mobility as a Service, and the Belgian Railways will play a pivotal role in this. Microsoft's investment in a local datacenter region is crucial for our future plans."
CEO Stephanie De Bruyne of Belgian Mobile ID, added, "Our itsme® application delivers a safe and reliable digital identity enabling mobile authentication and digital signing, in a secure and user-friendly way. We serve more than five million users and process over 20 million actions per month. Using Microsoft Cloud services enables us to scale when needed. During the last year, we sometimes had to process up to 10 times the normal daily volume of transactions. Thanks to the Microsoft Cloud, this worked flawlessly. We chose Microsoft because of their holistic view on security, trust and data processing within the boundaries of the European Union. The new Belgian datacenter region will allow us to bring the data even closer to our end users."
With this new datacenter region, Belgium will join the world's largest cloud infrastructure with more than 60 datacenter regions announced to date. Today's announcement builds on Microsoft's 32-year history in Belgium and commitment to advancing digital opportunities in the region. "By investing in a datacenter region in Belgium to support Digital AmBEtion, we're laying the foundation to accelerate digital transformation in Belgium," said Didier Ongena, General Manager, Microsoft BeLux.
Over the coming months, Microsoft will share more on its Digital AmBEtion plan to support inclusive economic growth and digitalization.
Source: https://news.microsoft.com