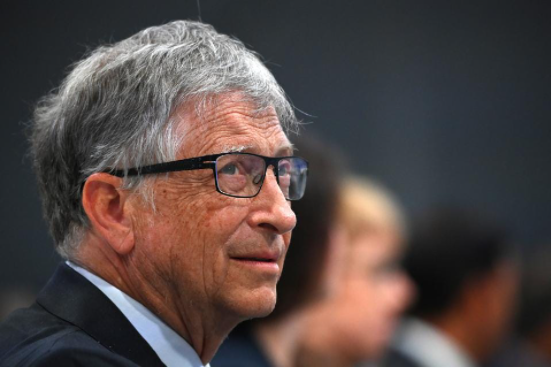 Billionaire Bill Gates called for a green industrial revolution that stops climate change, protects vulnerable communities and puts the world on a path to progress in a speech at the UN climate conference COP26 in Glasgow, Scotland.
The philanthropist announced the latest project supported by the Bill and Melinda Gates Foundation—the Agriculture Innovation Mission for Climate (AIM4C) initiative, launched by the United States and the United Arab Emirates, which counts more than 30 member countries.
"As part of our work with AIM4C, I am announcing today that the foundation will provide an additional $315 million over the next three years to an amazing organization called CGIAR. CGIAR supports climate-smart agricultural research to help smallholder farmers in the developing world," he said.
The Microsoft cofounder also reflected on the progress his initiatives to support technologies to tackle climate change have achieved so far since they were first announced at COP21 in Paris in 2015.
"I started Breakthrough Energy Ventures (BEV) to complement the commitment from 22 countries to increase R&D through Mission Innovation. BEV has raised over $2 billion so far and invested in more than 80 companies from 11 countries across four continents," he said.
MORE FOR YOU
A 'Metaverse' Of Questions: What's Behind Facebook's Rebranding?
How A Corporate Lawyer And A Finance Guy Ditched The Rat Race To Build A $750 Million Barbershop App
Do You Need Massive Followers On Social Media To Be Creditable?
That partnership with Mission Innovation is now expanding to identify project funding opportunities to develop new clean technologies around the world, with a focus on middle- and low-income countries. The goal is to maximize the impact of investments and strengthen the clean energy innovation ecosystem through expanded collaboration with governments across North and South America, Europe, Asia, Africa and the Middle East.
"If we're going to scale the innovations that get us to zero, we need to reduce the cost difference between things that emit and things that don't—a difference I call the Green Premium. The cost of the transition must be low enough that the whole world can afford it," Gates said. "To help make this happen, Breakthrough Energy recently announced the creation of Catalyst."
The Catalyst program was launched earlier this year to focus specifically on four technologies it believes to be key in tackling climate change: direct air capture (DAC), green hydrogen, long-duration energy storage (LDS) and sustainable aviation fuel (SAF).
On Tuesday, Catalyst signed up two new partners, Citi Bank and the IKEA Foundation, while insurance company State Farm became the initiative's first scaling partner, whose role is to provide further financial support and industry-specific insight.
"Our private sector partners have committed over $1.5 billion that we expect will leverage more than ten times that much in total public and private financing. This will support projects in four areas. And we are just getting started. We expect to raise $3 billion in private capital with the same multiplier," said Gates.
Catalyst is also working with the European Commission and European Investment Bank to mobilize up to $1 billion (€820 million) between 2022-26 to accelerate the deployment and commercialization of EU-based projects in the four critical technology areas supported by Catalyst, with each euro of public funds expected to leverage three euros of private funds.
A similar $552 million (£400 million) partnership with the U.K. government was announced in October. On the U.S. front, Gates pledged $1.5 billion in partnership with the U.S. government in August, but in an interview with the Wall Street Journal at the time, he said the funds could only be committed if Congress passes President Joe Biden's climate agenda. On Sunday, Gates once again called on lawmakers to pass the Build Back Better Act and the Infrastructure Investment and Jobs Act in a post shared on LinkedIn: "I hope Congress passes these bills fast. We can't wait another moment," he wrote.
Source: www.forbes.com