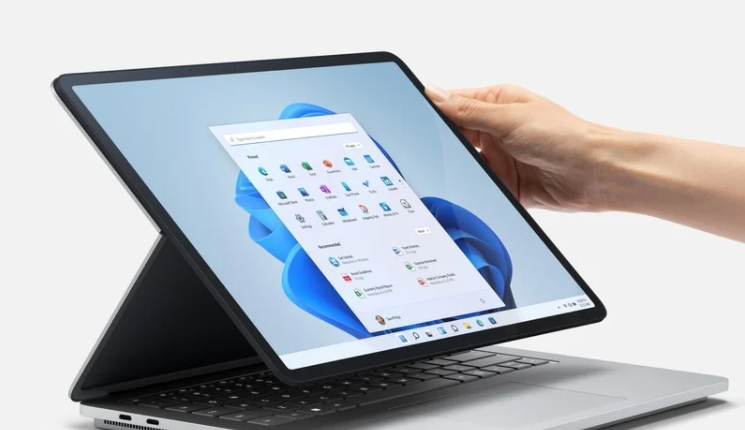 used to be a giant Surface fan, but in the past few years, I dropped off. I wrote an article a while ago detailing why I stopped buying Surface, which can be summarized as general disappointment in quality and usability. It often felt as if Surface devices were developed in a vacuum, and ignored how they were actually being used in the real world. I think the Surface Laptop Studio is the first sign that the team is addressing some of that.
Microsoft's recent Surface event was the best it's had in years, showcasing an impressive slate of, well, slates, from the Surface Duo 2 to the forward-facing Surface Pro 8. At least for me, though, it was the Surface Laptop Studio that stole the show. And while it has a hilariously clunky name (seriously Microsoft, hire a name guy, or something) — the form factor is anything but clunky.
Ditching detachables
The Surface Laptop Studio is Microsoft's most innovative Surface in years, achieving something I'd complained about in my previous Surface Book coverage.
I am someone who considers themself to be the prime target audience for a Surface Book. I dabble in digital art. I work in a creative industry with frequent travel requirements. And I need something powerful for video editing. The laptop that brought me closer to my perfect all-in-one device. A lightweight, dGPU laptop with inking capabilities, complete with a collapsible canvas experience. The problem was the execution.
I'm pretty sure the Surface Book was developed in, and tested, only in labs that have tons of air conditioning. We have virtually no air conditioning in Europe, and this proved to be the Surface Book's Achilles' heel for me.
The laptop's detachable design meant that Microsoft put the CPU up in the display, so it could function as a tablet when detached. Under the lightest of loads in the summer months, this thing would heat up to the point where I'm pretty sure I could've fried an egg on it. Fried food is good, but not exactly a feature I want in my laptop.
The Surface Laptop Studio solves this basic design flaw with its innovative collapsible display system. Other manufacturers have looked to 360-degree hinges to create their "canvas" modes for inking, but it still requires you to lift the laptop up off the desk and awkwardly flip everything around. The Surface Laptop Studio's simple system lets you just draw the display towards you. Easy, ergonomic, and elegant. Emotional as Surface leader Panos Panay put it, during the Surface event.
The Surface Laptop Studio also has a new Surface Slim Pen 2 to compliment it, complete with haptics that imitate paper, complete with a boosted display refresh rate. Inking and drawing on glass always felt somehow wrong to me, so I'm hoping that these changes solve my other Surface Book irritants as well. I suspect most people, however, will be most excited about the spec boost.
Serious spec bump
It felt a bit like the Surface Book line was constrained by its design too. Baking so much of the computer in the display led to the heat problems, but the dGPU in the base also came with a litany of problems associated with the detach mechanism. I appreciate wholeheartedly the engineering effort and precision needed to make a device like that work at all, but as an end-user, I needed something that works all of the time without fail. Particularly at the Surface line's notoriously high price range.
To call the Surface Book 3's GTX 1660 Ti a disappointment would be an understatement, considering it was already less powerful than the years-old Razer Blade I'd switched to after repeated disappointments from the Surface Book line. The Surface Laptop Studio gets more serious, baking an RTX 3050 Ti into the base instead, freed up from the constraints of the Book's form factor.
And finally. FINALLY, we're getting Thunderbolt ports, after years of complaining. As someone who effectively runs an entire studio from his laptop, with professional mics for podcasting, capture cards for getting game footage for videos, and so on, having the ability to expand my I/O beyond the bottlenecks of USB is a great boost.
Will it deliver?
Yet still, despite the exciting improvements, I find myself apprehensive. I've used a lot of Surface devices since the early days, and I'm still concerned about quality on the end products both in terms of hardware and software. The throttling on the Surface Pro and Surface Book line in the summer months made them near unusable for anything but the lightest workloads in my AC-less office space, and I don't want to return to that world. Razer laptops have only ever been wholly reliable workhorses for me, although I've sacrificed my digital art hobby to get them.
I still want a device that lets me do everything on the go: work, creation, and play, while taking up minimal space in my tiny European offices. I'm willing to pay a premium to get it, too. Surface hasn't lived up to the promise thus far, for me, but I'm hoping that the Surface Laptop Studio will change the narrative. Even if it has a silly name (seriously, just call it the Surface Book 4).