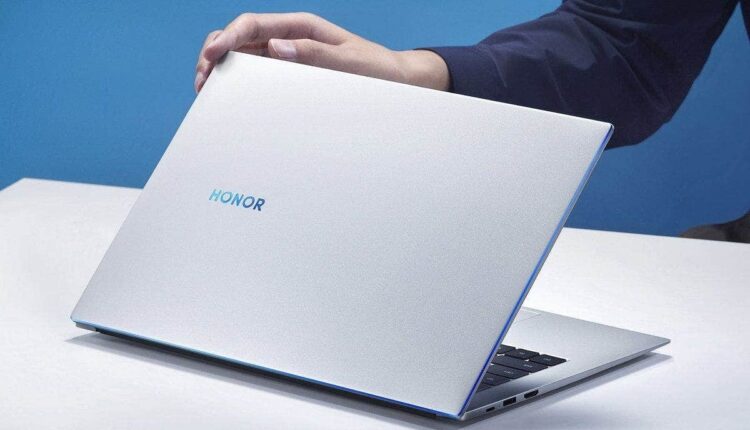 At today's conference, Honor officially released the MagicBook V 14 ultrabook. There are many interesting features we should talk about. So let's get started.
HONOR MAGICBOOK V 14 APPEARANCE AND SCREEN
The MagicBook V 14 notebook continues the aesthetic genes of the Honor MagicBook family. It uses aviation-grade aluminum alloy material + metal anode technology. There are three color options you can choose from: dawn blue, starry gray and glacier silver.
Thanks to the advanced design, the MagicBook V 14 notebook weighs only 1.48 kg and has a thickness of 14.8mm. It is very thin and has a screen-to-body ratio of 90.5%. Visually, it is almost borderless.
As for the display itself, there is a 14.2-inch LTPS mirror screen with a 3:2 ratio and a resolution of up to 2520×1080. The display boasts of a 90Hz high refresh rate, a brightness of 400nits, 1.07 billion colors, and a 100% sRGB high color gamut.
In addition, it also supports DC dimming, 10-point high-definition touch, and has passed the German Rheinland low blue light eye protection certification, the German Rheinland non-flicker-free eye protection certification, and the National Eye Center eye protection certification. These are the three major eye protection certifications in the world. Thus, the screen effectively reduces the eye fatigue and takes care for eye health.
PERFORMANCE AND HARDWARE
The MagicBook V 14 notebook sports Intel's 11th generation Core H35 processor, optional Core i5/i7. The acceleration frequency can reach 5GHz.
Under Honor's optimization, the CPU of MagicBook V 14 notebook can release up to 45W or more performance.
Apart from doing any task, it is also ideal for gaming. The MagicBook V 14 notebook is equipped with the Intel Xe architecture core display by default. The graphics performance is 87% higher than the previous generation core display. Plus, it comes with the NVIDIA MX450 high-performance independent display.
Our protagonist sports a 16GB LPDDR4X-4266 high-frequency memory, a full range of PCIe SSD hard drives, and so on.
In terms of heat dissipation, the MagicBook V 14 has upgraded the latest heat dissipation technology. Now, it comes with a wing-shaped large-diameter double heat pipe design. There are 9 sensors to fully and accurately monitor the system heat. It can release 45W+ TDP performance, and the noise under low load does not exceed 22dBA.
CAMERA AND OTHER FEATURES
The MagicBook V 14 notebook this time focuses on improving the currently urgently needed audio and video conferencing capabilities. For the first time, it sports a 5-megapixel high-definition ultra-wide-angle dual camera. The latter supports 1440p-level resolution, and the picture quality is 4 times that of ordinary cameras. Apart from this, the camera supports 90-degree ultra-wide-angle shooting. So there will be no death perspective in the meeting.
Read Also:
Microsoft has released a new test build of Windows 11
In addition, it also has an IR camera, which supports face unlocking. It only takes 1.8 seconds under dark light to unlock the laptop.
We also get 4 microphones and 4 speakers system. The audio effects are also very powerful. So the laptop is not only ideal for conference, but also the surround sound is also very suitable for playing games.
This model of Honor laptop keyboard has a 1.5mm keystroke, and the keycaps are coated with skin-friendly resin. It is stain-resistant and wear-resistant, ensuring that keyboard grease will not be printed on the screen.
The fingerprint power key is transplanted to the keyboard area. It can unlock the laptop in 0.7 seconds. The NFC antenna is also transplanted to the touchpad area.
HONOR MAGICBOOK V 14 BATTERY
In terms of battery, the MagicBook V 14 notebook comes with a large 60Wh battery, which has a video playback life of up to 15 hours. It also supports fast charging. So the laptop can charge 45% of the battery in half an hour. The 65W charging head is not only as light as 160 grams, but also compatible with mobile phones.
SYSTEM
As for system and software, the MagicBook V 14 notebook is the first batch to come with the Microsoft Win11 system out of the box. The screen touch is also fully adapted to the new system, bringing more convenient three-finger and four-finger operations.
The MagicBook V 14 notebook also supports Honor's multi-screen collaboration of up to 3 windows. PCs and mobile phones can share files and devices without a data cable. After the upgrade, they can even collaborate with devices such as tablets to expand work and content creation possibility.
In other respects, the MagicBook V 14 notebook supports Wi-Fi 6, Thunderbolt 4 interface, Intel EVO certification and so on.
PRICE AND AVAILABILITY
Finally, the  MagicBook V 14 notebook Core i5 version is priced at 6199 yuan ($959), the Core i5 + MX450 standalone version is priced at 6999 yuan ($1082), and the Core i7 + MX450 standalone version is priced at 7999 yuan ($1237). They are already on pre-sale and will hit the market on October 6.
Source: www.gizchina.com