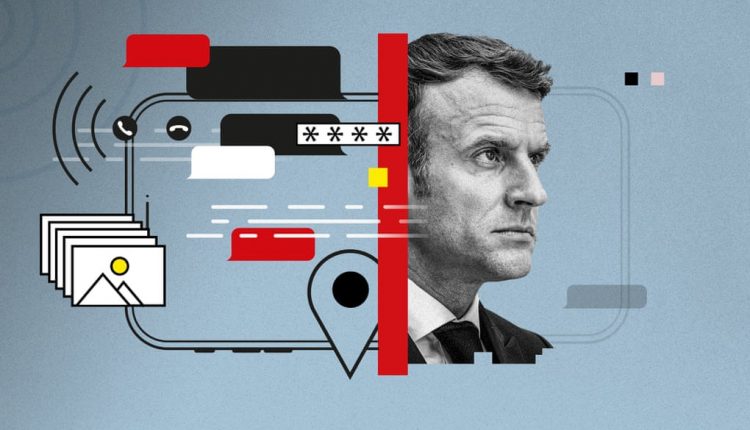 French president acts after his phone number, and those of most of his cabinet, appeared in leaked database
The French prime minister, Jean Castex, said on Wednesday the Elysée had "ordered a series of investigations", after vowing to "shed all light on the revelations".
But Castex said it was too early to comment or announce any new security measures or other action without knowing "exactly what happened". He said: "We are going to look at this very closely, given the potential seriousness."
French politicians expressed shock after the mobile numbers of Macron, former prime minister Édouard Philippe and 14 serving ministers, including those for justice and foreign affairs, appeared in the leaked data.
The mobile phone of the former environment minister François de Rugy showed digital traces of activity associated with NSO Group's spyware, according to forensic analysis undertaken by the Pegasus project investigation.
The appearance of a number on the leaked list – which includes numbers selected by governments that are clients of NSO Group, the Israeli spyware firm – does not mean it was subject to an attempted or successful hack.
NSO insists the database has "no relevance" to the company. The company said it may be part of a larger list of numbers that might have been used by NSO Group customers "for other purposes".
An NSO Group spokesperson said Macron and other French government officials on the list "are not and never have been Pegasus targets". "It is not a list of targets or potential targets of NSO's customers," they added.
But the list is believed to be indicative of individuals identified as persons of interest by government clients of NSO.
The leaked list includes some phone numbers that have shown signs of Pegasus-related activity, according to research by Amnesty International's Security Lab, a technical partner on the Pegasus project, which looked at a small sample of devices.
Research by the Pegasus project suggests that Morocco was the country that may have been interested in Macron and his senior team, raising fears that their phones were selected by one of France's close diplomatic allies.
De Rugy reiterated on Wednesday that France and Morocco have an extremely close diplomatic relationship and explanations were needed. He said he was "very shocked that this could have happened between friendly states". He said he had asked for an audience with the Moroccan ambassador and had referred the issue to the French state prosecutor.
Morocco has said it "categorically rejects and condemns these unfounded and false allegations", adding that it was "erroneous" and "false" to say the country had infiltrated the phones of national or foreign public figures.
Gérard Larcher, the head of the French senate, said the parliamentary committee on intelligence would most likely investigate the matter. "It's a very, very serious issue that has to be given consideration," he told France Info radio. "We must wait for the results of checks that are being carried out. It's an issue of spying that falls under the remit of our intelligence services."
In the run-up to the French presidential election next spring, opposition figures on the right seized on the Pegasus revelations to question how phone numbers for France's most senior government figures could have appeared in the leaked database and to demand tighter national security. Bruno Retailleau, of the rightwing party, Les Républicains, said: "We have to protect ourselves. It's a question of national security and I demand all measures are taken at the highest level of the state to close this window of amateurism."
Macron, France's youngest modern leader, has presented himself as a tech-savvy fan of mobile phones, placing two iPhones on the desk behind him for his official portrait when he was elected in 2017.
Éric Zemmour, a controversial journalist and TV debate-show star who has been labelled France's most famous far-right ideologue, also appears in the data.
Currently considering whether to run in the presidential election next spring, he tweeted of his own potential targeting: "If the government knew but did nothing, that is a scandal. If they didn't know, it's worrying."
… we have a small favour to ask. Millions are turning to the Guardian for open, independent, quality news every day, and readers in 180 countries around the world now support us financially.
We believe everyone deserves access to information that's grounded in science and truth, and analysis rooted in authority and integrity. That's why we made a different choice: to keep our reporting open for all readers, regardless of where they live or what they can afford to pay. This means more people can be better informed, united, and inspired to take meaningful action.
In these perilous times, a truth-seeking global news organisation like the Guardian is essential. We have no shareholders or billionaire owner, meaning our journalism is free from commercial and political influence – this makes us different. When it's never been more important, our independence allows us to fearlessly investigate, challenge and expose those in power. Support the Guardian from as little as $1 – it only takes a minute. If you can, please consider supporting us with a regular amount each month. Thank you.
Source: www.theguardian.com