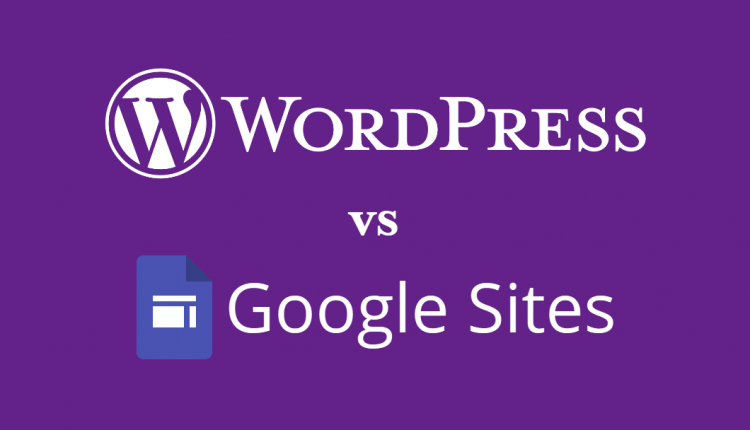 Interestingly enough, Google has two different website hosting options. Blogger, which is a direct competitor to WordPress.com more than WordPress.org that is focused on publishing content, and Google Sites, which is a more direct alternative to sites such as Wix and WordPress.org where you build a website based on a project or a portfolio or even an event. When looking at WordPress vs Google Sites, we have to take into account that Sites is definitely an alternative to the CMS (content management system) elements you get in WordPress.
In this article we'll take a head to head look at WordPress and Google Sites; breaking down their intended users, customization features, ease of use, seo, flexibility, and extensibility.
WordPress vs Google Sites: Who Are They For?
WordPress is for everyone. Really. It has elements that work for just about everybody with every kind of site. If you need an event site, there are plugins that help you run it. If you want a blog site, that's what the platform is based on. Ecommerce? WooCommerce has you covered. As the platform has evolved into a full content management system, so too has the demographic the software can appeal to. You can run simple, single-page websites as well as major sites with hundreds/thousands of pages that get millions of hits. It scales well, too.
However, the downside to this is that it requires a bit of initial learning from users and then tweaking to make sure that the site looks and performs the way you want it to.
Google Sites, too, is aimed at everyone simply by the fact that it's an included part of the Google family of apps. However, rather than being aimed at everyone for everything, it's aimed at everyone who needs a simple website for anything at all. When you set things up initially, you will choose a template and type of site (or a blank one), which then turns into a simple front-end page builder where you enter your own information.
The customization and flexibility in Google Sites vs that from WordPress isn't great. However, the simplicity and lightweight efficiency that comes from the service makes it a great option for anyone who needs a one-off website or a simple, static web presence.
WordPress vs Google Sites: Customization
One of the elements that nearly every website owner gets caught up with is site customization. Finding just the right layout, the right design, the right color palette is imperative to website success. However, depth and ease of customization varies by platform and the need for those vary from site to site. Both WordPress and Google Sites offer customization, only in different ways. Depending on the kind of site you're building, either one could fit the bill.
WordPress
WordPress is all about customization. With its entire structure being based on extensibility through plugins and themes, you really have endless choices for your sites. That can be a little overwhelming, too. Is Divi the best theme? What is the best page builder and SEO plugin? Which security plugin works the best? Do I even need one?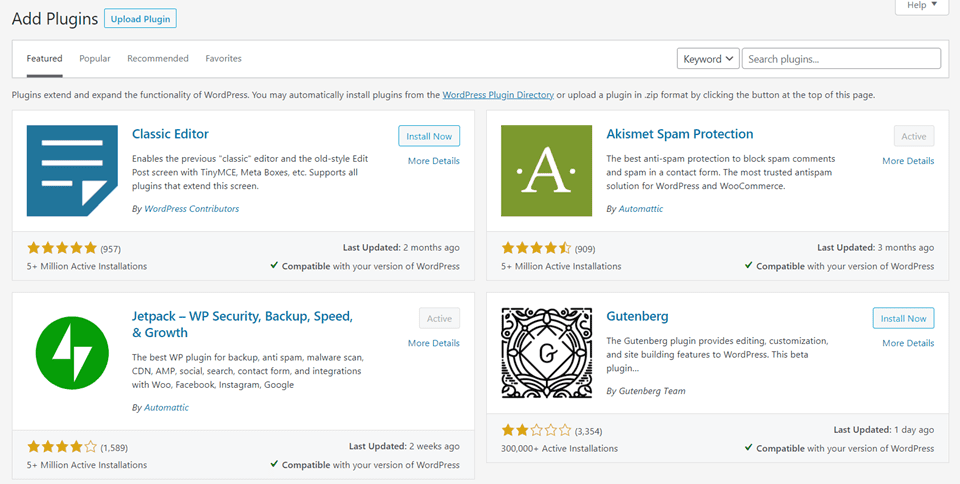 There are so many options for every single kind of feature that you may have a hard time choosing. That's okay. While there is definitely a learning curve here, it's hard to make a bad decision. The cream definitely rises to the top on the WordPress.org plugin and theme repositories, and anything you need to add to your site should be able to be found at the top of most simple searches.
If you're a coder, you can dig in even further by altering and adding to the PHP, HTML, and JavaScript in the WP core files. If not, again…don't worry. That's what plugin and theme developers do. No matter what you want your site to look like, there's a tool for that. And no matter what you want your site to do, there's a tool for that, too.
It just might take a little researching and trial and error to get the exact right fit for what you're trying to make.
Google Sites
Sites on the other hand, is a simple and straightforward tool that doesn't have nearly the depth of customization that WordPress does. What it does offer in customization, though, is simplicity and ease-of-use. If you know what kind of site you're going to build, you have choice of templates for your site. They are basic foundations, but professionally designed.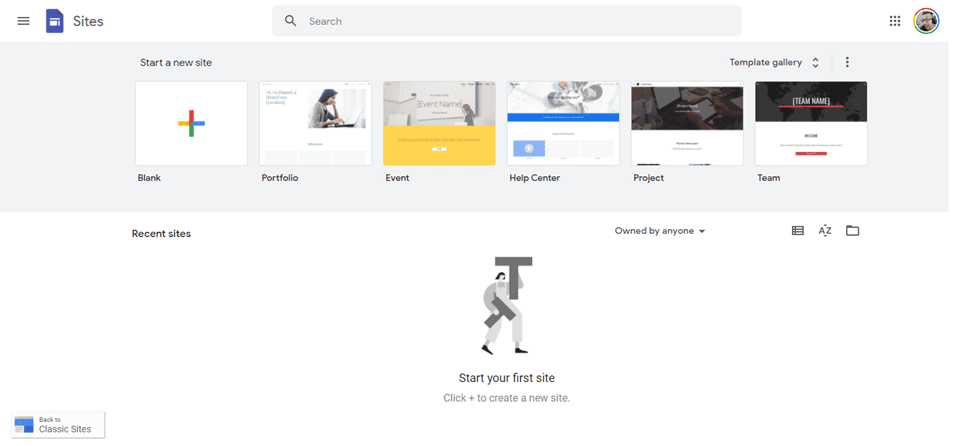 Whichever one you choose, the customization options are directly in front of you. A page builder loads, and all of the options that you get are visible from the start. In general, these are aesthetic and design choices, meaning that you won't be able to add features and utilities like you do with WordPress.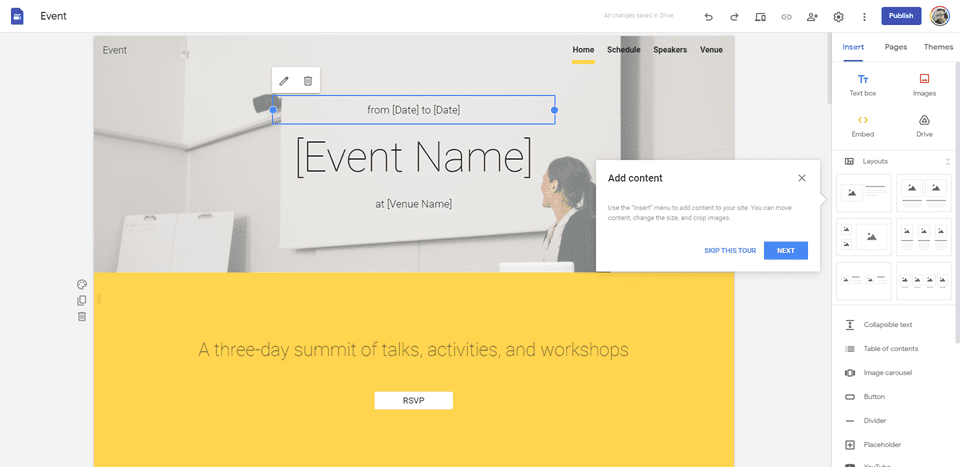 As you can see in the image above, the interface is clean and easy to use. You can add text boxes, dividers, buttons, images, and so on. Each of these have their own customization options. Some, such as text boxes only have basic formatting (bold, italics, alignment, etc.), while others like the header and navigation get a more diverse range.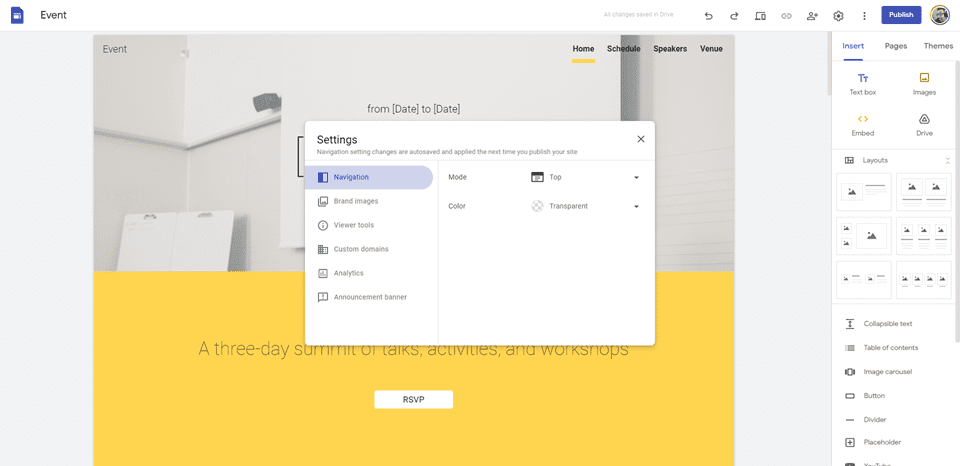 You can add Google Analytics for tracking, a custom domain (from anywhere and not just from Google Domains), and various brand logos, etc. Additionally, you simply drag and drop different elements along the page to design them. Google Sites provides a grid for you to follow. So while you can't place them anywhere on the page, Sites makes sure you can place them where it works.
WordPress vs Google Sites: Ease of Use
When picking a website platform, your level of expertise matters. If you're a new site owner, Google Sites's simplicity is probably going to be a big draw over having to learn WordPress. WordPress has made large strides in making itself more new-user-friendly than ever. But it has plenty of holdovers from the old days that let the platform's age shine through.
WordPress
Simply logging in and looking at the WordPress dashboard is a lot for a new user. Seeing all the menu items in the sidebar and the widgets in the main page is a ton of information to absorb. Often, this alone can paralyze a user because they may not know where to even begin.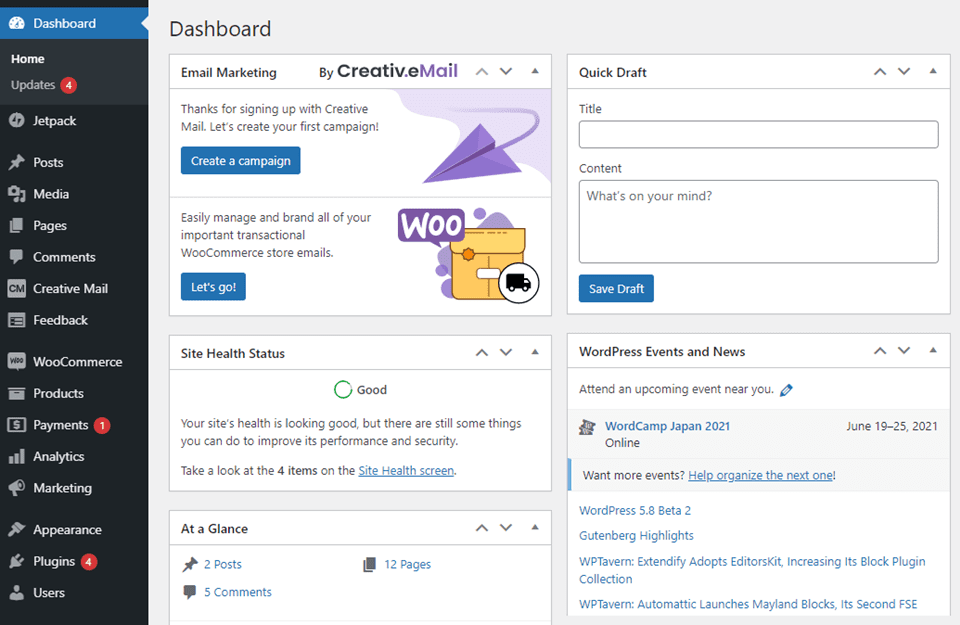 Using WordPress itself isn't that hard. In fact, it's pretty intuitive. Once you learn how. Learning where the options and settings are located can take some time. The learning curve is moderately steep, especially when you consider the number of customization options like we mentioned above. Adding in and customizing each theme is different, as are plugins.
However, outside of those, the actual site editing and post creation is pretty easy. Especially with the new Gutenberg editor introduced in WordPress 5.0.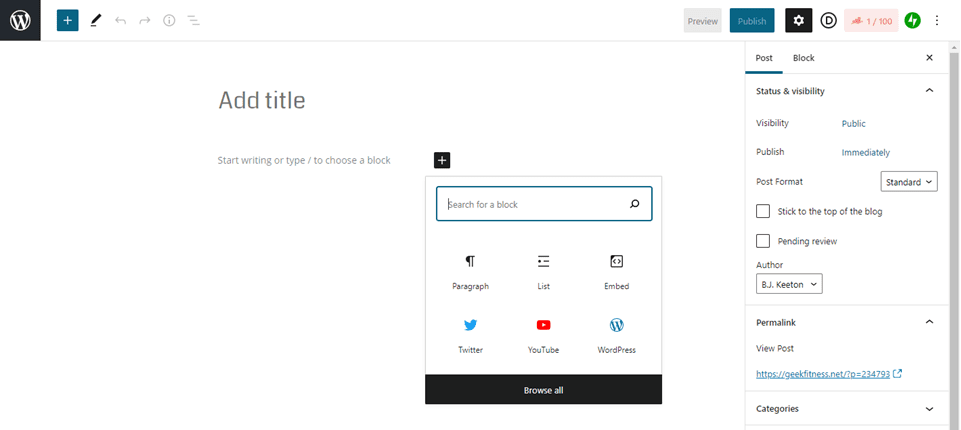 Users can add any blocks or elements they want, adjust the options for each one individually, and publish with all the information right at their fingertips. Context menus are easy to navigate. And a simple search of the blocks when you add gets you right to where you need to be quickly.
As we said, WordPress itself is fairly easy to use. Once you learn it. Before that, you may feel overwhelmed. But the learning curve is definitely worth the power that you get from the platform.
Google Sites
On the other hand, Google Sites has almost no learning curve. It's almost a flat line. No curve at all, really. Google Sites is simple and easy to use from out of the gate. The downside to having such a flat learning curve is that the power and overall options that you get are significantly limited. Especially when looking at Google Sites vs WordPress.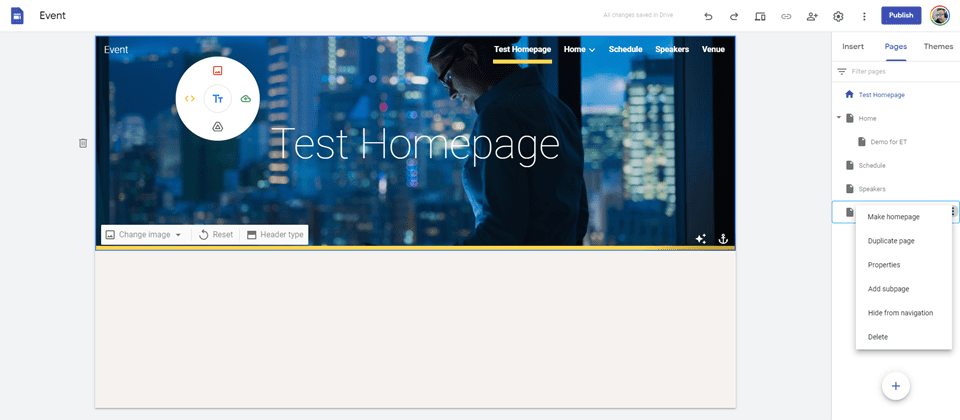 Using Google Sites is a cinch. To the right, you have a sidebar with simple options such as New Page or New Link or Make Homepage. You can make any page a subpage of any other, remove it from the header navigation, or make a copy of it.
In addition, the elements have a simple, radial context menu with all the options available if you double click on them. It pops up, letting you upload media, add Google Drive media, embeds, adjust text, and add images.
All of this is incredibly easy to use. And it works intuitively that you probably won't need documentation to figure out. Building and editing on Google Site with no previous knowledge of the platform might have been the most intuitive experience of any interface we've used.
If you're looking for a website that you can just create, edit, and launch kind of like making and publishing a slideshow deck, Google Sites is fantastic.
WordPress vs Google Sites: SEO, Flexibility, Extensibility
Digging in under the hood of these platforms, we want to take a look at what they offer in terms of everyday use and utility for site owners. Can your site be expanded, and how can you optimize it for search rankings? Let's take a look at how WordPress vs Google Sites stack up to one another as an everyday driver.
WordPress
As we mentioned above, WordPress is customizable and flexible enough to run any kind of website you need. From ecommerce to a blog to an online course and membership site. The tools available within the CMS are strong and powerful, and with the plugin ecosystem, the options are limitless.
For SEO, WordPress can't be beat. Yoast SEO, Rank Math, Squirrly, and others provide absolutely amazing options so that you can edit your meta-data, schema, and site maps to get the best results from the web crawlers. If you're making regular content that needs updating and adjustment to place high in the search rankings for organic discovery, WordPress is the clear winner.
Google Sites
On Google Sites, you're limited to a powerful, static site builder without a plugin ecosystem. You do, however, but you do have access to the entire Google Suite of products that tie directly into it. Google Sites itself can't be used as a publishing platform for a blog, but it can be linked to your Blogger account. You can't run an ecommerce shop from Google Sites, but you can embed the code for a Shopify page in there. For straightforward websites, Google Sites is great. If you need something more complicated and feature-rich, look elsewhere.
In terms of SEO, Google Sites is a letdown. Despite being a Google product, the meta-data and SEO options are simply not there. If you are going to rely on organic search as the lifeblood of your site, Google Sites isn't the platform for you. However, the sites you make are amazing for pages that will be distributed to a limited audience and/or direct traffic. Internal company websites, community updates and information, even product or brand information pages are a perfect fit for Google Sites.
Wrapping Up
WordPress and Google Sites are targeting two entirely difference audiences. WordPress is the tool for most people, simply because it's a more robust platform that has more extensibility through plugins and themes. You can do anything you want with WordPress, but you have to give yourself the time to learn it. Then tweak it. Then set it up. Whether you're a coder or a new website owner, you can absolutely get WordPress to do what you need. The tools are out there, and the support and documentation is, too. You just have to put in the work to learn it and make the jack-of-all-trades do the work you need it to do.
Google Sites is an amazing platform for simple sites that need to be up quick without any hassle. If you have no website experience whatsoever, Google Sites is perfect because it is intuitive and easy to use. You can have a website set up in well under an hour, even if you have never done anything like that before. The downside is that it's not a very extensible or powerful platform, and you can hit its limitations quickly if you want to grow the site into something more grandiose. However, for what it is and who it targets, Google Sites is a strong tool that does exactly what it means to.