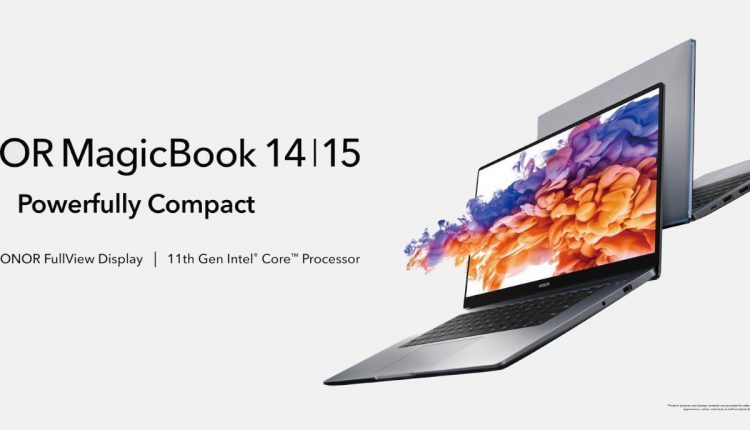 ntroduction
Honor is getting a lot of mileage out of the MagicBook 14 chassis – we reviewed it once with a Ryzen 3500U APU, then we looked at the upgraded 4500U model. With the AMD chips covered, time to have a look at the Intel-powered version of this laptop that was announced last month.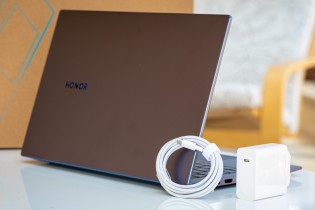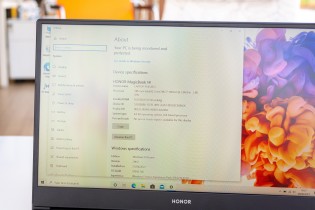 The Honor MagicBook 14 is back, this time with an 11th generation Intel Core processor
There are two options – an Intel i7-1165G7 or an i5-1135G7. Both are 11th generation mobile chips (Tiger Lake) built on a 10nm SuperFin litography. Both have four hyper-threaded cores (i.e. eight threads total) and both have a TDP of 28W. The i7 version has a higher base frequency (2.8 GHz vs. 2.4 GHz), higher max turbo frequency (4.7 GHz vs. 4.2 GHz) and more L3 cache (12 MB vs. 8 MB).
We have the more powerful i7 version in front of us, but as you can see the two options aren't that different. The Intel Xe graphics on the i7 model boast 96 execution units, up from 80 on the i5, but neither would do for anything beyond casual play. But before we examine what's on the inside, let us look at what's on the outside.
Design, display, keyboard
There's not much more to say about the design that we didn't cover in our previous encounters with the laptop. The aluminum exterior is sleek, though the screen bezel is plastic.
The keyboard shows minimal flexing when pressed down, the screen is a bit more wobbly, but overall we're pleased with the build quality. The laptop weighs 1.38 kg (don't forget the 200g USB-C charger) and measures 15.9 mm thick. It's not the lightest in its category, but we're not complaining.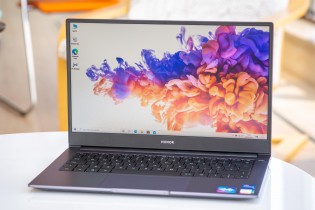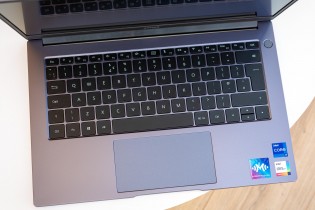 The 14″ display delivers over 300 nits brightness • The keyboard is a bit cramped, the touchpad is great
The Intel version has the same dimensions, weight and port selection as the AMD ones. That last part is a bit of a disappointment as a Thunderbolt port would have been a nice reason to go blue instead of red. That said, the sole USB-C port do support charging – in fact, there's no barrel plug to be seen. But we'll get to the battery and charging.
Before that we have to air two complaints. First that there's only a single USB-C (and no barrel jack), so plugging into the power leaves you with only a single USB-A 3.2 Gen1 and a USB-A 2.0 (which will most likely be occupied by a keyboard/mouse dongle and they better be able to share).
The second complaint, of course, is that if you want to plug in an external monitor, you can't use a single cable to do it – you'll also need to use the full-size HDMI port.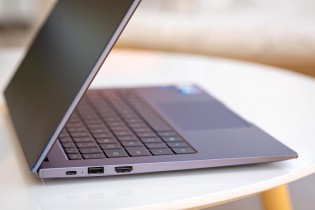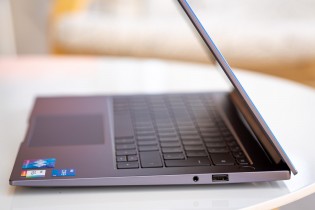 USB-C (charging is supported, DisplayPort is not), USB-A 3.2 Gen1, HDMI • USB-A 2.0, 3.5 mm jack
Moving on, the MagicBook 14 is equipped with a 14" LCD panel with 1,920 x 1,080px resolution. The official numbers are 300 nits typical brightness and 1,000:1 contrast ratio, both values being superior to the numbers for the Ryzen 4500U version (250 nits and 800:1, respectively). But again, those are the claimed numbers.
We tested the display on the Intel model and it maxed out at 370 nits – pretty solid. The Ryzen model also overshot its target and posted 277 nits. Even so, the nearly 100 nit difference in brightness is quite tangible. Our one complaint is that at 50% the brightness drops to 173 nits, which is relatively dim. We would have preferred a more linear scaling.
Viewing angles are quite good and while there is a shift in contrast at extreme angles, it is not an issue at normal viewing angles. For color rendering, the display aims for 100% sRGB and 72% NTSC coverage.
The keyboard is as before, with nice, large keys with good travel and feedback. There are also three levels of backlighting. As is typical for a 14" laptop, this one features only a curated selection of keys – beyond QWERTY, basically only Backspace and Delete get their own keys. The F-row doubles up as shortcut keys (screen brightness, volume, Wi-Fi, etc.) and one of those (between F6 and F7) is not a key but the webcam instead.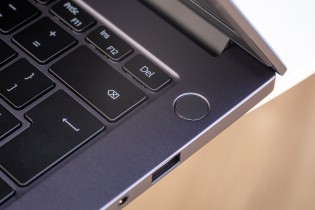 The power button doubles as a fingerprint reader
The plastic touchpad is about as large as would fit in this form factor. It is smooth and accurate, multi-touch gestures worked perfectly. To the right of the keyboard is the Power button, which has an embedded fingerprint reader you can use as an alternative to password login.
Upgradability
This will be, unfortunately, a short section. The laptop comes with 16GB of dual-channel DDR4 RAM, which is an ample amount for the class. That is good news as it is soldered to the motherboard, so you can't add more capacity later on.
For storage there is a 512GB NVMe SSD, a Western Digital SN730, specifically. It is attached on the PCIe Gen 3 x4 port. You can swap it out, but there's only the one bay, so you'll have to copy your data over to the new drive first.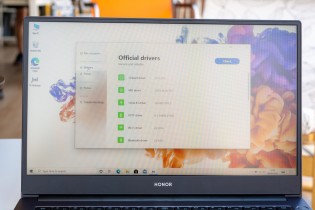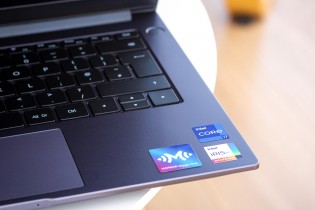 An app that keeps drivers up to date • Huawei Magic Link is supported
Finally, there's also a PCIe Gen 3 x1 port, which is where the network card goes. It's an Intel AX201, which supports Wi-Fi 6 (2×2) and Bluetooth 5.1, so you probably won't need to replace this one anytime soon.
Performance
The 11th Gen Intel Core i5 and i7 processors are fabbed on the second iteration of Intel's 10nm SuperFin process. They have a configurable TDP of between 12W and 28W. We've set the laptop to high performance mode (using the Fn+P shortcut, alternatively you can quickly jump into Honor's PC Manager app using the alternative function of F10).
The CPU contains four Willow Cove cores, each running two threads. For comparison, the Ryzen 4500U version of the MagicBook 14 we tested previously is home to 6 cores running 12 threads.
So, the Intel chip should be at a disadvantage in the multi-threaded tests, but with turbo clocks going up to 4.7GHz on our i7-powered review sample, it has a chance to edge out the AMD chip, which tops out at 4.0GHz, in single-core tests. The i7 has more cache too (12MB vs. 8MB).
The single-core performance test (based on Geekbench 5) goes heavily in favor of the Core i7 version with an over 40% advantage.
The strength of individual cores really whittles down the core count advantage of the AMD APU. So the i7-based laptop also takes the win in the multi-core performance test – the advantage isn't as stunning, but it's a good 20% lead over the 4500U.
Moving on to Cinebench R20, it concurs that the i7 is faster, though with a narrower gap of around 10%.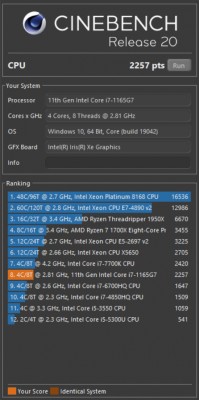 Honor MagicBook 14 (Core i7-1165G7): Cinebench R20 • Geekbench 5
The i5 and i7 support PCIe Gen 4, which goes unused on this laptop. However, that doesn't harm the performance as the WD SN730 SSD hits its performance targets perfectly. And it is closed to maxing out what a Gen 3 x4 connection can achieve, so there's not much financial sense in investing in a faster drive.
Notably, the Intel version of the MagicBook 14 received a superior SSD, which did nail the 3,400 MB/s sequential read speeds advertised by WD. That is 75% faster than the SSSTC SSD in the Ryzen 4500U version managed. Sequential write speeds are twice as high too.
As for random access, two the drives are comparable at high queue depth, but the Western Digital drive in is clearly superior at random writes speeds in the Q1T1 test (queue depth = 1, # of threads = 1).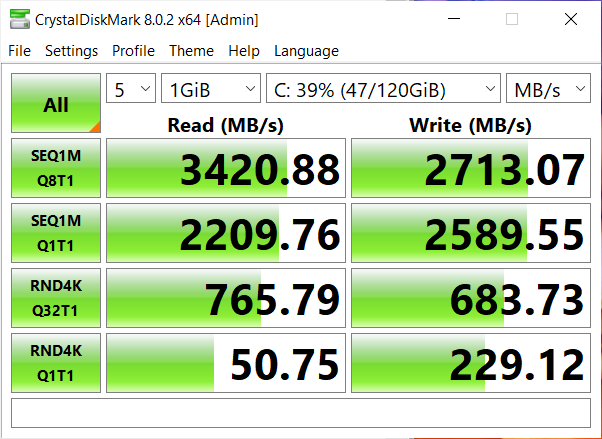 To test out the Iris Xe graphics we ran GFXBench 5.0 in DirectX 12 and Vulkan modes. The Aztec Ruins test showed better performance under Vulkan where it came close to hitting 60fps in the High Tier mode at 1080p resolution. Under DirectX 12 it ran at under 54fps, but got close to 80fps in the Normal Tier.
This clearly isn't a gaming laptop, but it will handle casual games easily enough as long as you don't expect stellar graphics. The numbers are comparable with the Ryzen 7 4700U and its Vega 7 GPU.



Intel Iris Xe graphics test: GFXBench (DirectX 12) • GFXBench (Vulkan)
Honor attached two heat pipes to the Intel processor that lead to a single fan. For short bursts of activity, the fan is whisper quiet (especially when it's not in Performance mode) However, prolonged stress tests crank up the decibels – it's not very loud, but its high pitch isn't exactly pleasant. Still, this is only a concern if you hammer the CPU and GPU for long periods of time.
Battery life and charging
The Intel version of the Honor MagicBook 14 (2021) comes with a 56Wh capacity to work with, the same as the Ryzen model we tested. However, the Intel chip is more power hungry.
We played YouTube (over Wi-Fi, 1080p/30 fps video) at 100% screen brightness and in about 6 hours the battery was down to 20%, which is when the power saver mode kicked in. We continued until the battery died, which took an hour and 20 minutes. That is significantly less than the Ryzen version, which lasted over 11 hours.
Then we tried web browsing (using Microsoft Edge and a Wi-Fi connection), which proved easier on the battery and the laptop lasted nearly 7 hours before the battery fell to 20% and about a total of 8 and a half hours before it was fully depleted. This is again nowhere near what the Ryzen model achieved (12:30h).
| | | | |
| --- | --- | --- | --- |
| Test | Screen brightness | Time to 20% | Time to 0% |
| YouTube, 1080p, 30fps | 100.00% | 5:58 | 7:19 |
| YouTube, 1080p, 30fps | 50.00% | 7:01 | 8:34 |
| Browsing | 100.00% | 6:50 | 8:25 |
| Browsing | 50.00% | 8:22 | 10:24 |
That brighter screen sure eats into the endurance. So, we dropped the brightness to 50% and that made a big difference – the laptop lasted 10 and a half hours of web browsing. YouTube playback once again proved more demanding and the laptop lasted only about 8 and a half hours. Still, that should be more than enough to get you through the day.
Like its sibling, this laptop comes with a 65W charger that outputs over USB-C. Official numbers claim 44% charge in half an hour and our tests confirm that, as it took around 36 minutes to reach 50% charge. A full charge took 1 hour and 38 minutes.
| | |
| --- | --- |
| Charging | Time |
| 0-50% | 0:36 |
| 0-100% | 1:35 |
We also tried plugging in a tiny 18W USB-C Power Delivery charger and the laptop started filling up its battery. It's not fast, of course, but in a pinch you can use a compatible phone charger (great news if you're not keen on carrying the laptop's own 200g charger).
Verdict
The Honor MagicBook 14 (2021, Intel) is already available in several European markets. The i5 version starts at €850 with 8GB of RAM and 512GB SSD. For comparison, the 8/512GB version with a Ryzen 4500U costs €750.
We tested the top model with an i7 and 16GB of RAM, which can be found for €1,000 at the time of writing, but note that its MSRP is €1,200. Is this laptop worth €1,200? In isolation we'd say yes. But the real question is whether you'd rather have this one at €1,000 over the Ryzen one at €750.
The Intel version showed superior CPU performance and also had a clear edge in storage speed (if not capacity). Also, it comes with a better screen. However, it runs its battery dry noticeably faster. So, if performance is the priority, the Intel model looks more appealing. If you want endurance and to spare your wallet, the AMD version is better.
As alternatives, there is the Acer Swift 3 at €1,100 MSRP with the same i7-1165G7 processor, 16GB of RAM (soldered) and 1 TB storage. You can save €200 if you go for an 8/512 GB configuration. This laptop is lighter at 1.2 kg and has the same battery capacity, 56Wh (the included charger is a 45W brick). The screen is a 14" 1080p IPS LCD and the USB-C port does support Thunderbolt 4.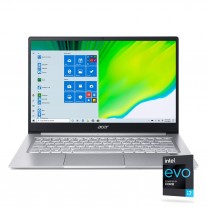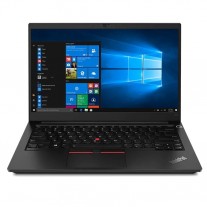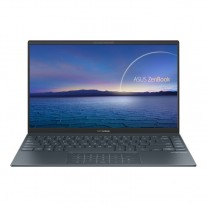 Acer Swift 3 • Lenovo ThinkPad E14 Gen 2 • Asus ZenBook 14 (UX425EA)
If you are a ThinkPad fan, you can also have a look at the ThinkPad E14 Gen 2 – configured with the same 11th Gen i7, 16GB of RAM (soldered, single channel) and 512GB storage (a second M.2-2280 is available), it sells for €1,070. The 14" IPS LCD is dimmer, though (250 nits) and the battery smaller (45Wh. At least it comes with a 65W USB-C charger and the port supports Thunderbolt 4. The whole thing is heavier too, 1.6 kg.
An Asus ZenBook 14 (UX425EA) has a high MSRP of €1,500, but Amazon DE has it in stock at €1,185. This is with the same processor, 16GB of RAM (soldered) and 512GB SSD. That price gets you a 14" IPS LCD with 2,560 x 1,440 px resolution that promises 300 nits. The whole thing weighs 1.17kg, despite the larger 67Wh battery, which charges using a 65W USB-C adapter. And, get this, it has two USB-C ports with Thunderbolt 4 (but no 3.5mm jack without an adapter).
The Honor MagicBook 14 strikes a fine balance between performance, price and portability. The port selection is limiting and the battery life is not as good as on its Ryzen-powered sibling (which is cheaper to boot). A solid laptop overall, but you need to be sure that the extra performance is worth the price premium as €1,000 or so can buy you one of a selection of fine ultra-portables.