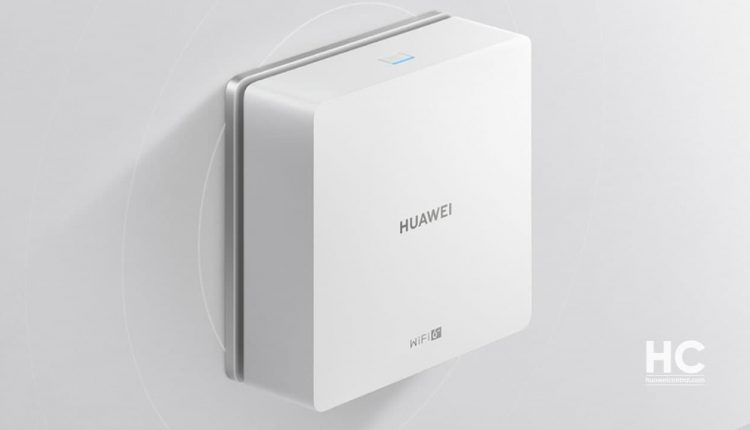 In addition, Huawei also unveiled the first product of the Whole-House Wi-Fi 6+ router, Huawei Router H6. It can easily cover different types of houses such as villas, duplexes, and large flats using the mother-child routing method. However, it was already mentioned at the last month's press conference.
Also, it is the first time when router comes with HarmonyOS capabilities and mainly designed for large areas. Each mother router can have availability to connect up to 6 child routers. The sub-routing results in better coverage of the whole house of 200 sq meters, and can achieve a 3000Mbps dual-frequency Concurrency rate.
MOTHER ROUTER:
The mother router cones with rectangular parallelepiped shape, no external antenna, very simple, with 6 Gigabit Ethernet ports, one Gigabit WAN port, and one Gigabit IPTV port.
Hardware: It equipped Lingxiao quad-core 1.4GHz CPU, with 256MB RAM and 256MB ROM.
CHILD ROUTER:
The Child routers adopt a standard 86-type panel design, supports plug-and-play of the sub-router, PoE power supply mode, and no additional power supply is required.
They are also equipped with multiple high-performance external PAs and have stronger coverage capabilities. It is the first home microsecond smart positioning antenna to make good signals "visible everywhere."
Hardware: They equipped with Lingxiao dual-core 1.2GHz CPU, equipped with 128MB RAM and 128MB ROM.
ON THE WIRELESS PARAMETERS (BOTH): 
They have 2.4GHz bandwidth 574Mbps, 5GHz bandwidth 2402Mbps, built-in 2 omnidirectional antennas and 2 smart antennas, dual-frequency support 2×2MIMO.
SOFTWARE SUPPORT:
Huawei Router H6 support Huawei Smart Life APP local/remote management, three modes of wall penetration, standard and sleep, equipment speed limit QoS Support intelligent QoS that automatically recognizes service flow, HomeSecTM security protection, and more.
On the other hand, it has a distributed intelligent acceleration function, and through intelligent identification of 140+ online games and 40+ online courses, real-time business priority scheduling can be performed, and the end-to-end delay is reduced by 20%.
PRICING:
Huawei Router H6 (1 mother and 3 children set) is available at a price of 1999 yuan (310.5 USD) and will be available for purchase on May 19 at 18:08. [Link]