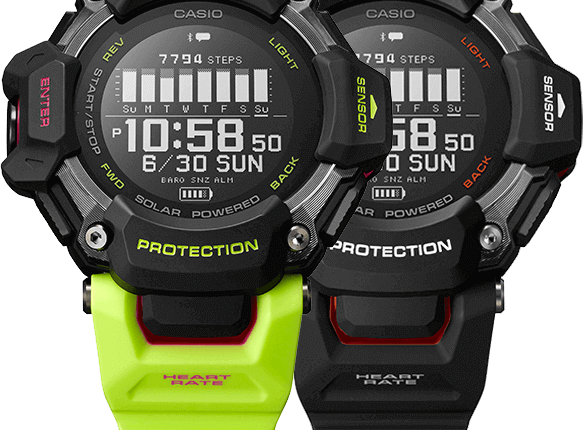 Casio America, Inc. is thrilled to announce that its groundbreaking GBDH2000 model has been honored with the 2023 NY Product Design of the Year Award. The GBDH2000, a testament to G-SHOCK's commitment to fusing durability with cutting-edge design, stood out in a highly competitive field and emerged as a winner within the Sports Accessories – Sport Watches category in the renowned international design competition.
The NY Product Design Awards celebrate outstanding design and innovation across various industries, recognizing products that exemplify excellence in both form and function. The G-SHOCK Move GBDH2000 is recognized for its remarkable blend of durability, technological advancements, and striking aesthetics to support users across a wide range of activities from running to biking to swimming and brings more fun to an athletic lifestyle.
"We are immensely proud to receive the NY Product Design Award for the GBDH2000," said Tadashi Shibuya, Vice President of Casio's Timepiece Division. "This recognition reaffirms our commitment to pushing the boundaries of design and engineering, delivering products that not only withstand the harshest conditions but also elevate the user experience."
Designed with multi-sport athletes and outdoor enthusiasts in mind, the GBDH2000 embodies G-SHOCK's relentless pursuit of combining ruggedness with advanced design elements. The timepiece boasts a robust dual-layer frame design and is constructed with eco-friendly bio-based resins that meet G-SHOCK's renowned standards for shock resistance and water resistance up to 200 meters, making it an ideal companion for extreme sports and adventures.
At the heart of GBDH2000 lies cutting-edge technology that sets it apart from traditional sports watches. Equipped with six advanced sensors and Bluetooth® connectivity with the CASIO Watches app, the GBDH2000 provides real-time data on health and fitness metrics, including heart rate, step count, altitude, and barometric pressure. These features empower wearers to monitor their performance, set fitness goals, and make informed decisions to optimize their workouts.
G-SHOCK's success in the NY Product Design Awards is a testament to the brand's unwavering dedication to excellence and innovation. With 40 years of expertise in creating timepieces that redefine industry standards, G-SHOCK continues to push boundaries and set new benchmarks in the field of product design. The GBDH2000 joins an illustrious lineup of award-winning G-SHOCK timepieces, reaffirming the brand's position as an industry leader.
"The competition is eager to congratulate each winner for their success and would like to commend them for their works, which truly shine a positive light on the future of design," Thomas Brandt, spokesperson of the International Awards Associate (IAA), remarked. "Their approach in design which takes into consideration ease of use and measurable benefits is certainly something worth taking after."
The GBDH2000 retails for $399 and is available for purchase at select retailers, gshock.casio.com, and the G-SHOCK Soho store. For more information about the G-SHOCK brand and its award-winning products, visit gshock.casio.com/us. To learn more about the NY Product Design Awards, please visit www.NYDesignAwards.com.
About G-SHOCK
CASIO's shock-resistant G-SHOCK watch is synonymous with toughness, born from the developer Mr. Ibe's dream of 'creating a watch that never breaks'. Over 200 handmade samples were created and tested to destruction until finally in 1983 the first, now iconic G-SHOCK hit the streets of Japan and began to establish itself as 'the toughest watch of all time'. Each watch encompasses the 7 elements; electric shock resistance, gravity resistance, low temperature resistance, vibration resistance, water resistance, shock resistance and toughness. The watch is packed with Casio innovations and technologies to prevent it from suffering direct shock; this includes internal components protected with urethane and suspended timekeeping modules inside the watch structure. Since its launch, G-SHOCK has continued to evolve, continuing to support on Mr. Ibe's mantra "never, never give up." gshock.casio.com/us/
About Casio America, Inc.
Casio America, Inc., Dover, N.J., is the U.S. subsidiary of Casio Computer Co., Ltd., Tokyo, Japan, one of the world's leading manufacturers of consumer electronics and business equipment solutions. Established in 1957, Casio America, Inc. markets calculators, keyboards, mobile presentation devices, disc title and label printers, watches, cash registers and other consumer electronic products. Casio has strived to realize its corporate creed of "creativity and contribution" through the introduction of innovative and imaginative products. For more information, visit www.casio.com/us/
FOR MEDIA INQUIRIES CONTACT:
5WPR
gshock@5wpr.com
Sue VanderSchans / Cecilia Lederer
CASIO AMERICA, INC.
(973) 361-5400
SVanderSchans@casio.com
clederer@casio.com