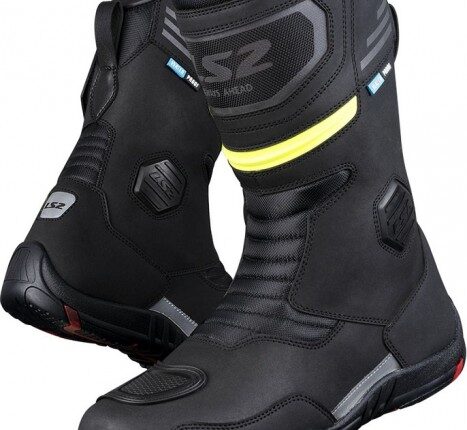 LS2 have released their new Garra motorcycle boot which is made for winter conditions.
Especially made for unpredictable autumn and winter riding conditions, LS2's new Garra boots combine the features and protection of a winter boot, with the comfort and convenience of ankle-length fit.
The Garra's waterproof and breathable lining helps to keep a warm temperature and keep the feet dry and comfortable. The low cut style makes it easy to slip riding trousers over the top to seal-out the elements.
Combined with a supple Nubuck leather outer and stretch-fabric lining, the low profile also offers plenty of movement and feel for delicate use of controls, which is crucial for wet and wintry conditions.
Certified to the EN 13634-2017 standard for motorcycle footwear, the tough outer shell and reinforced cups at the heels, ankles and toes offer maximum protection.
There are gear change pads on both the left and the right boot which help to ease the discomfort caused by continuous gear changing on longer rides and when tackling busy traffic.
Combination lacing with hook-and-eye closure allows for easy and even fitting reducing the risk of uncomfortable tight spots and allows plenty of adjustment for thick winter socks.
Padded ankle sections make them super comfortable to wear off the bike too, which is ideal for commuting and touring.
Garra boots come in Black/H-V Yellow and Black/Red – both with reflective detailing for added safety – in men's sizes EU 39-47 and women's EU 36-41. They retail at £114.99 including VAT.