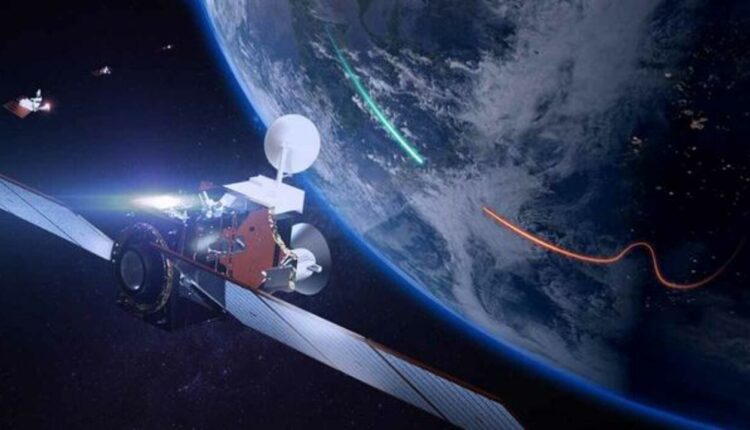 Projected to launch next year are four infrared sensor satellites for the Space Development Agency and one for the Missile Defense Agency WASHINGTON — Five missile-detection satellites built by L3Harris under Pentagon contracts are projected to launch in 2023. Despite strains in the space industry supply chains, the company expects to complete these satellites on schedule and ramp up production of 14 more to be delivered by 2025, a senior executive said July 27.
Rob Mitrevski, vice president and general manager of spectral solutions at L3Harris, said these upcoming launches cap years of studies and demonstrations as the company fought its way into the U.S. missile defense satellite market dominated by much larger players like Lockheed Martin and Northrop Grumman.
"We've been on a journey to penetrate the missile defense market for a few years now," Mitrevski told SpaceNews.
Four of the infrared sensor satellites are for the U.S. Space Development Agency and are projected to launch to low Earth orbit in March. The fifth one, developed for the Missile Defense Agency, is expected to launch to low Earth orbit also in 2023 but the specific timeframe is classified.
SDA, a defense agency tasked to field a large constellation of satellites for communications and missile tracking, in October 2020 awarded SpaceX a $149 million contract and L3Harris a $193.5 million contract to each build four satellites to detect and track ballistic and hypersonic missiles, including the most advanced missiles now being developed by China and Russia.
The eight satellites make up the Tracking Layer Tranche 0. The first Tracking Layer launch, projected for September 2022, is likely to include at least two SpaceX satellites. The second launch, planned for March, will include all four L3Harris satellites and others from the Transport Layer Tranche 0, which are being produced by Lockheed Martin and York Space . SDA said the manifest has not yet been finalized.
Separately, L3Harris is developing a missile-detection satellite under a  $121 million contract with the Missile Defense Agency for the Hypersonic and Ballistic Tracking Space Sensor program, or HBTSS. MDA plans to launch two prototypes, one from L3Harris and another from Northrop Grumman, to test the capabilities of the sensors to track hypersonic and dim upper-stage ballistic missiles. These so-called medium-field-of-view sensors are capable of producing "fire control" data needed to be able to target an interceptor weapon to shoot down the enemy missile.
Following the completion of the HBTSS and Tracking Layer Tranche 0 satellites,  L3Harris will have less than three years to produce 14 satellites for the Tracking Layer Tranche 1.
L3Harris this month won a $700 million deal and Northrop Grumman a $617 million contract. The 28 infrared-sensing Tranche 1 satellites will be launched in batches of seven to low polar orbits starting in April 2025. Each plane of seven satellites will be deployed at different locations around the globe.
Mitrevski said L3Harris will produce and test the infrared payloads at its new classified facility in Fort Wayne, Indiana. The satellites will be assembled at the company's production plant in Central Florida. The global supply chain issues and shortages of microelectronics are real concerns, he said. "We've been able to mitigate this with internal investments and some creative work across different customers."