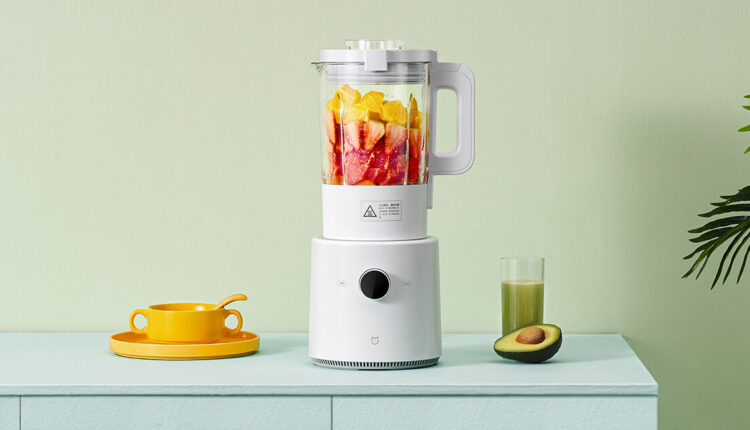 Xiaomi Smart Blender is a product of smart cooking. It can help you with making drinks. You can easily prepare hot or cold drinks as desired. It is one of the Xiaomi products that must be in your home thanks to its smart technology. It offers mixing, juicing, hot and cold dual mode blending, and crushing ice. You can prepare healthy smoothies for your diet program or fresh juice with this smart blender. Detailed information about the product is waiting for you in the rest of the article!
These are the main features of Xiaomi Smart Blender:
8-Blade Multi-Angle Chopping
Hot and Cold Dual-mode Blending
9 Adjustable Speed Settings
Up to 4-Hour Insulation Under Keep Warm Mode
Smart Online Recipes
Xiaomi Smart Blender Features
Xiaomi Smart Blender includes 8 different modes, so you choose the model that you want. You can prepare smoothies, fresh juices, and tasty soups with these modes. The smart blender is equipped with 9-speed settings. You can choose the speed setting according to the food's softness or ingredients. While 4-6 speeds will be sufficient for soft foods, 7-9 speeds will be sufficient for harder foods such as peanuts.
Xiaomi Smart Blender has a high-power motor. High power motor provides added torque for a delicate flavor. The smart blender's motor is equipped with a Hall sensor to monitor the speed in real-time. Smart blender has also 800-950W heating power. You can prepare hot drinks thanks to their healing power. It includes a magnetic induction system. This system makes the smart blender safe.
Xiaomi Smart Blender Design
Easy to use is thought in the design of Xiaomi Smart Blender. It has OLED Knob and 2 buttons. You can operate it by rotating and pressing the OLED knob, with 2 touch buttons. The OLED knob also functions as a display. The smart blender's design offers a Mi Home/Xiaomi Home app connection. You can make a schedule, start blending remotely and send recipes to your smart blender thanks to the app.
A smart blender is designed with thick, sharp, and serrated stainless-steel blades. It can blend even the toughest ingredients thanks to its multi-angle chopping. The smart blender has a durable jar with a large 1600mL volume. It is designed with four rib baffles to interrupt the vortex that forms during use. When you want to clean the smart blender, just add the water, and start high-speed cleaning. Its cleaning design saves your time and effort.
If you are looking for a helper for your mixes, Xiaomi Smart Blender can be a good choice. Its speeds and different 8 modes are important for the diversity of mixes. You can easily prepare soft or hard foods thanks to its modes. Also, its connection with the Mi Home/Xiaomi Home app makes your use easy. Don't forget to meet us in the comments if you have tried a smart blender or are thinking of trying it!