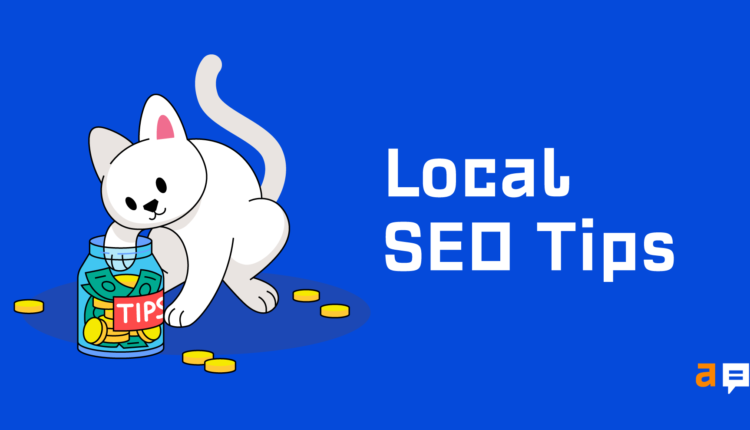 Local SEO is the process of increasing your business's presence in local search to attract more customers or clients.
Plenty of guides show you how to do local SEO from start to finish. But they can be daunting, as it's a complex subject.
So, in this guide, we'll keep things simple with eight tips to boost local rankings:
Every business can claim a free Google Business Profile, which is a local listing with information about your business. Once claimed, the information you add to your business profile can show up in Google's web search results and in Google Maps.
You can claim your business profile through Google My Business, Google's free tool for managing your Google My Business profile.
Here's how:
Go to Google My Business
Click Manage now
Sign in to your Google Account
Search for your business name
Select the correct business
Click Manage now
SIDENOTE.
If your business doesn't show up in searches, hit the option to add your business and follow the instructions. Even if your business does show up, you may be asked to review and confirm your business details before step #6.
After claiming, you'll be able to manage your business profile using Google My Business.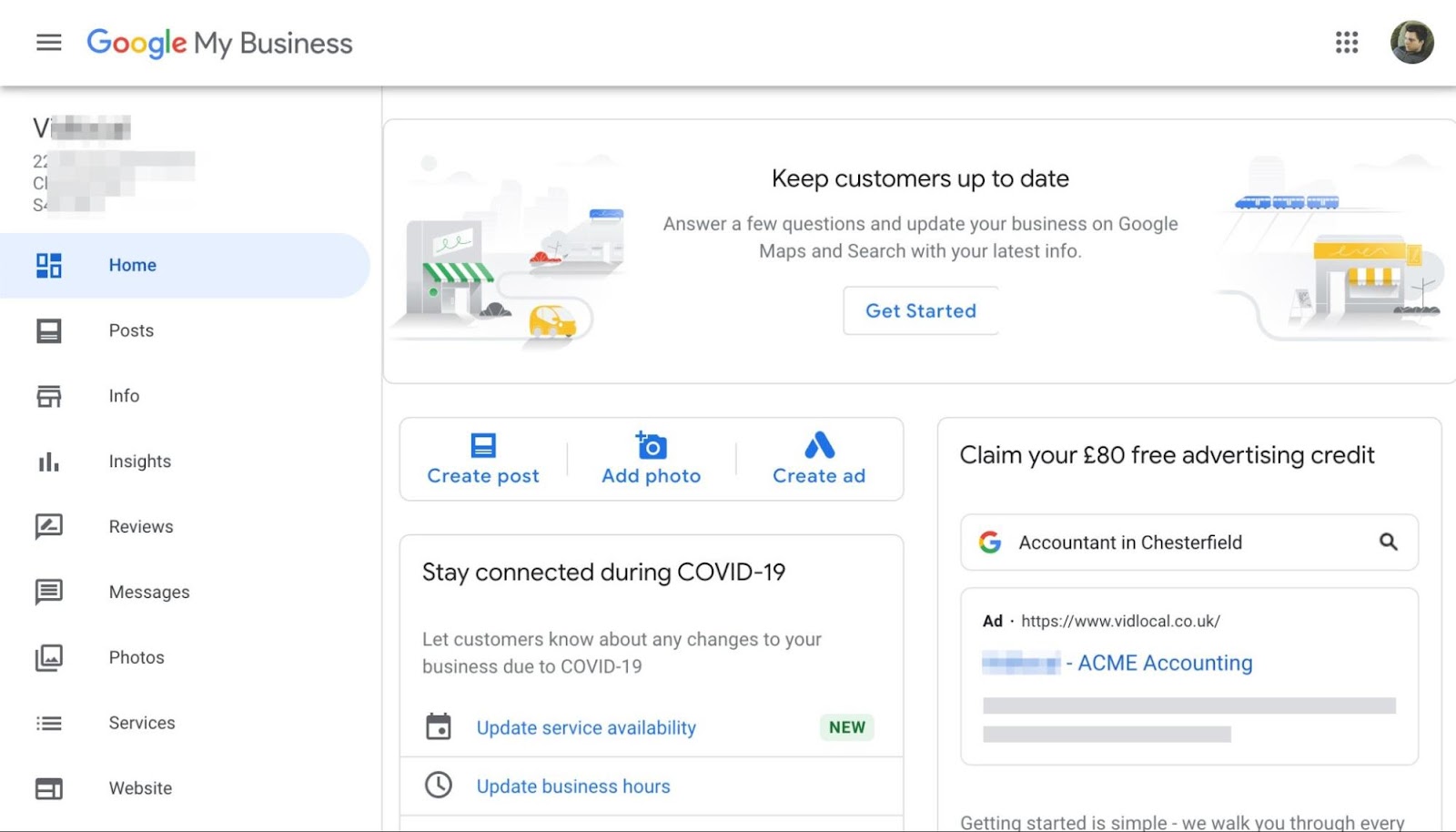 There are lots of details and optimizations you can make here. So in the interest of keeping things simple, let's take a look at, arguably, the five most important optimizations you should make:
Choose the right business type – Google divides businesses into storefront, service-area, and hybrid businesses. The information you enter on the "Info" tab defines how Google sees your business. If your business serves customers at your business address only, as is the case for a hairdresser or cafe, set your address and leave the service area field empty. If your business only visits or delivers to customers, as is the case for a plumber or mobile hairdresser, clear the address and set your service area(s). If your business does both, add your address and set your service area(s).
Choose the right business category – You have lots of options here, and some of them are similar (e.g., accountant vs. chartered accountant). Take a minute to sift through the options and choose the most appropriate one for you.
Add business hours – People won't visit or call your business if they think you're closed, so it's crucial to list accurate business hours. You should also do this for holiday hours so that folks know if and when you're open during public holidays.
Add photos – Businesses with photos receive 42% more requests for driving directions and 35% more website clicks, according to Google. So make sure to add some.
Add your website – It's surprising (and frustrating) how many business owners don't do this. Don't be one of them.
Knowing how local customers search for the products or services you offer is the foundation of local SEO. If you know your industry and customers well, then it's likely you have some idea how they do this. But it's still wise to perform keyword research to expand your scope.
For example, let's say you're a plumber in London. You probably don't need to do keyword research to know that potential customers are searching for things like:
plumber in london
plumber
But the reality is that people are probably also searching for what you do in other ways. By focusing only on obvious keywords like "plumber london," you're leaving a lot of money on the table.
Here's one way to figure out other ways people may be searching for you:
Brainstorm your products or services
Paste your list into Ahrefs' Keywords Explorer
Go to the Matching terms report
Look for relevant keywords with search volume
For example, if we plug services like "boiler repair," "boiler installation," and "drain unblocking" into Keywords Explorer, we see that people are searching for these and similar services every month:
Note that the search volumes in Keywords Explorer are national, not local. In other words, they show the estimated monthly number of searches in your chosen country.
However, that's not a huge deal because people typically search for things in the same way from city to city. And what you're looking for here are the different ways people search for what you offer.
If you want local search volumes for these keywords, read the guide below to learn how.
Recommended reading: How to Do Local Keyword Research
If you've found that people are searching for the specific products or services you offer, you probably need to create dedicated landing pages for them.
For example, people aren't only searching for "plumber" but also:
gas boiler installation
boiler replacement
bathroom fitting
It makes sense to have landing pages for these services. But how do you get them to rank higher in searches?
Let's first tackle the wrong way to go about this: keyword stuffing. This is where you repeat the keywords you want to rank for as many times as possible on the page, leading to quite unnatural copy like this: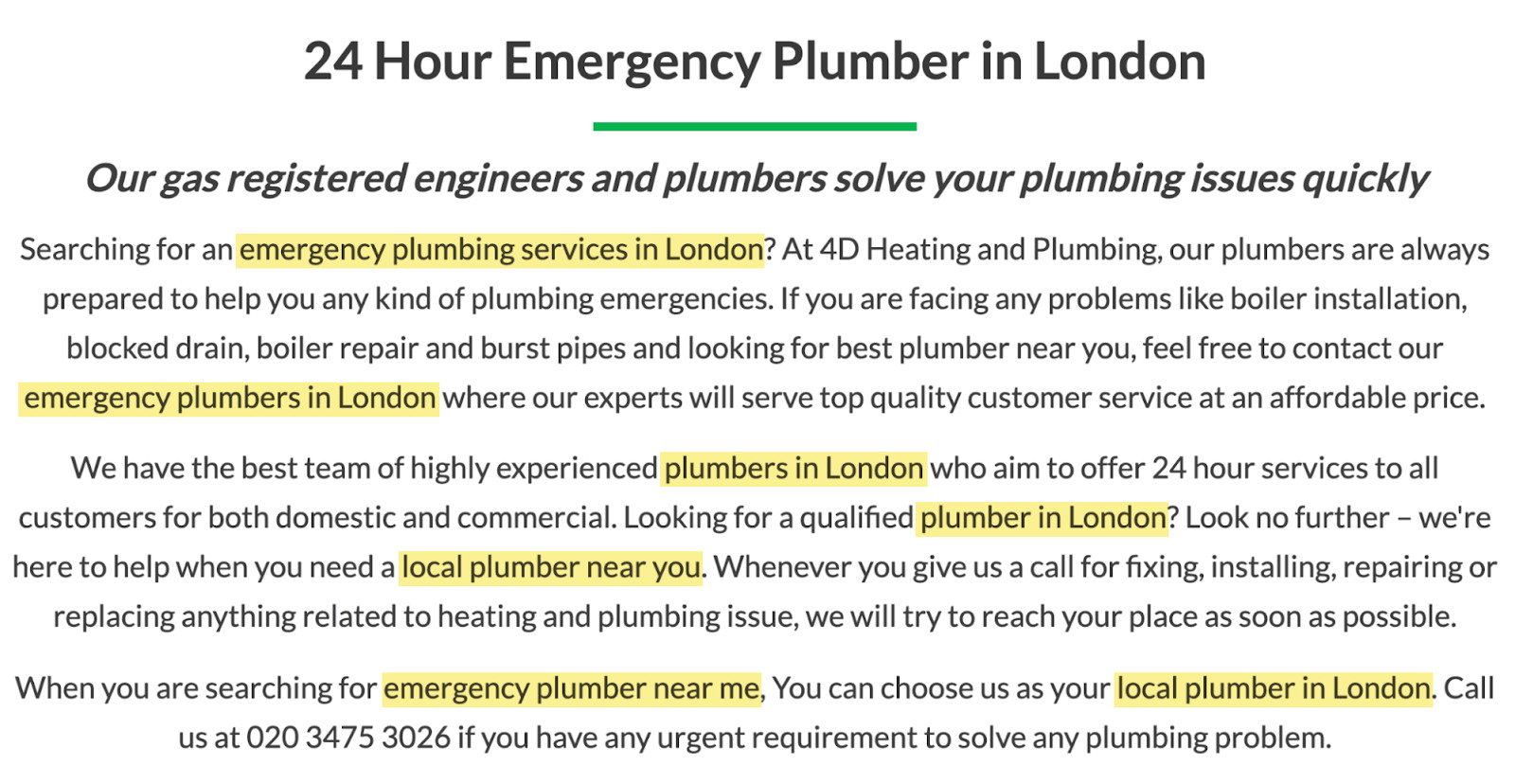 You still see this a lot on local business websites, and it's never a good idea. It doesn't help SEO and likely only serves to alienate potential customers even if it did.
Instead, you should "optimize" landing pages by including information that matters to searchers. Much of this is common sense. For example, it's quite obvious that folks searching for "boiler repair" will want pricing information.
But even if you know your industry and customers well, you can overlook important details. For that reason, it's useful to look at what other similar pages are ranking for, as these keywords often relate to important details.
Here's how to do that:
Install and activate Ahrefs' SEO Toolbar
Search Google for the service/product name + location
Look for a similar page to yours in the search results (this means a service page from another local business)
Check that it ranks for a decent number of keywords
Click the KW link
Filter for top 10 rankings
Filter out sitelink and "people also ask" rankings
For example, if we search for "boiler repair london," we see this service page that ranks for 232 keywords:

If we click that number, we see all those keywords in Ahrefs' Site Explorer: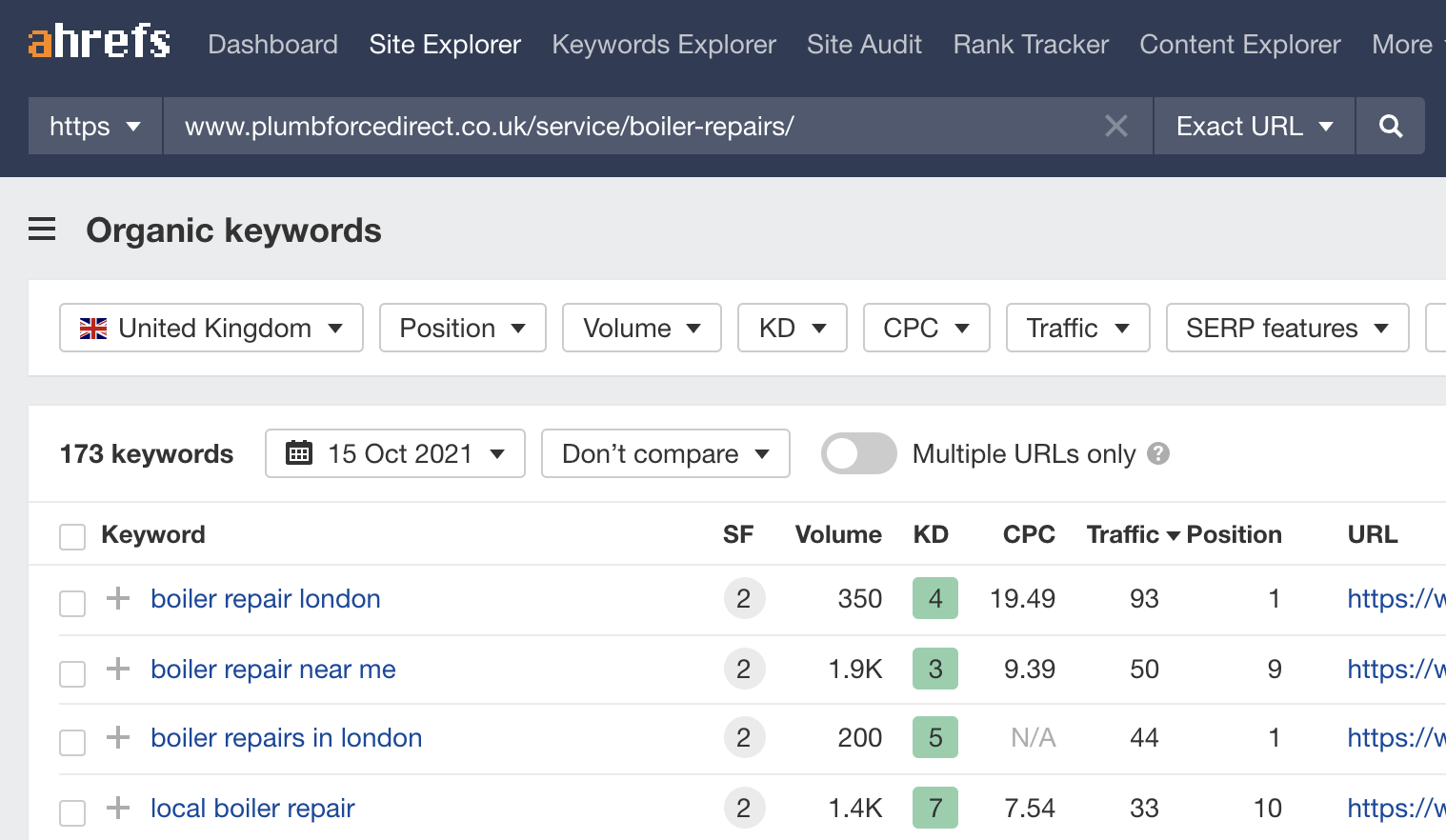 SIDENOTE.
We're only seeing 173 keywords, not 232, because we're only looking at keyword rankings in the U.K. The other keyword rankings were observed elsewhere.
As we're only interested in the most relevant keywords, let's also filter for keywords in the top 10 and exclude sitelink and "people also ask" rankings.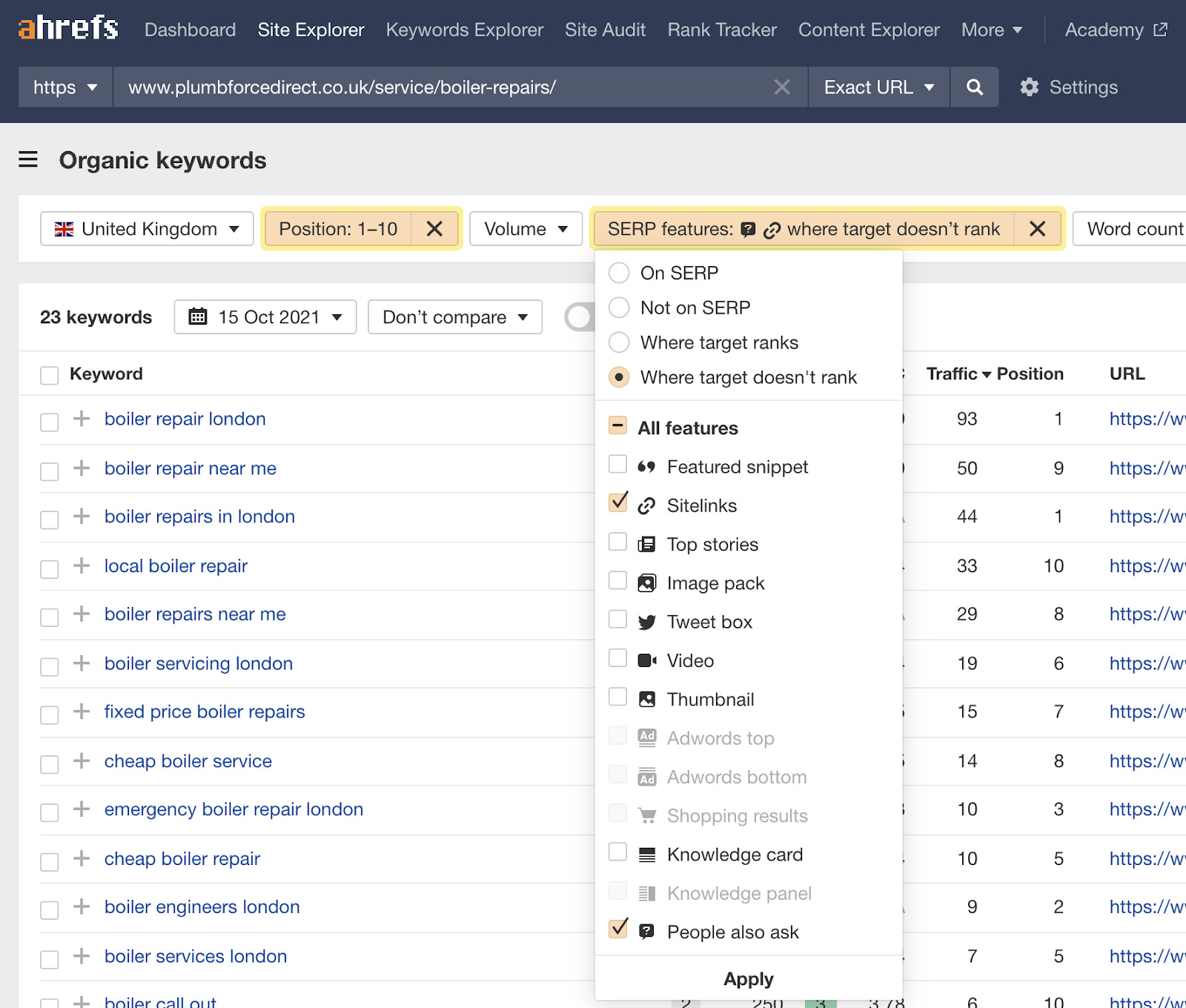 The noteworthy keywords (highlighted in the screenshot above) are as follows:
fixed price boiler repairs
emergency boiler repair london
boiler call out
electric boiler repair
gas boiler repair near me
boiler repair same day
From these keywords, we can see that searchers are probably looking for repairers who offer fixed pricing rather than hourly pricing. Searchers also want to know whether or not we offer same-day repair, the types of boilers we repair (electric, gas, etc.), and whether we do emergency callouts.
This is all information we should consider including on that landing page.
Local citations are mentions of your business's name, address, and phone number (NAP) online. They were voted the fifth most important ranking factor for local queries in Moz's 2018 study.
They're likely a bit less important these days, but they're still worth getting for two reasons:
They help people find your business – Local SEO is not just about optimizing for Google, but also other search engines people may use to find your business, such as Yelp, Bing, Facebook, Apple Maps, and any industry-specific directories.
They may still help you to rank – Even though they're less important than they once were, they may still help you to rank.
If you're in the U.S., the best place to start with local citations is the three main U.S. aggregators:
These services feed their data to many other websites and directories, so getting citations on these services can often lead to citations elsewhere without any extra work.
You may also want to pursue these other major players:
Bing
Apple Maps
Facebook
Yelp
Yellowpages
Dunn & Bradstreet
TomTom
Beyond this, it's mostly worth concentrating on industry or location-specific citations. In other words, listings on local or industry-specific directories and search engines. As most of these citations include a link to the business's website alongside its NAP information, the easiest way to find relevant opportunities is to look for common links to other similar local businesses.
Here's how to use our Link Intersect tool to do this:
Enter your domain into Site Explorer
Click Link intersect on the left menu
Enter a few competitors
Click Show link opportunities
For example, if we do this for a plumbing company and a few of its competitors, we see many results that are clearly local or industry-specific directories: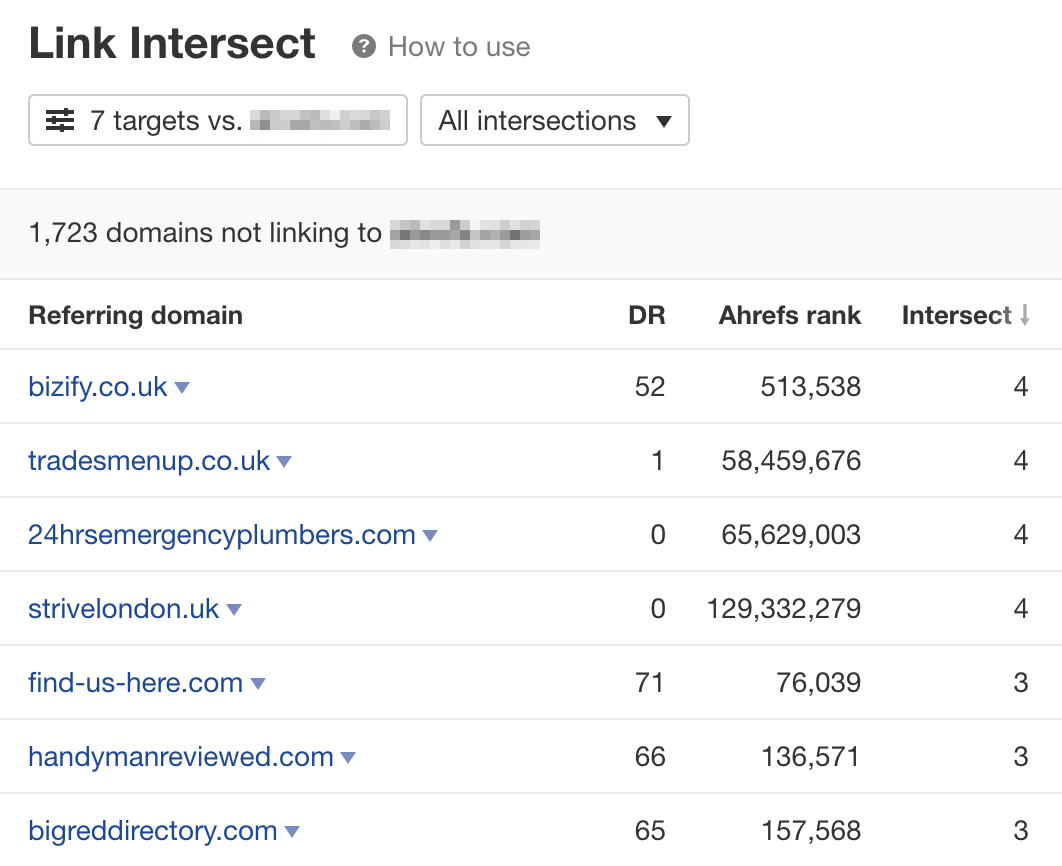 Getting citations from these sites is usually as simple as signing up and adding your details.
Backlinks are a known Google ranking factor, but they can be difficult to build. So it's important to ensure that none of the links you already have go to waste. You can do this by reclaiming links to pages on your site that no longer exist.
Here's how:
Enter your domain into Site Explorer
Go to the Best by links report
Add a "404 not found" HTTP filter
Redirect those URLs to their new locations
For example, if we do this for a plumber in New York, we see a dead page about drain cleaning with backlinks from three referring domains (unique websites).

These backlinks are effectively wasted because the page is broken.
A quick click around their site reveals the problem: They moved the "drain cleaning services" page to a new URL and forgot to redirect the old URL:

To reclaim these links, all the owner of the site needs to do is redirect the old URL to the new one. You can learn how to do that in our guide to 301 redirects.
In cases where there's no like-for-like "new" location for the dead URL, simply redirect it to the most relevant working page.
Google says that "high-quality, positive reviews from your customers can improve your business visibility," and they're the second most important map pack ranking factor, according to BrightLocal's 2020 study.
How can you get more reviews? Just ask.
You have to be a little careful with this because it's against Google's terms to offer incentives to customers in exchange for reviews. But there are ways to increase the likelihood of a customer leaving a review without breaking Google's terms.
For example, I recently had my old car cleaned and valeted. When the guy was finished, he sent me a bunch of "before" and "after" photos of my car on Facebook:
He didn't actually ask for a review. But because the photos he took made it easier for me to leave a useful one, I did: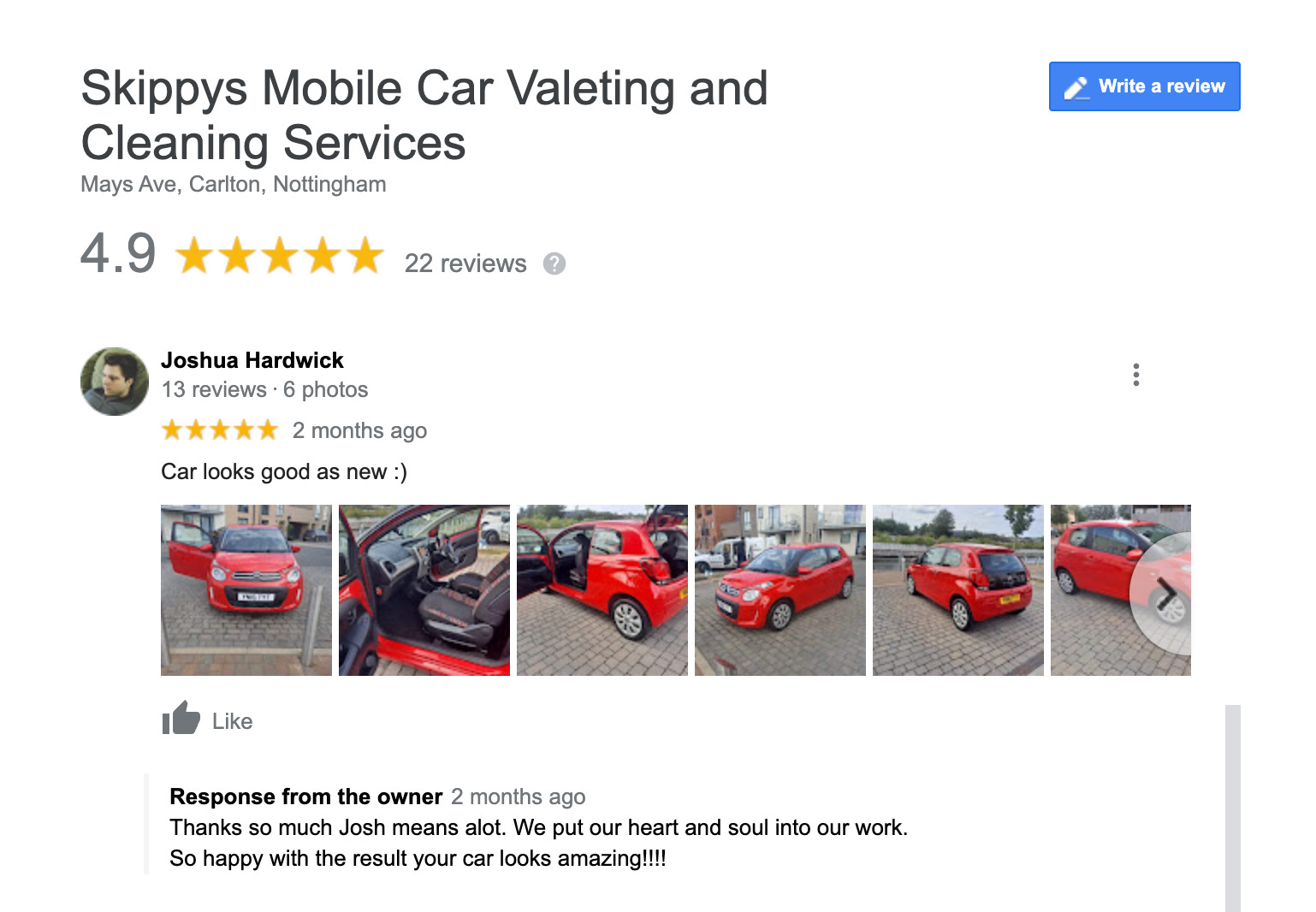 Judging by the number of photos on the other reviews, it looks like this approach worked well with other customers too.
But there's one way this guy could (probably) get even more reviews…
… by creating and sharing a link that customers can use to leave a review, which you can do for free in Google My Business. Just click the "Share review form" button in the management dashboard.

This is a best practice, according to Google. So there's no need to worry about breaking their terms here.
You can find "best of" lists for pretty much any product or service, no matter how obscure. Take this list of the best places to eat chicken wings in Manchester, for example: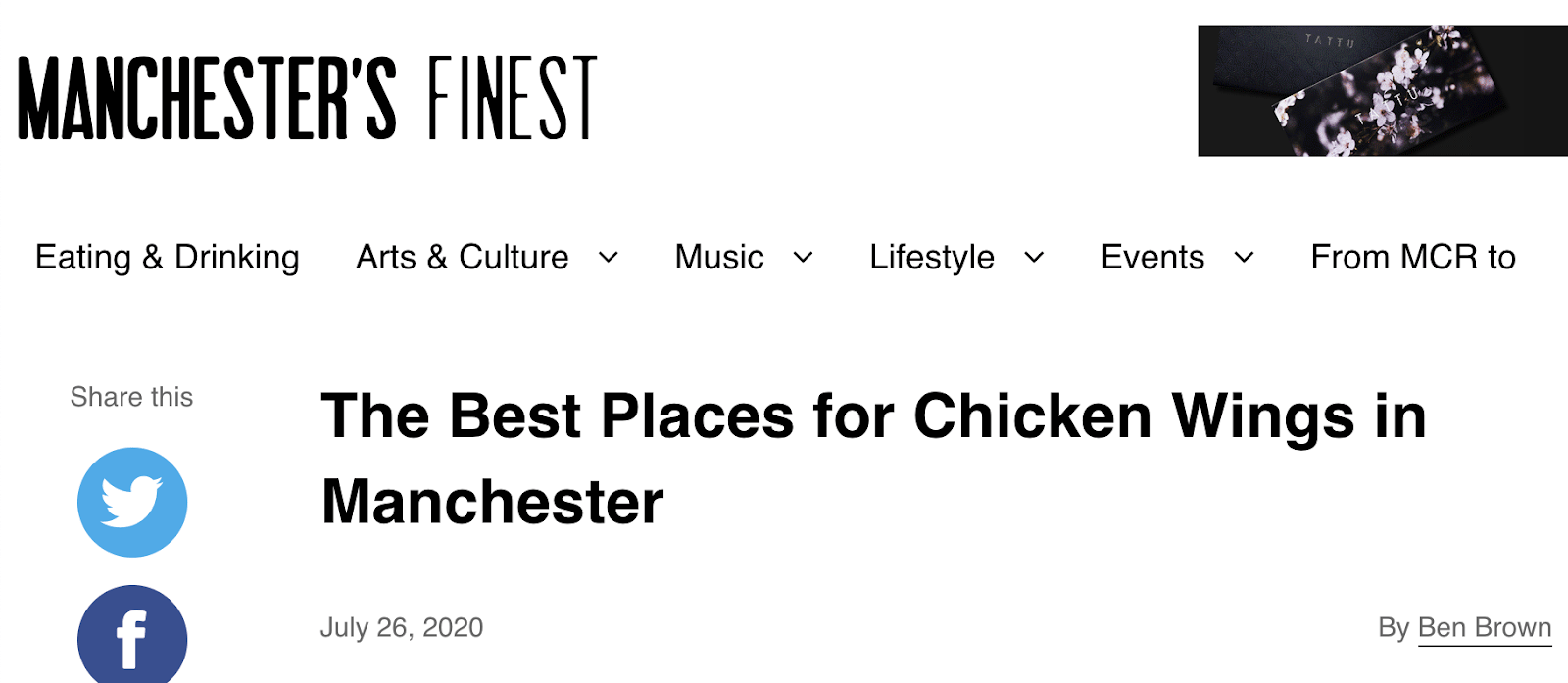 There are plenty of variations of "best of" lists too, such as this list of the top 10 child-friendly wine estates in Cape Town: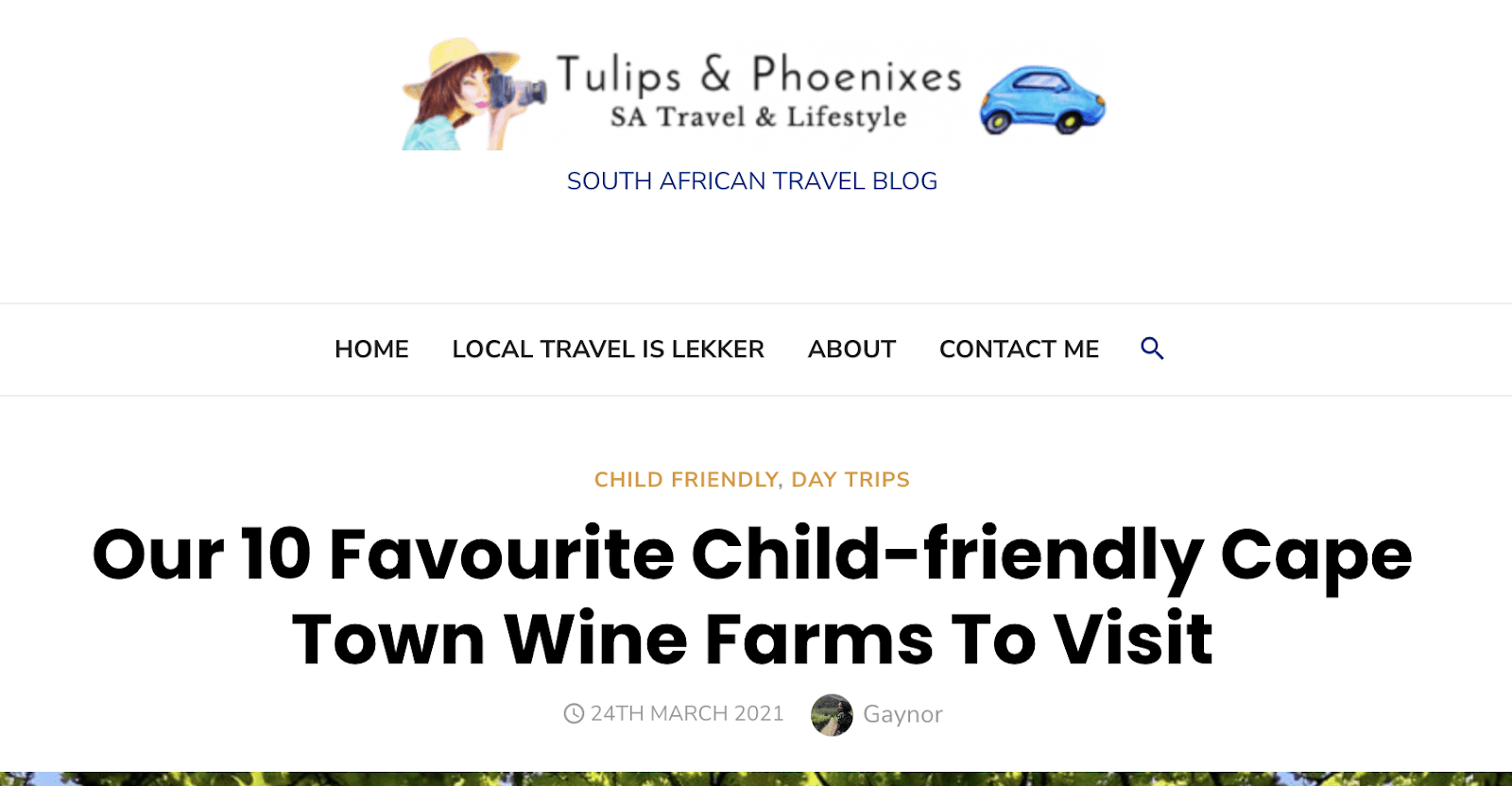 Children and wine; the mind boggles. But I digress…
Getting your business featured on relevant lists like this is a good idea for two main reasons:
It gets more customers through the door – These listicles usually rank high for terms like "best __ in ___."  If you're on 9 out of 10 lists, they're likely to try you.
It gets you backlinks – And we already know that backlinks help you to rank higher in Google.
Here's how to find relevant local lists to pitch:
Install Ahrefs' SEO Toolbar
Search Google for something that's likely to return relevant lists for your business
Look for blog posts with traffic
For example, if you run a boutique hotel in London, you might search for "best boutique hotels london." This gives you a mix of directories (which you can ignore) and blog posts. And you can see which posts get traffic by looking at the data from the SEO Toolbar:
If you come across a relevant post where you're not already featured, all you need to do is find the site owner or editor's email address and send an email like this:
Hi Tom,

My name is Josh, and I'm the owner of Joshtique, a boutique hotel in Shoreditch. I saw your list of the best boutique hotels in London and was disappointed to see we weren't included.

But hey, that's understandable, as we only opened a couple of months ago. 🙂

If you're open, I'd love for you to come spend a night at our hotel so that we might be considered for inclusion on your list. No obligations at all.

Here's a preview of our rooms: [Link]

Give me a shout if you want to take us up on our offer!
Having an unhealthy site can lead to all kinds of SEO issues. This is true for both local and national SEO. If Google can't efficiently find, crawl, understand, and index your content, you've got problems.
You can keep an eye on your site's health with Ahrefs' Site Audit, which you can schedule to regularly crawl your site for 100+ issues. Best of all, you can use it free of charge for your own sites by signing up for Ahrefs Webmaster Tools.
Here are just a few errors it scans for:
Broken pages (4XX)
Missing or empty title tags
External broken links
Orphan pages (i.e., pages without internal links)
You can see a full list of errors and issues affecting your site in the All issues report. It even shows changes between crawls so that you can see which issues are getting better or worse: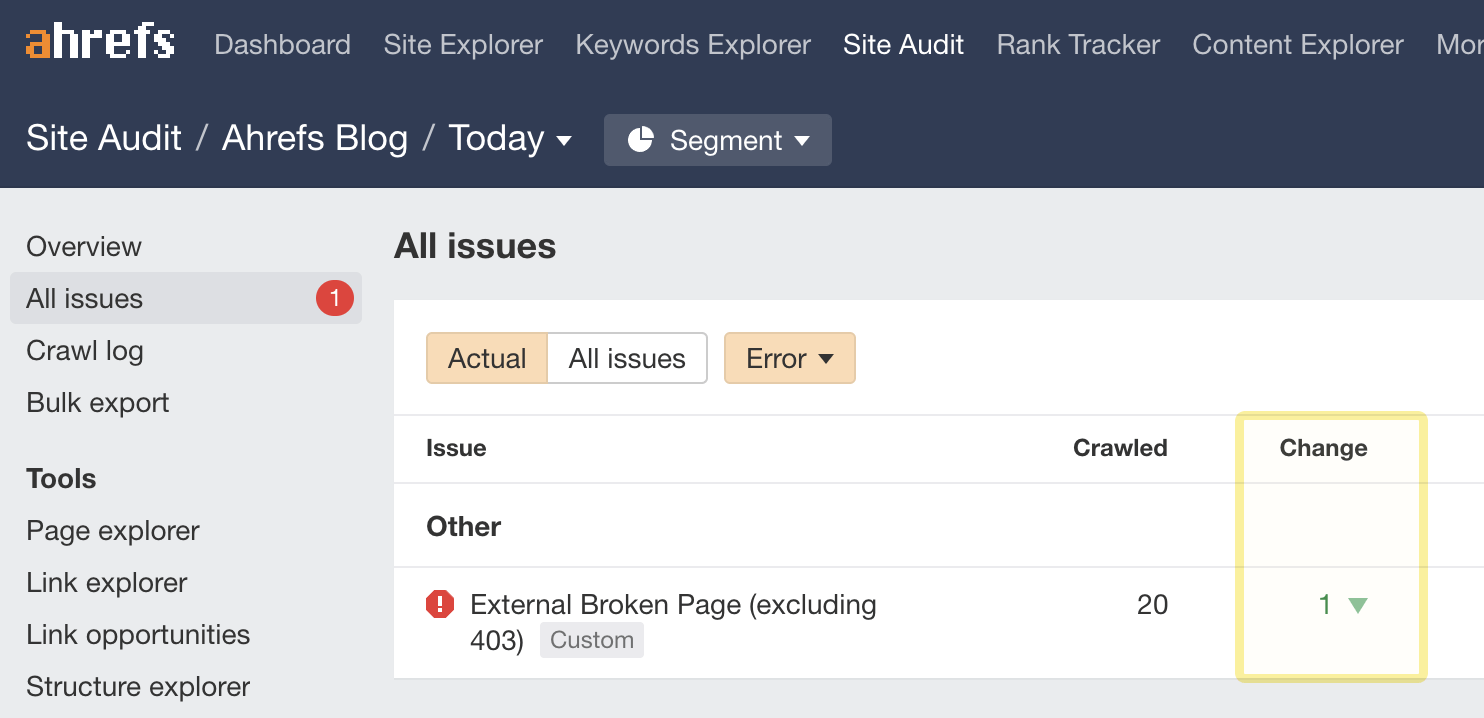 You'll also see your site's Health score on your Ahrefs Dashboard. This is useful for keeping an eye on your site's health over time without the need to delve into Site Audit: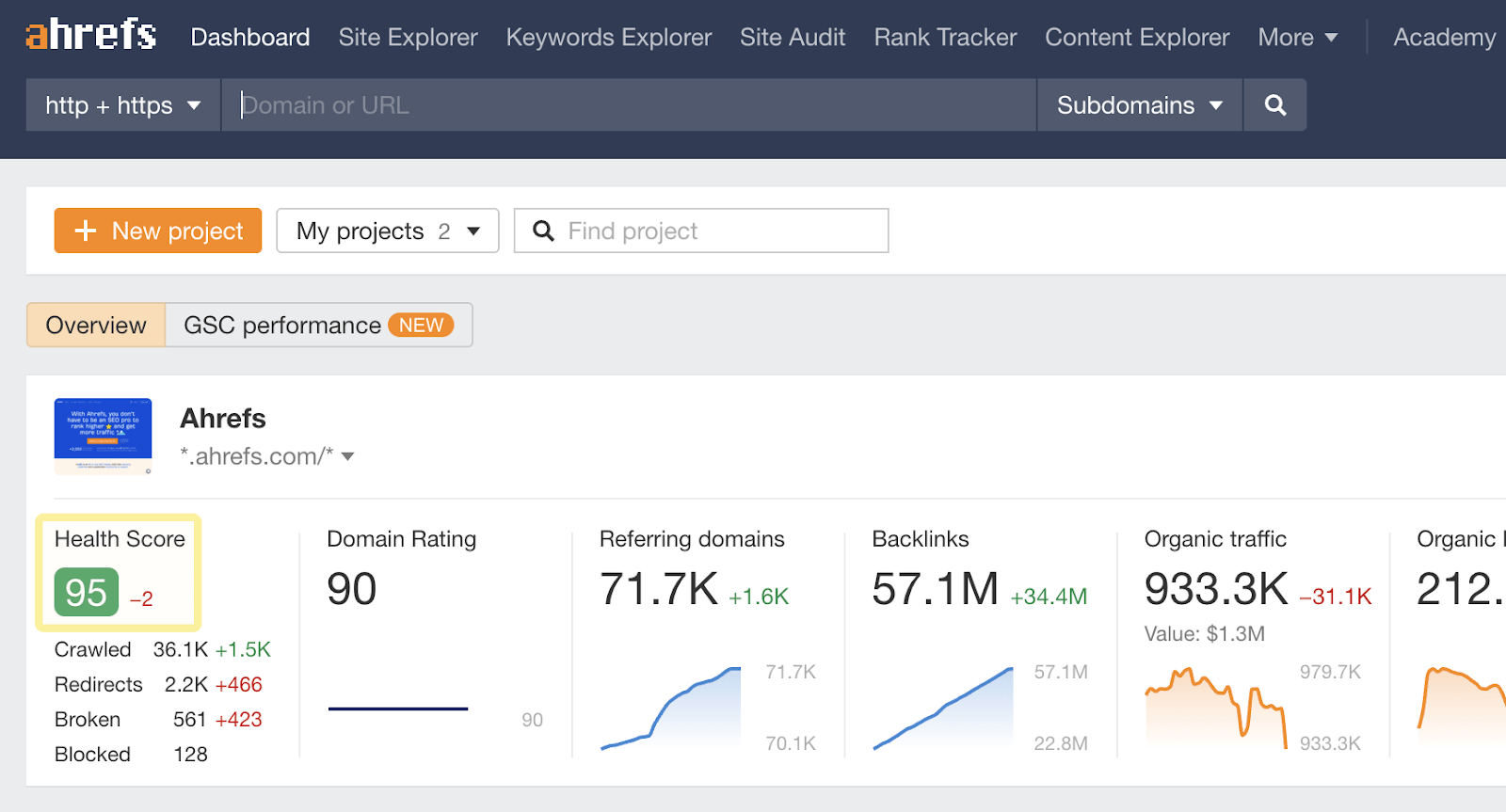 Final thoughts
The most important part of local SEO is arguably claiming, optimizing, and attracting reviews for your Google Business Profile. This is how you'll get more exposure from Google's "map pack" results. Ranking higher in Google's "regular" organic results is more about "traditional" SEO: targeting the right keywords, doing on-page SEO, and building local backlinks.
Source: https://ahrefs.com