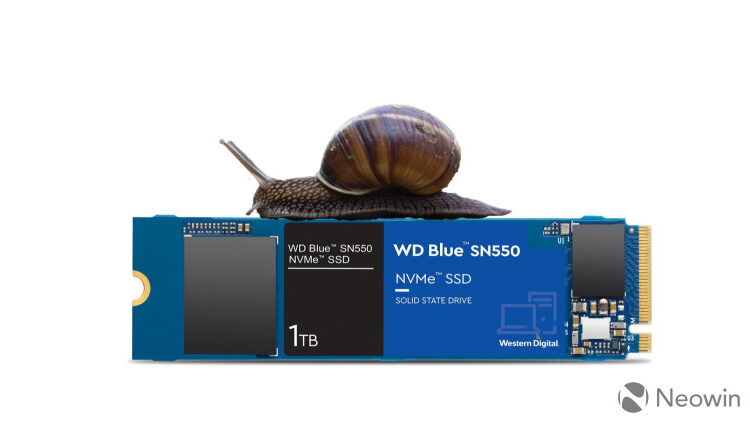 Several Windows 11 users have been reporting slowed NVMe performance on various online forums over the last few months. The problems seem to vary quite a bit as different drives are apparently exhibiting different symptoms. For example, while certain NVMe drives are showing lowered input/output operations per second (IOPS), others are exhibiting reduced read/write speeds. The performance degradations reported are generally based on comparisons with Windows 10.
Here's a forum thread on Microsoft's site where user "MJ_JasonM" says their SSD's random write performance has almost halved, compared to Windows 10.
A Microsoft employee, Neal Christiansen (Reddit username- neochristi), has seemingly confirmed on Reddit that Microsoft is investigating the matter in a response to this Reddit thread where the user is reporting slower access times and reduced random writes:
Greetings, I am on the Microsoft file systems team and am investigating this issue.
Windows 11 users have also provided feedback related to this issue on Feedback Hub. The one we have linked to below has an interesting comment by commenter Jeff C, who seems to be implying that the problem could be related to Microsoft-provided drivers:
Further testing all of my Nvme drives that use the Microsoft driver have this issue but my Intel 905P that has its own driver provided by Intel performs at full spec.
However, it is still speculation at this point and the problem could be somewhere else.
There are also a few other feedback items reported on Feedback Hub in relation to NVME reduced speed issues.
If you are also one of the users facing an issue related to the NVMe speed reduction, you can add your own feedback there and upvote the currently existing ones that best describe the problem you are having.
Neowin's very own Usama also decided to carry out a quick test using his WD SN520 NVMe drive to see if the problems could be replicated. Sure enough, there is definitely a performance downgrade seen on CrystalDiskMark.
| | |
| --- | --- |
| Windows 10 | Windows 11 |
The benchmark reports a big dip in both read and write performances, especially the random writes.
| | |
| --- | --- |
| Windows 10 | Windows 11 |
AS SSD, however, shows that there is an increase in the sequential writes though the score does suffer in the case of random writes. The overall score is well within a margin of error here.
Source: www.neowin.net