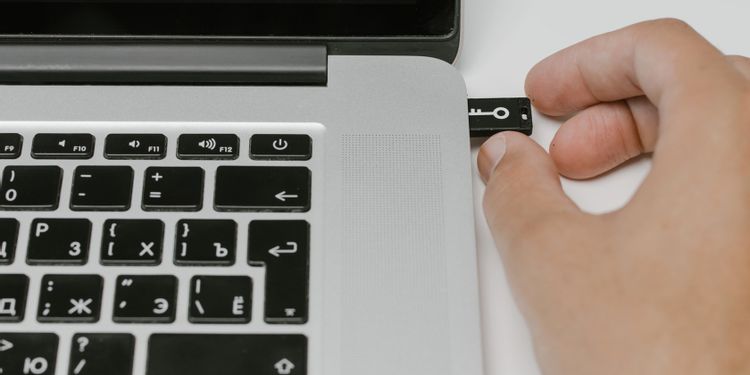 Is your USB data transfer really slow these days? Here's how to give it a boost
The USB drive is a ubiquitous way to transfer data between devices. Given how compact and lightweight they can be, the humble USB drive is one of the best portable storage devices available.
It is pretty common for the USB data transfer rate to slow down from what was advertised by the manufacturer. The process becomes both frustrating and time-consuming as a result. However, while the type of USB, its age, and connecting port can also slow down data transfer, the problem could also be with your system.
As such, if your data transfer rates have been reduced to a crawl, try these fixes to boost the speed of your USB drives.
1. Turn Off Windows Security
Transfer speeds can sometimes be restricted by Windows security and real-time protection. You are likely to experience this when you connect the USB for the first time or when the device you are connecting has already been exposed to malware.
If it is not configured correctly, Windows might detect it as a false threat, which results in its processing being slowed or stopping consistently. Therefore, it is imperative to turn off Windows security temporarily so that it will not slow down your data transfer.
Here's how to disable Windows security's real-time protection.
Open Windows Settings app.
Click on Update and Security from the available options.
On left-sidebar, find Windows Security and click on it.
From the Protection areas option, navigate to Virus & threat protection.
Scroll down and click on Manage settings right below Virus and threat protection settings.
Turn off the toggles for Real-time protection and Cloud-delivered protection.
Restart your computer, connect the USB, and begin transferring files again. If the transfer rate is still slow, there is something else that needs to be explored further.
To avoid compromising your security, turn on both the toggles you just turned off in Virus and threat protection settings. After you've done that, update your USB drivers.
2. Update Your USB's Drivers
Updating USB drivers will fix outdated settings or corrupted drivers that may slow down USB data transfer rates. In other words, updating the driver increases the chance of reviving the actual transfer rate of the USB.
To update the driver, you need to plug the USB into your computer's USB port. Then, right-click on This PC and select Manage. In the new pop-up window, locate Device Manager on the left side and click it. Expand the Disk drives category. From there, right-click on your USB drive and click Update driver.
On the pop-up window that appears, you need to choose Search automatically for drivers. Once done, Windows will automatically search for and install drivers for your PC.
If updating the drivers fails to resolve the problem, you can reinstall them. This will further eliminate the chances of incorrect settings affecting the data transfer rate.
3. Reinstall the USB Device's Driver
Sometimes, slow transfer rates are caused by faulty driver settings, but sometimes updating them isn't enough. In this scenario reinstalling them has a chance of returning your transfer rate to normal.
The USB driver must be reinstalled to completely reset the configuration of the USB and all its system settings. Additionally, it won't alter your drive's data, so reinstalling them won't cause any damage to your files.
To uninstall your USB device drivers, follow these steps:
Connect the USB to a relevant USB port.
Navigate to Manage by right-clicking on This PC.
Click Device Manager in the left sidebar.
Locate your plugged-in USB device by expanding the Disk drives category.
Right-click the plugged device and select Uninstall device.
After uninstalling, unplug your USB device from your computer and restart your system once. Windows will automatically find and install the USB drivers when you re-plug the same USB device after the reboot.
4. Change the USB Port
The port on your computer may also be the cause of a slow data transfer. It may be that the USB port you are connecting to has worn done over time, or it may not be compatible with the USB drive's version
Therefore, make sure you connect your USB device to a port that supports the USB version and ensures the port is in good condition. If your USB stick uses a higher USB version than the port, try to find a matching one on your computer somewhere. Likewise, using a different port will eliminate the issue if the one you're using is past its prime.
5. Change Your Device's Performance Settings
Changing the device's performance settings will optimize its performance. By enabling some specific disk policies, you can set the maximum rate of data transfer in the machine. This will ultimately speed up the data transfer process.
Follow below steps to change a device's performance settings:
Connect your USB drive to its appropriate USB port.
Right-click the Windows icon on your taskbar.
From the list of options, select Disk Management.
In the Disk Management window, locate your plugged-in USB drive.
Right-click on your drive and choose Properties.
Navigate to the Policies tab, and then check the circle for Better performance.
After choosing better performance, enable Write Caching on the Device.
To save your settings, click OK.
Reconnect your USB drive and see if the rate of transfer has improved or not. If not, the only solution is to replace the USB drive.
6. Upgrade to USB 3.0
If none of the fixes on this list has resolved the problem, the issue could lie with your USB version. You should consider upgrading your USB to USB 3.0 if your device is less than 3.0.
While holding double the wires in the cable, both the transfer rate and power transfer of USB 3.0 is more than USB 2.0. USB 3.0 is capable of 4.8 Gbps of data transfer rate, which is more than USB 2.0's 480 Mbps. As a result, the significant increase in transfer rate will drastically speed up the data transfer process. By all means, USB 3.0 is the better option over USB 2.0, 1.1, or 1.0.
Additionally, you need to make sure that you connect a USB 3.0 drive to a 3.0 port. If it is connected to a 2.0 port, it will offer the maximum data transfer rate of USB 2.0 instead of 3.0, which defeats the purpose of choosing an advanced USB type.
Most newer machines come with built-in USB 3.0 and USB 3.2 ports, so all you need is the right USB drive.
Speed Up Your USB Transfer Rate
The fixes in this list should improve the transfer rate of your USB drive. If none of the fixes seem to be working, you can connect the same device to another system. Then you can tell if the issue is related to hardware or your operating system. By doing so, deciding whether to replace the USB drive or upgrade it will be a lot easier.
Do you use your USB flash drive to its fullest potential? Most likely not. Learn how to use your USB drive to lock/unlock your PC, run portable apps, keep OS for emergency purposes, and much more in the following article.
Source: www.makeuseof.com