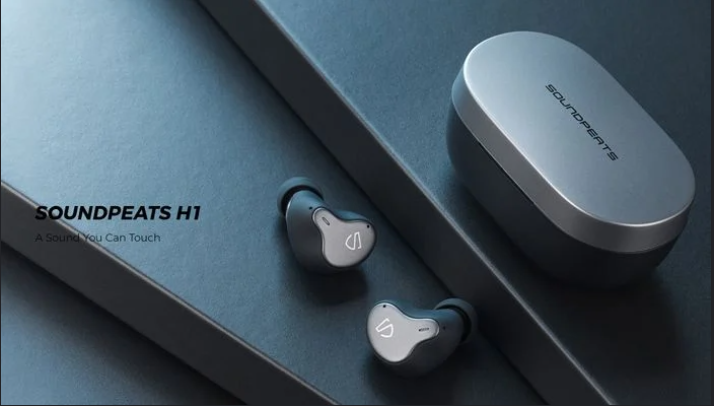 On November 07, 2020, Soundpeats started a Kickstarter campaign for Soundpeat H1 True Wireless earbuds after successfully completing a previous Kickstarter for the Truengine 2. After raising over $1 million from 1,420 backers, the H1 shipped globally in December. Soundpeats' goal in making the H1 Wireless earbuds was to have the best sounding true wireless earbuds at an affordable price. They definitely met their goal and exceeded it in many ways. Coming in at $79.99, they're in the middle-tier for pricing but offer premium features for the cost. Are they worth a buy? Find out in our review!
Specifications
Current Price: $79.99 (Amazon)
Key Features:

Bluetooth Version 5.2
Qualcomm aptX Adaptive Audio Technology
Passive Noise Cancellation with cVc (clear voice capture) 8.0
Knowles Balanced Armature Driver and 8.6mm Dynamic Driver
Smart AI Assistance
Wireless Charging
True Wireless Mirroring Technology
10 Hours of Play Time per Charge (40 hours with charging case X3 charges)
IPX5 Waterproofing
Overview & Impressions
At first glance, the Soundpeats H1s are beautifully designed. After using the Jabra Elite 65T's for over two years, I was a bit skeptical that a Kickstarter-funded company could compete with a company like Jabra. The first thing I did was compare the size of the H1 earbuds to my tried-and-true 65t's. I was surprised to note how sleek and refined the H1s were to the older designed 65ts. For me, having a low-profile true wireless earbud is extremely important for my motorcycling hobby. The earbuds need to comfortably fit in my helmet and not press on my ears at all. The Elite 65ts accomplish that, but the Soundpeats H1 True Wireless earbuds do it better.
Initially, I tested the Soundpeats H1 for comfort and the environmental noise-canceling on the road with my motorcycle. While driving, I called my wife to test for road noise and how well I could hear her over the wind noise. I later took my other earbuds out and did the same. My wife and I noted that the Soundpeats were adequate at canceling out the wind noise during the tests. Of course, it is almost impossible to remove all wind noise in a helmet unless you are sitting in your living room wearing the helmet for fun.
Another critical thing to note while I was riding and calling my wife, the 5.2 Bluetooth connection was flawless. With many older Bluetooth versions, the connection can randomly cut out for a split second. I noticed this with most of my wireless headsets or earbuds when exercising or having my phone in my pocket. The H1s never lost connection during the motorcycle test or while exercising. The one feature lacking while being at the same price point as the 2018 Jabra 65ts was active voice controls.
Controls
For active voice controls, you will need to move up to the H1 Premiums, which are $10 more after a 35% discount on the Soundpeats website. Note: the H1s are only available on Amazon, while the H1 Premiums are only available at the Soundpeats store. Because the H1 Premiums were not tested, I do not know how well the Soundpeats AI is and if it is worth the extra $10. If my experience with the touch controls for enabling Siri or Google on the H1s is any indicator of the "worth" of touchless controls, spending an extra $10 would be worth it.
The touch controls worked great, but they are very complicated. Each earbud has its specific controls. Each control has a specific number of taps or tab holds to work. At times I thought I might as well be playing Tap Tap Revenge on my ears. I sometimes would tap too long, not long enough, too many times, or on the wrong ear. I found myself looking at the instruction manual more than I should have for earbuds. I would've gladly had an AI assistant help me with volume controls and disconnecting calls without grabbing my phone. Granted, most of the true wireless earbuds with a voice-activated AI assistant are 100's of dollars more and do not have the battery life that the H1s have.
Battery Life
This is where the Soundpeats H1s beat out the competition easily. To compare, none of the Jabra Elite series (65t, 75t, and 85t) can come close to the battery life of the H1s. If you want to pay $250 for AirPods Pro, you can get the same battery life as the H1s. The H1s come with a robust 60mAh battery that can last up to 10 hours on a single charge. Pair that with the carrying case, and you can have up to 40 hours of playtime without looking for an outlet or wireless charging station. I played Spotify at max volume for 9 hours, 36 minutes, and 15 seconds on a single charge to confirm this. While not precisely 10 hours, the standard benchmarking for earbud battery life tests is around 50% volume. Later, I tested the H1s at the standard 50% volume and squeaked out just over 11 hours of playtime. For a price point of $79.99, you cannot beat Soundpeats H1s.
Sound & Gaming
The big technology behind the Bluetooth codec is the Qualcomm aptX Adaptive Audio Technology for high-res audio and low latency gaming. Unfortunately, aptX Adaptive is still a very new codec and support is still developing, so I was unable to test it for myself. I did test aptX HD, however, and it sounded great. If you are an Apple Phone user, the aptX codec is not supported, so you will be limited to SBC (Low-complexity Sub-band Codec) or AAC (Advanced Audio Coding). While SBC and AAC are great for frequency response, they are not as good as aptX HD and Adaptive in total bandwidth, which is important for high-res audio.
With more advanced competitive FPS games coming to mobile phones, hearing sounds when the sound happens is essential. I tested games both on an iPhone 12 and a Pixel 5. I first tested the latency with Call of Duty: Mobile. TL: DR… I died a lot! But the sound was amazing, and there was no note of lag between the game and what I was hearing. I died and instantly knew I died. The second I heard footsteps or gunfire, I was dead. After realizing a competitive mobile game was not my calling, I tested the H1s with Genshin Impact. The game sounded stunning, and there was no latency noted. Each test I listened carefully for changes in latency and sound quality, but on both devices the sound was crisp and without delay.
The H1s also support Game Mode. In concert with the aptX technology, the experience was great while playing games, but listening to music was not preferable. With game mode on and listening to Spotify or watching YouTube videos, I noticed crackling from time to time. I did note that the Pixel had less crackling, but it was still there. Just to make sure it was not the earbuds, I took game mode off and never heard the crackling again. Clearly, the reduced latency has a connectivity cost.
In general, the sound range of the Soundpeats H1s was superb. The highs and mids were flawless. I listened to the seductive guitar of Stevie Ray Vaughan and the smooth jazz of Miles Davis to hear a wide range of highs and mids. To make sure the bass pumped out, I threw on the punchy beats of Black Eyed Peas, Primus, and the chunky bass playing of Korn's Fieldy. While the bass was on par with the Jabra Elites, they were nowhere close to my wired headset, the Meze 99 Classics, as expected. If you want extreme bass, both Sony and Skullcandy make earbuds that will burst your eardrums with bass. Just don't expect any other sound quality.
Final Thoughts
For $79.99, the Soundpeats H1s are a fantastic deal. The sound is premium, even if the bass is not going to rattle your skull. The H1s are so comfortable; you can wear them all day without ever needing to take them out of your ears. The battery life will make sure you can wear them all day. Unfortunately, the touch controls could be improved upon, and the lack of active voice recognition makes controlling the earbuds a chore. Even with the wonky controls, the Soundpeats H1 ARE unbeatable at $79.99. With a little extra time, I'll be a Tap Tap Revenge champion!
Source: mmorpg.com