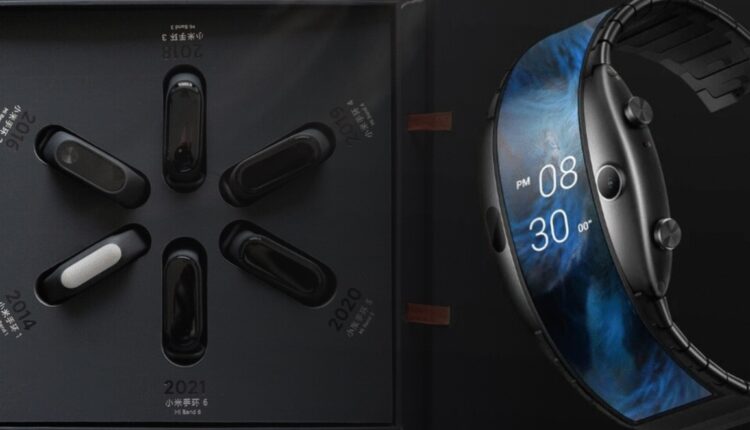 Some details of a
Xiaomi
Mi Band X have leaked online, and it seems the Chinese company is looking to add something extraordinary to its hugely successful smart band lineup. This smart device will apparently have a wraparound display and do without watch straps, utilizing a magnetic bracelet clasp for wearing and taking off.
Xiaomi seems to be one of the busiest tech companies in the world; not only is the Chinese OEM occupied with releasing smartphones and developing tablets, it also has the time to work on electric scooters, smart fryers, and its massively popular Mi Band range of fitness trackers. Details of a Mi Band X have started surfacing online, and although this initial information is somewhat scant, it does indicate an innovative new product could be in the works. It could even be a distant relative of the Amazfit X from Huami, which is a smartwatch with a curved display.
Reports out of Russia claim the Mi Band X could have a similar design to that of the Nubia Alpha smartwatch, which has a wraparound display attached directly to the watch bracelet. However, the Mi Band X will want to stick to its smart band roots, so it will be "extremely thin and light" yet still "full of technology". Xiaomi's wearables, such as the recently released Mi Band 6, don't scrimp on the tech functions, so this latter claim is to be expected if somewhat vague right now.
Furthermore, according to the translation of Chinese text from a leaked image of what appears to be a Xiaomi presentation, the Mi Band X will be obsidian in color, and it will sport a "360° flexible scroll screen" (or wraparound display). As mentioned above, this mysterious Xiaomi Mi Band X will do without straps, solely relying on a magnetic buckle. Unfortunately, there's no leaked image of the Mi Band X yet, and it's very unlikely it will make any kind of official appearance before 2022.
Source: notebookcheck.net