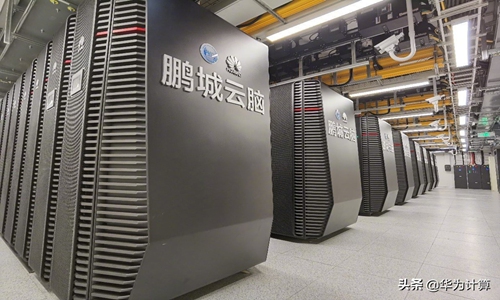 A supercomputer built on Huawei's AI system broke the world record and won two world championships at a supercomputing conference, further demonstrating the high-tech company's globally leading data throughput and cutting-edge computing power.
The Peng Cheng Cloud Brain II supercomputer based on Huawei's Ascend AI system, ranked first on both the IO500 ISC21 List and the 10 Node Challenge List, released during the Supercomputing Conference 2021 (SC21) for a second time, according to a statement issued on Huawei's official Sina Weibo account on Saturday. Its score for IO500 ISC21 List is nearly 20 times higher than the runner-up.
Peng Cheng Cloud Brain II is a joint project between Huawei and Peng Cheng Laboratory (PCL) for the research and exploration in the AI field, such as computer vision, natural language, autonomous driving, smart transportation, and smart healthcare.
It is powered by Huawei Atlas 900 AI hardware which infuses robust computing power into the Peng Cheng Cloud Brain II and software based on Compute Architecture for Neural Networks (CANN) and MindStudio tool chain.
The Peng Cheng Cloud Brain II has been used across a broad range of basic science research, including climate forecasting, medical research and development, gene analysis as well as in the application of digital city management and large-scale multilingual translation to serve the Belt and Road Initiative (BRI).
Source: globaltimes.cn